Millions of Indian mom-and-pop stores may be getting a technology leg-up from an unexpected corner.
Launched by Silicon Valley's Singularity University alumni—Asaf Kindler, Vito Margiotta, Gabriel Gurovich, and Alberto Iore—Seemba is a mobile phone-based platform that helps businesses build their websites. The company has been operating in India since May 2017, focusing on giving the country's estimated 51 million kirana stores an online identity through a website.
Some 50,000 merchants have already installed the app on their phones. Of these, Seemba says, 70% weren't even on Google Maps or Facebook, let alone having their own website.
"If your store doesn't have an online presence, you're losing out," said Kindler. "All the clients are coming online. Everyone in India now has an Aadhaar card and millions have Paytm accounts."
Much of Seemba's expansion in India has come on the back of its partnership with the Maharashtra government for the Bring Maharashtra Online programme. To help local businesses migrate towards a digital and cashless future, it has roped in over 1,000 college students in Pune to go knocking door-to-door and give small-business owners a crash course in using Seemba.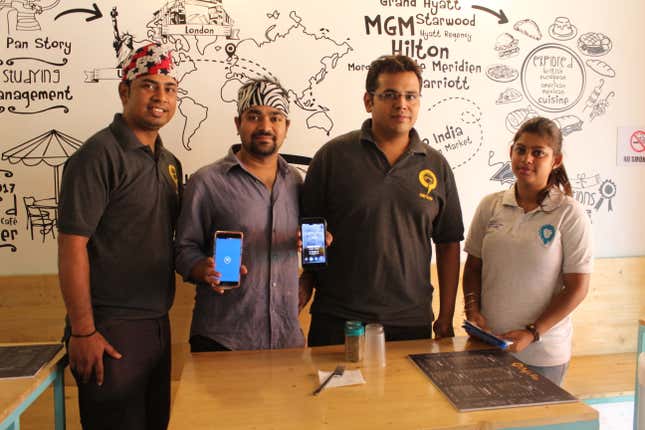 Why India?
In 2014, the Seemba founding team researched a number of emerging economies in Latin America, Africa, and Asia to identify their ideal market—one with a sizable middle class, plenty of offline businesses, and a willingness to adopt new technologies.
"India led on all fronts," Kindler said. The next billion users in the country are leapfrogging desktops and coming online using mobile phones. The government's digital push is also helping startups "move much faster (to reach) the market," he added.
Cataloguing all the mom-and-pop stores isn't easy, but competition is limited. One business to reckon with is Hyderabad-based NowFloats, but with hefty price tags ranging from Rs25,000 ($388) to Rs1.35 lakh($2,098), it caters to a very different market. Seemba, on the other hand, creates a website at no cost and charges a monthly $5 fee for added services such as Facebook marketing.
How it works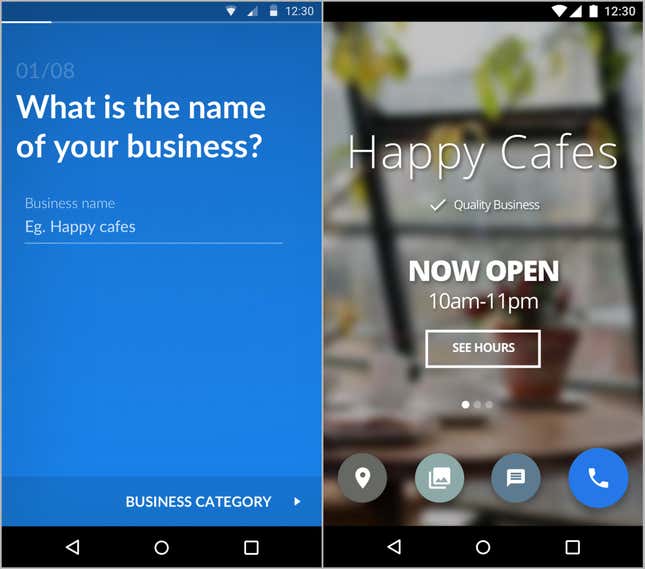 Seemba's app opens with a questionnaire about the business: name, address, opening hours, etc. It also asks shop-owners to upload images of their products. Electrcity bill, PAN card, VAT number, or proof of being registered under the Shop Act are then used for verification.
Seemba then generates a webpage carrying all this information, and each business is assigned a unique URL.
Once the page goes live, the app becomes a dashboard to manage the business's digital footprint. A chatbot asks more questions so the artificial intelligence (AI) platform can determine if more images are needed, or if bank account or Paytm details, among other things, need to be shared. An in-built smart assistant helps entrepreneurs secure loans, find suppliers in their area, or get insurance.
To widen their reach, Seemba also puts businesses on Facebook Places, Google Maps, and other local aggregators for a small fee. "We see it as a complementary tool to (Facebook and Google)," said Kindler. "We want to be the hub…where you can manage all your online activity."
The 300 kilobyte (Kb) app is tailor-made for developing markets as it even performs on low-end devices with 2G connections. Besides English, Seemba is also available in Hindi and Marathi (Spanish is also an option since its global launch in August).
Backed by marquee investors Cornerstone Venture Partners, Guggenheim Partners, and Italian Angels For Growth, Seemba generates revenue from an array of paid services like the chat interface to interact with customers and personalised online and SMS campaigns. The company eventually wants to partner with payment apps like Paytm to convert its web traffic into actual transactions.
Alongside the freemium model—comprising the free website and paid services—Seemba also makes money by sharing data about businesses with third-party players like governments and telcos. But bringing Indian merchants online doesn't guarantee revenue streams. To really move the needle, Seemba needs customers to discover these businesses on its platform.
Blurred vision?
"They're looking from the supply-side to on-board stores…but how will they bring customers (to the businesses)?" Shubham Anand, head of retail-consumer packaged goods at RedSeer Consulting, told Quartz. "The competition is already offering something extra…For search, there's JustDial or Google. For deal discovery, there are Nearbuy, Little, and Magic Pin. To transact, people will go to Amazon and Flipkart."
Anand is also sceptical about Seemba selling data to government and private entities. "It's a very infrastructure-heavy business model," he said.
It's also difficult to assess how many merchants are truly benefiting. Quartz tried to connect with over 15 Indian merchants listed on Seemba but got through to only three—two of whom haven't used it since downloading. Seemba marks that up to a literacy issue. "We probably need to guide them on how to use the app," Kindler said.
Event organiser 79 Entertainment Celebration in Dahisar, Mumbai, is a user, but when Quartz spoke to its 29-year-old owner Chirag Labde, he said, "Videos don't upload here, so it's not useful for me. I use my Facebook page or a website I designed myself instead."
Features like video were consciously left out of Seemba as a majority of its clients are product-based stores. "Having a website in the first place is like going from zero to one. But if it's simple enough, people already want the next thing," Kindler said. "We're starting with the bare minimum possible and then integrating third-party features."
Over the next year, Seemba wants to bring two million Indian businesses online, mainly in Maharashtra. Five years on, it hopes to penetrate at least 10 states on-the-ground. How exactly it intends to boost real-world activity for these businesses seems like another puzzle that Seemba is yet to crack.