For most Indians, popcorn is a humble snack, readily available for as little as Rs10 ($0.2).
Roadside vendors sell small bags of salted or masala flavoured versions, while almost every grocery store stocks instant and microwave popcorn with Indianised flavours that feature lots of chilli and spices. But for many years, it was almost impossible to find any gourmet popcorn in India.
So, in 2013, when computer science-graduate Chirag Gupta was looking to strike out on his own after five years of working for Deloitte Consulting in the US, he thought the time was right to launch an Indian gourmet popcorn brand, with flavours similar to those on offer at American grocery stores.
"This happened to be one product which I had seen a lot of in the US," the 33-year-old co-founder of Zea Maize, which makes 4700BC popcorn, told Quartz. "We started visiting all the popcorn places that were there in India, and we found that gourmet popcorn is nowhere to be seen."
With an initial investment of Rs1.5 crore, Chirag and his friend and co-founder Ankur Gupta began tinkering with recipes, eventually coming up with a range of unconventional flavours that included ingredients like walnuts, peanut butter, Jamaican rum, and Italian herbs. But unlike the standard popcorn on offer in India, which is usually made with "butterfly" corn kernels, 4700BC decided to use "mushroom" corn, an imported variant that results in larger, rounded pieces of popcorn that are easier to cover in a consistent coating of toppings like caramel or melted chocolate.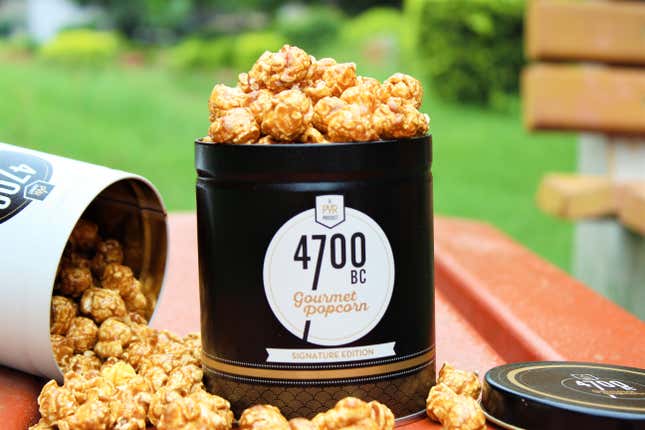 The name 4700BC refers to the time when researchers believe the Aztecs started turning corn into popcorn, Gupta says. It reflects the company's goal of elevating popcorn into a premium product in India by educating customers about its history, and introducing them to a whole new world of flavours, ones that are hard to find at the local movie theatre.
In March 2013, the company launched its first store in Delhi's DLF Place shopping mall. It started out with 60g pouches priced at around Rs79, which went down well with customers and prompted calls from other shopping malls in the National Capital Region. But the bootstrapped business received its biggest boost two years later when one of India's largest multiplex chains came on-board.
Movie magic
In 2015, PVR bought a 70% stake in Zea Maize for Rs5 crore, helping the founders establish a gourmet popcorn factory in Sonipat, Haryana.
Today, 4700BC employs 140 people and runs 23 stores in malls across India, including several stalls within PVR's multiplexes, where urban movie-goers are increasingly open to spending big on snacks. It also caters to corporate clients such as low-cost airline IndiGo, e-commerce firm Amazon, and the Marriot hotel chain.
Gupta says the company has reached breakeven, and expects to close financial year 2017-18 with 2.5 times more revenue than the year before. From next year onwards, he added, revenue could grow by as much as three times per annum. Much of this growth is expected to be driven by the company's new retail model, which involves selling packaged popcorn flavoured with sour cream and wasabi cheese, or Himalayan salt caramel, at grocery stores across India, including Foodhall and Nature's Basket.
Starting at Rs89 for 75g, these products are positioned to capitalise on urban India's growing interest in gourmet food. The market for gourmet popcorn alone in India is expected to grow at a compound annual rate of 36% between 2016 and 2022, according to consultancy RNCOS. "Since this segment is niche and has low geographical penetration, there lies a great opportunity for industry participants to tap the fast-growing market which would garner huge revenue," RNCOS wrote in a recent report.
This is already evident at Foodhall, a premium grocery store chain run by the Future Group, where Indian shoppers who have never really seen locally made gourmet popcorn before are snapping up 4700BC's products. "Customers are liking it and customers come back looking for it," Jay Jhaveri, Foodhall's chief operating officer, told Quartz.
But as the market grows, the challenge lies in protecting the brand's position in the long-run as India's FMCG giants are likely to spot the opportunity and launch similar products at a much lower price point. For Gupta, the key is to build 4700BC's reputation as a consistent, high-quality gourmet popcorn brand, and set itself apart from the competition.
"It's like Pringles," he explained, referring to how Rs100 packages of Pringles potato chips continue to sell well despite the presence of Rs10 packets of Lay's. "We keep saying we want to be the Pringles of popcorn."