There was once a time when Kabul was known as the "Paris of Central Asia."
Between the 1950s and 1970s, Afghanistan experienced a now-unimaginable period of stability, democratic reform, and liberalism. The country's fashion reflected this era: Old photos show women out on the streets in short skirts, chic scarves, and beehive hairdos. The Afghan goat-skin coat became fashionable around the world and some of the country's young style icons were even featured in a 1969 issue of Vogue.
Things then went downhill and haven't looked up much since. The country is now synonymous with cataclysmic violence and social regression.
But after years of turbulence, an Afghan label is trying to put the country back on the fashion map, with designs that re-imagine traditional clothing in modern cuts and styles. Founded in 2015 by a team of young Afghans, Laman (a Pashto word meaning "skirt") has been building a name for itself as one of the rare fashion houses in the country, which imports much of its clothing and textiles from China and India, among others.
"I was really interested in creating a product that is made in Afghanistan…making a fusion of traditional elements and more modern cuts…to kind of revive the idea of Afghan culture (and) heritage," Rahiba Rahimi, who co-founded the company with fashion designer Khalid Wardak and her brother Haseeb Rahimi, told Quartz.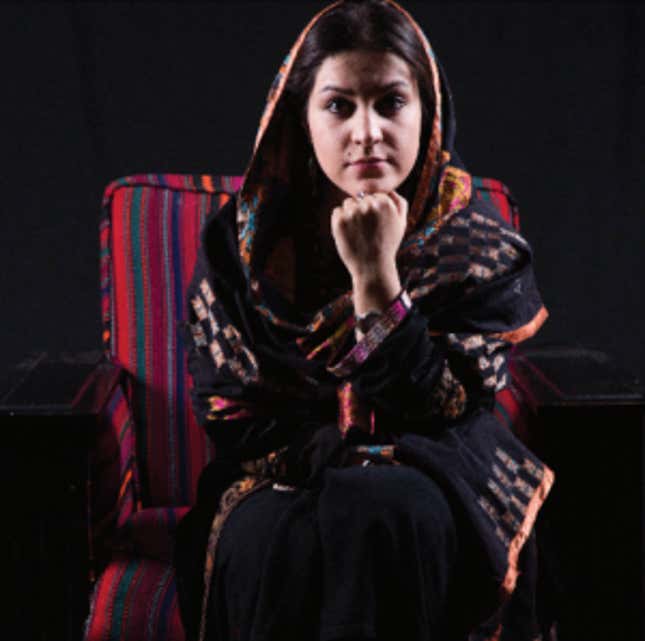 Rahimi is a third-year political science student at the American University of Afghanistan in Kabul. The 24-year-old's family hails from the province of Panjshir and her father works with the United Nations. To set up Laman, the founding trio raised its initial funding from a relative, but Wardak left the company earlier this year to embark on his own venture.
Laman's focus right from the start has been on reviving Afghanistan's rich tradition of embroidery, which differs from community to community and province to province. But it wasn't easy at first to put together a team of seamstresses who could create the modern looks Rahimi and her co-designers had in mind.
"They're used to doing things their own way," she explained, adding that it took several rounds of experimenting, training, and hiring and firing of seamstresses for the company to effectively translate its designs into high-quality products.
Today, at Laman's showroom in Kabul, a team of 30 employees works to produce colourful collections of embroidered dresses and suits, updated for modern lifestyles with lighter fabrics. Some of the designs are also produced by women who work from their homes. These women come from conservative families and wouldn't otherwise be able to earn an income, Rahimi says.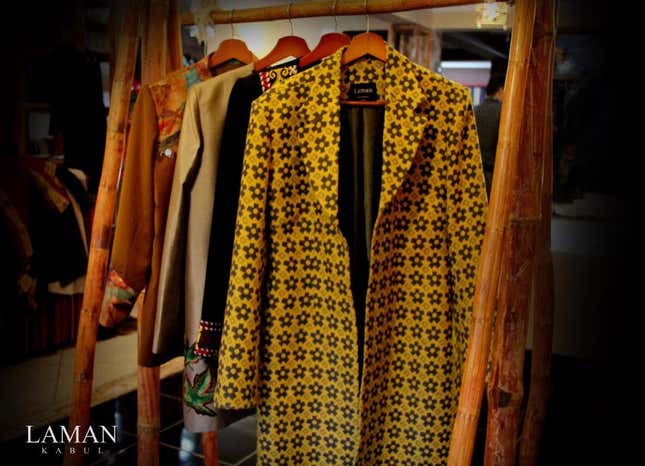 The prices of Laman's simpler dresses start at around 2000 Afghanis (about $29) and can go up to between $150 and $200 for pieces with more intricate embroidery. In a country with per capita income of about $562, these prices mean the company's clientele is predominantly upper-class Afghan men and women, aged between 16 and 45. These clients are largely looking for professional clothing to wear to work or more dressed-up options for weddings and other events. Rahimi says the company's production capacity is limited, but the brand sells between 50 and 60 pieces every month.
Besides creating its own designs and updating ancient styles, Laman is keen on giving opportunities to other fashionably inclined young Afghans.
"There isn't enough room for creativity, (the) arts, and fields such as this in Afghanistan," Rahimi said. "We also give space for others to come together to co-create certain designs; there are some really talented young Afghans who love designing, so we keep that open for people to join in."
But designing fashion-forward looks is not without its challenges in conservative Afghanistan. Rahimi recalls the criticism evoked by Laman's first fashion show, held to celebrate its launch, after it was covered by foreign news media like the BBC.
"It was a bit controversial because people thought, 'Oh, what are they doing, they're trying to westernise Afghanistan'," she explained. The company's first seamstresses received threats, prompting some to stop working with the brand. Laman has also come under fire from conservatives for not getting its models to wear headscarves. 
But over the past few years, the young among Afghanistan's culturally-mixed society have gradually established their own unique style, taking inspiration from neighbouring countries—and even Bollywood. One is likely to find Afghan women in jeans and long dresses, as well as those in abayas and traditional blue burkas, Rahimi notes. The key, she says, is "modesty with an edge."
And that's what Laman is determined to do, regardless of what the critics say.