Dirt-cheap 4G services are taking 2G mobile telephony in India to the gallows at breakneck speed.
Before Reliance Jio made its debut in September 2016, the number of users of the older generation 2G services were falling at 3% a quarter. Since the company's entry into the $50 billion telecom sector, people have been giving up 2G at four times the speed, a report by market research firm CyberMedia Research (CMR) India said.
"Had the decline been continuing at 3% quarterly average, the forecast suggests 2G-based internet subscribers could go off the scene in India over the next decade," the report added. In the 17 months since Jio's foray, 2G connections have dropped by a massive 40%.
As of June last year, four out of 10 mobile phone users were on the 2G bandwidth. "After Jio's entry, the projections indicate that by the first quarter of 2020, India would have zero subscribers using 2G internet services," CMR said.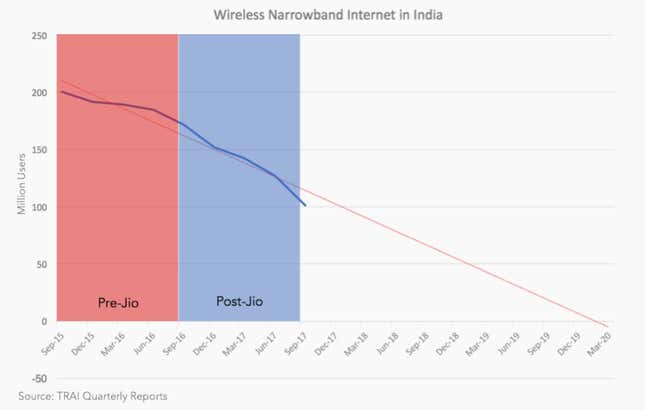 Although 4G had already released in 2008, 2G remained the preferred network among Indians until a few years ago. It was cheaper and compatible with lower-end mobile phones that were not 4G-enabled.
Then, Jio entered the fray with rock-bottom data rates starting Rs50 ($0.78) per gigabyte (GB). Within three months, the upstart drew over 50 million users. It has climbed up to over 138 million by now.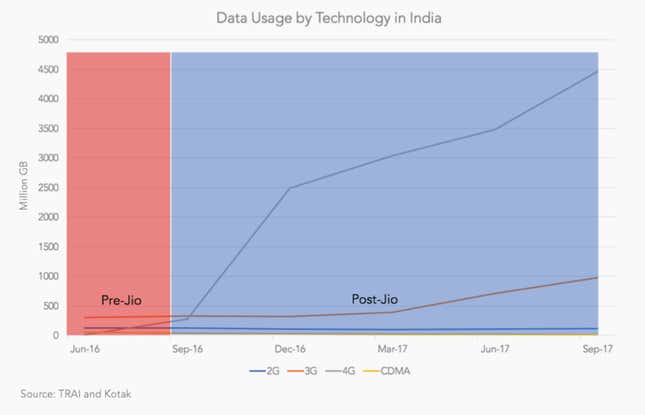 The Jio effect
That Jio served as a catalyst is apparent: Until mid-2016, 4G data usage was lingering under the 500 million GB mark. But since then, it has picked up the pace and how. By September 2017, data usage was at 4.5 billion GB.
Of course, it wasn't cheap data rates alone. Device makers are also pushing to make higher-end feature phones and smartphones more affordable, "marking not only (an) end to the addition of narrow-band wireless subscribers but also increasing the declining rate," CMR noted.
In July 2017, the Mukesh Ambani-led firm led the way by releasing its "essentially free" 4G-enabled feature phone called the JioPhone. A few months later, Bharti Airtel, India's largest telecom firm, followed suit with its Rs1,399 ($21.87) 4G handset.
Sanjay Kapoor, who served as the CEO of Airtel for three years starting in 2010, told Quartz that "4G is the basic minimum standard. Everybody will have to transform from 2G and 3G to 4G. Those who don't will be left behind."
Citing the example of China Unicom and China Mobile, Kapoor said, "China Unicom went and did 3G, China Mobile went straight to 4G and has beaten the hell out of China Unicom. It's already proven."
As the next wave of growth for smartphone sales comes from tier II and III cities across India, mere low price tags won't suffice. "Operators shall have to understand these consumers deeply and engage with them to manoeuvre them up the ladder," CRM said.