Even as firms and advertisers splurge to grab consumers' attention, a Mumbai-based startup has found a simple, cost-effective way to do it: paper cups.
Giving the age-old medium a new lease of life, CupShup has delivered half-a-million dollars worth of advertisements on such cups over the past three years.
Founded by college classmates Sanil Jain (31) and Sidharth Singh (32) in 2014, the firm prints ads on paper cups used to serve beverages at various cafeterias—and sometimes even on flights—frequented by various brands' target audiences.
Since its launch in 2014, CupShup has earned revenues of over Rs3.5 crore (around $500,000) , and expects to end 2018 with another Rs1.7 crore, Jain said. Quartz could not independently verify this.
"The beauty of the medium is that it is very very targeted. We are taking brands to the right hands. The exposure time is five-to-seven minutes, (which is) kind of unprecedented," Jain told Quartz. "People, when given cues, start talking about something…it triggers discussion among friends which may not happen when you see a hoarding," Singh said.
Class project-turned-business venture
Singh chanced upon the idea in 2012 as a student of Mumbai's Narsee Monjee Institute of Management Studies.
"I was having tea and a few of my friends were there, and we discussed everything from politics to movies to our MBA work…and it came to my mind that we spent a good amount of time here and what if there is a way to channelise the discussion towards one thing. It will be a great opportunity for a brand," Singh said.
He then tested the idea as part of his class project by putting stickers of a fictitious brand on 100 paper cups and distributing it to tea stalls near his college. "I then asked people (patrons of these stalls) if they noticed the brand name, knew about it, etc. And 90% of them said they remembered the brand. I deduced that the idea was working," he said.
Upon graduating in 2014, Singh and Jain decided to invest Rs1 lakh (around $1,500) each and build a business around the idea.
By now, CupShup has worked with over 95 brands, including Google, Paytm, Hotstar, Coke, Uber, Ola, Snapdeal, BlueStar, and MumbaiMirror. It has made customised paper cups available at over 6,700 outlets, including 1,000 offices, over 500 colleges, and 4,000 retail tea vendors across over 20 cities, besides four airlines.
The startup makes money from executing the campaign for its clients.
Airlines, corporate offices, and colleges are happy to collaborate as they save money on procuring cups, Jain said. Brands, too, benefit as they reach their target audiences directly, giving them a higher chance of getting noticed than billboards or television ads.
At times, the 15-member startup even manages the ad creatives and monitors the impact of the campaigns.
The cup play
The primary advantages of cup-ads are their cost-effectiveness and long exposure time.
Companies pay Rs1.4 lakh to distribute 100,000 cups as part of a campaign, compared to around Rs14 lakh needed to host a billboard on a busy street in a major Indian city, Jain said.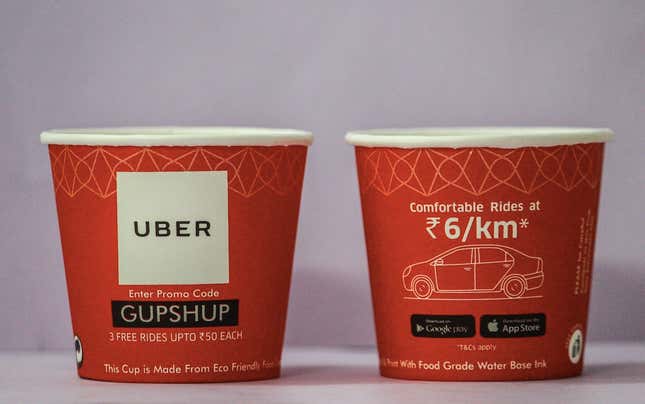 While ads on billboards, newspapers, or television, are noticed just in passing, paper cups stay with consumers much longer. Tea breaks on a typical work day last between five and seven minutes. "In airlines, once you've got your cup of water or beverages, it is there with you for 20-25 minutes till the crew comes and disposes it," Jain explained.
CupShup has also begun running offer-led ads. For instance, a brand like taxi-hailing service Ola would have a coupon code or a QR code printed on a cup offering a discount on the next ride.
"Paper-cup advertising is as old as the hills and is a very efficient way of communicating your brand message, being a tactile medium…but what was missing is the middleman," branding and advertising consultant Harish Bijoor said.
However, even if it were to become as popular as print ads, cups will work only for the business-to-consumer segment. Besides, it may not help premium brands and luxury products.
There are also safety concerns. "Ink (used to print on the cups) is a chemical and you are adding on the chemical to something which is going into the body. They should be careful," Bijoor said.
Cups and more
Once it has dug its feet in colleges and corporate offices, CupShup plans to make use of this access to provide other kinds of marketing services.
For starters, CupShup helps its clients place some of their sample products at offices or cafes for potential customers to try.
It also organises marketing events in these venues. For instance, it worked with beverage-maker Tropicana to hold a day-long workshop on health and fitness for employees at one of its corporate offices in Gurugram near Delhi.