The Indian economy is recovering, as data from different sectors show—none so convincingly as automobile sales.
In the last two months, there's been a substantial increase in the number of commercial vehicles sold, a bellwether for economic growth, indicating a pick-up in industrial activity and infrastructure development. In February 2018, sales grew by 29% year-on-year to over 96,000 vehicles, according to a report by ratings agency CARE Ratings. In January, it grew by 40%.
"Clearly, from commercial vehicle sales, you could say that industrial activity is picking up, as you can also see in manufacturing and overall GDP growth," Rakesh Batra, partner at advisory firm EY, told Quartz. "If you look back, commercial vehicles had a really bad two-three years…now, producers are investing in renewing their fleet."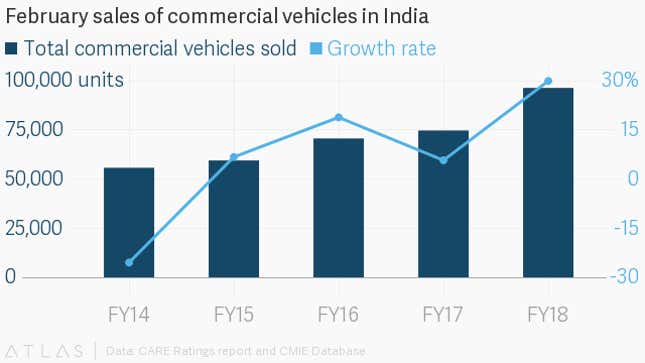 Meanwhile, companies also sold over 2 million units of two- and three-wheelers, growing 26% in February, the report showed. In January, three-wheeler sales grew by 99%, while two-wheelers grew by 33%.
Batra said sales of two-wheelers were particularly "driven by rural economic growth and better disposable income." But passenger car sales, an indicator of overall consumer sentiment, have been slowing down (up just 6.1% in February) primarily due to rising fuel costs.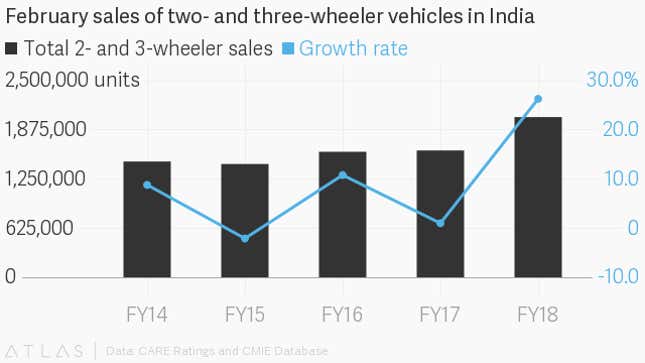 However, the question remains: Have sales really improved, or do they seem magnified because at this time last year, demonetisation had crippled the economy?
In February 2017, companies sold only about 4,000 additional commercial vehicles compared with a year ago. Sales in the two- and three-wheeler segment grew marginally by 1% in the same period.
This is fuelling scepticism about the February 2018 numbers.
"In the past we have seen such spikes and it has failed to sustain…We need to keep our fingers crossed, and see if this growth sustains over the next two to three months," Sunil Kumar Sinha, principal economist of India Ratings, told Quartz.
However, when this growth is juxtaposed with industrial production growth, the overall outlook does seem positive, Sinha added. In January, the index of industrial production, which measures India's industrial activity, grew at 7.5%, supported by persistent manufacturing growth.
Moreover, the coming months should also see a sustained moderate growth in vehicle sales, Biswanath Bhattacharya, partner at advisory firm KPMG, told Quartz.