Smartphone users in smaller Indian cities have better access to the internet than those living in tech hubs like Bengaluru and Hyderabad.
Patna, the capital of Bihar, one of India's poorest states, tops the list of cities with the best 4G availability, according to research by data analytics firm OpenSignal. The list ranks cities based on where users could access an LTE (Long-Term Evolution, a standard for wireless high-speed communications) connection more often over a period of 90 days starting Dec 01, 2017.
In fact, the top three on the list are tier-2 non-metro cities—Patna, Kanpur, and Allahabad— and the only two major cities in the top 10 are Kolkata at fourth place, and Bengaluru at the tenth spot.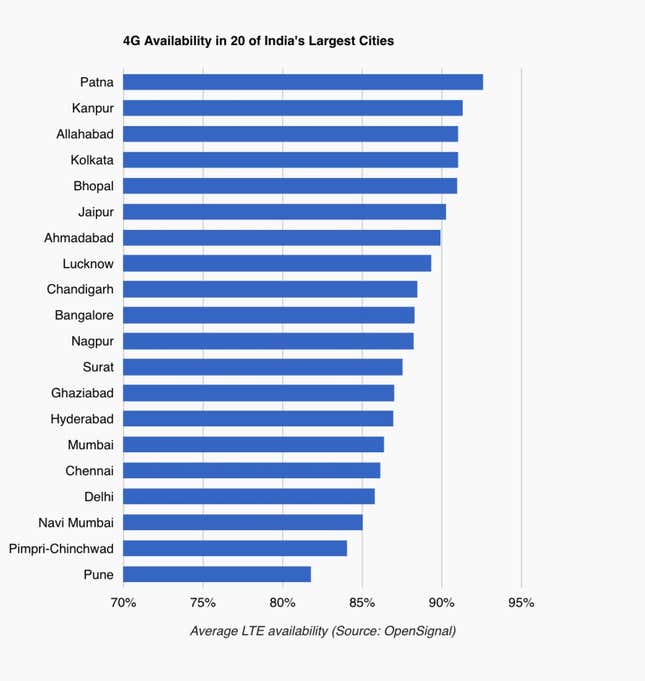 Across the country, users were able to connect to an LTE signal over 86% of the time, a rise of some 10 percentage points from a year earlier, OpenSignal said.
"The difference in our 4G availability metric between top-placed Patna with 92.6% and 10th-placed Bengaluru with 88.3% was just 4.3 percentage points," OpenSignal said in the report. All the cities have a score of over 80% on OpenSignal's scale, similar to that of many of the world's most mature 4G markets, the report added.
While the tech hubs continue to lead in terms of the internet speeds, OpenSignal expects most Indian cities to soon catch up in terms of 4G speed in the coming months.
"Driven by fierce competition, India now has one of the most extensive 4G footprints in the world," OpenSignal said in the report.