Last month, India added another internet company to its unicorn club of startups valued at over $1 billion: Bengaluru-based education technology company Think and Learn, which owns the Byju's Learning App.
Founded in 2011 by Byju Raveendran, the app hosts learning programs, including various mathematical and science concepts, for school students, and for those seeking admission into institutes of higher learning. The startup has raised a total of $244 million (around Rs1,623 crore) from Facebook co-founder Mark Zuckerberg's Chan Zuckerberg Initiative, International Finance Corporation, Lightspeed India Partners, and Sequoia Capital India, among others.
In an email interview with Quartz, 38-year-old Raveendran outlined the company's plans to go international and the challenges it faces with India's rote-based education system. Edited excerpts:
Could you tell us about Byju's current business size and your target for the near-future?
We currently have 15 million registered users from over 1,700 cities on our app. Of these, 900,000 are paid subscribers. We are adding close to a million students a month, besides seeing 85% annual renewals.
Our users spend an average of 53 minutes on the app each day, and 93% of the parents of the students who use our app have reported an improvement in their children's grades.
In terms of revenue, we clocked around Rs520 crore in financial year 2018 and expect to more than double revenues to around Rs1,300 crore in the current financial year.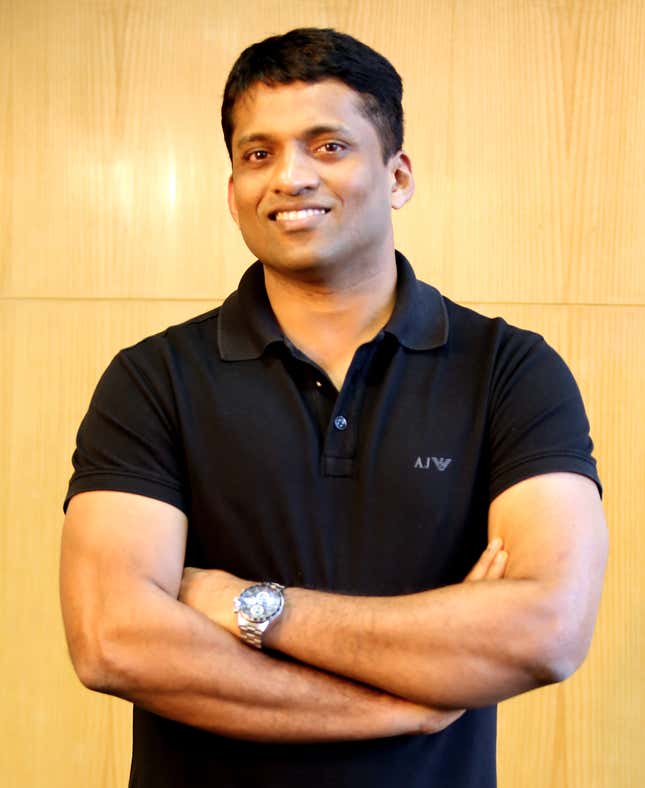 What is your strategy for growth going forward?
In 2018, our core focus will be on two things: Getting deeper into India and launching our international product.
In India, almost 75% of our users come from outside the top 10 cities. But we have still reached out to less than 1% of the total student population. The availability of Byju's learning programmes in multiple vernacular languages will ensure access to students in more parts of India.
To launch in the international market, we are in the process of building a product. Our aim is to get the k-3 product (for grades 1 to 3) ready for launch by October this year.
Which countries do you plan to launch in? How will the international product be different?
Our international product will be launched in English-speaking markets like the US, UK, and other Commonwealth nations. We are building the product in-house and have roped in some of the most popular YouTube teachers who are experts in their domains. We are getting them to India to record and help us with product development. This will help students in these markets understand and connect better. However, at this point, we won't be able to disclose the names of these YouTubers.
Edutech firms have been in India for a while now. What makes you different?
Our focus is simple: Change the way students learn by instilling the love of learning in them. We target the end users and help them become better learners. We are creating a new segment of millions of self-paced learners where teachers and parents just take up supporting roles.
We are also solving the core problem of access to quality teachers in a one-on-one format. We offer a unique combination of content, media, and technology, which makes learning effective, engaging, and personalised.
What are the challenges you are battling?
Students today are getting trained to solve questions but they are not encouraged to find problems or ask questions. The focus of India's education system has been on spoon-feeding and rote memorisation, rather than encouraging children to learn on their own. In conventional classroom learning, access to quality teachers, and personalisation of learning has always been an issue as it is a very exam-focused approach.
The challenge for us has always been to change the perception about how children should learn. Students should take up the initiative of learning on their own, while parents should take up supporting roles.