Has the Kama Sutra, the ancient Indian treatise on love-making, often left you perplexed with its dozens of seemingly impossible sexual positions? Well, help may be at hand.
As a traditionally conservative India slowly gets comfortable with talking about and indulging in sex without being prudish about it, one startup is out to make putting theory into practice easier. Its unique product? Love-making furniture.
Launched last month, Delhi-based LoveRollers sells a range of curvy little couches that come in different colours and patterns, and are each shipped with a guide to 100 Kama Sutra positions. The idea, founder Gaurav Singh says, is to enhance the sexual experience by letting Indian couples comfortably experiment in bed.
"Flat beds don't support most of the positions (and) the preparation to make them happen is a tedious and boring task. That simply kills the fun of it," Singh, a graduate of the Indian Institute of Technology Delhi, told Quartz. But the curves on each LoveRoller, designed with "perfect mathematical calculations," enable deeper penetration, he says. Besides, it offers better support, making the whole process of experimenting easier.
Since its launch, LoveRollers has received over 100 orders, mainly from customers in major Indian cities. There have also been enquiries from as far as Dubai, Singapore, and Thailand. Singh says investors have already approached the company and it's on track to partner with some hotels to create LoveRoller-themed rooms for couples.
But then, selling furniture for sex isn't easy. Not in a market where, till recently, movie sex scenes were more likely to show two flowers getting together than two people.
Dodging the curveballs
Singh is very familiar with India's discomfort with anything sexual. Born in the 1980s to a middle-class family in Agra, Uttar Pradesh, he grew up at a time when discussions around it were much more hush-hush than they are today.
After graduating in industrial and production engineering from IIT-Delhi in 2008, Singh went on to work in a management consulting firm for several years. While trying to figure out how to strike out on his own, he zeroed-in on the sexual wellness space.
"We're all working on deep technology, deep thinking, and deep networking. But nobody was thinking about how to make relationships better and deeper," Singh explained. So, he decided to put his love for product design to good use and create furniture that would help Indians have better sex.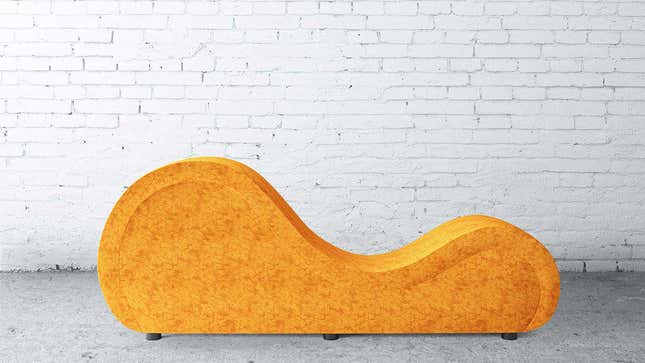 It took a year of tinkering and experimenting before he settled on the prototype for the LoveRoller, which features three parts—a lower arc, a central contour, and a higher arc. Together, they provide neck, back, and pelvic support to make even the most contorted Kama Sutra positions comfortable enough to try. A standard model costs Rs20,999, while the mini version is Rs15,999.
Singh says it took him three months after creating the product to work up the courage to tell his parents about his new line of business. But they did eventually support his venture.
However, early customers pointed out a problem: No one in India wants to handle inquisitive family or friends curious about the peculiar piece of furniture which he sells. So, the company designed a "plug and play" convertible version of its flagship product—a LoveRoller that separates into two more inconspicuous parts that blend in easier with other furniture in the room.
But the initial awkwardness aside, LoveRollers is riding a wave of growing interest.
The new normal
Rising incomes and exposure to the internet and dating apps have created a growing market for sexual wellness products in India. And online retailers like Lovetreats and ThatsPersonal are tapping this with sex toys, lubricants and even flavoured condoms.
Interestingly, their customers aren't just westernised urban elites. Instead, they often receive orders from all over the country, especially tier-2 and tier-3 cities.
"It's really become part of a kind of aspirationality, like a good life includes a good sex life," said Paromita Vohra, founder of the online sex education project, Agents of Ishq. "If you talk to your average middle-class, upper middle-class couples who are getting married and want to have a nice house, a nice car, and foreign holidays, a good sex life is (also) part of that for more and more people."
And LoveRollers, with its playful messaging—"feel the #DeepLove again"—that normalises seeking out sexual pleasure, is another step forward for a country that has for long viewed both as something that should only be spoken about behind closed doors.
However, Vohra notes that the company's emphasis on "deeper penetration" suggests one troubling aspect of India's nascent sexual revolution: it may be crossing class and regional boundaries, but it's still overwhelmingly centred on heterosexual couples. While LoveRollers also says its products can offer comfort and support for pregnant women and those suffering from period pain, the main thrust of its messaging is "deep love" through deep penetration, which Vohra argues is a very heteronormative way of defining sex.
"On the one hand, there is an opening up…people are talking about sex the way they might talk about food or clothes. On the other hand, how strongly is female or trans or queer experiences at the centre of this? To what extent is it only within the idea of the heterosexual or heteronormative couples?" she added.
That said, LoveRollers is still positioned to capitalise on India's sexual revolution.
"Be it youngsters from conservative societies or hipsters from metros, all equally love the idea of adventure and experimentation in lovemaking," Singh said. "The feedback so far has been amazing."