For a country in the midst of a porn boom, the conversation about online sexual content and its consumption remains incredibly one-sided. In conservative India, which has tried many times to ban pornographic websites, they're often viewed as something only men seek out; the desires of straight women or members of the LGBTQ community are rarely considered at all.
But as the writer Richa Kaul Padte finds in her new book, Cyber Sexy: rethinking pornography (Penguin Random House India), all kinds of Indians—male, female, trans, gay, lesbian, and even asexual—are not only watching porn but creating their own sexual content online. And technology is transforming the way Indians think about sex and sexual identities.
"The internet has allowed people to circumvent the restrictions of their immediate worlds in order to pursue sexual pleasure," Padte writes. In doing so, they're carving out a space to be themselves in a society that has firmly held on to its archaic and limiting ideas of what sex is for, and who is allowed to have it.
But in her book Padte also traces how technology brings about its own complications, among them the use of online sexual content as a substitute for balanced and informed sex education, and the rise of things like revenge porn. These are issues that the Indian government hasn't yet figured out how to handle.
In an email interview with Quartz, Padte explained how India's approach to regulating porn perpetuates the ways in which women's bodies are controlled offline, and how the country's history has a lot to do with its modern-day squeamishness over sex.
Edited excerpts:
In India, sex is routinely used to sell things like mango juice or chocolate chip cookies, and also considered a somewhat shameful, obscene topic. Why do you think these two opposing realities can co-exist in India? 
They exist everywhere. Take America, where pornography is legal and people seem to be quite open about sex. But if you scratch below that open-minded surface, you find abstinence-only sex-ed programmes, aggressive anti-abortion drives, and large sections of society which, at some level, think that sex is immoral. The question of who gets to have sex, how much sex is too much, and which sexual representations are acceptable are lines that are drawn differently in different places. But they are being drawn everywhere—even if it doesn't look like it from the outside.
So, to bring it back to your example of advertisements: ads don't sell actual sex, they sell an idea of sexuality that people can aspire to. And as a society, we're mostly comfortable with these hints of sexuality here and there—ads, films, songs—just as long as they're directing people towards what is being sold: not sex, but a product (whether it's Frooti or a Bollywood blockbuster). But as soon as sex becomes the actual product, or the goal, like in the case of porn, we're no longer okay with it.
How has our colonial history affected India's attitudes towards sex and sexual propriety? 
I think we get a lot of sexually regressive ideas from British imperialism. Take the concept of obscenity, a word that appears in Indian law way too often. That comes straight from a British law, right down to most of its wording. Or Section 377, which criminalises queer sex—also a direct colonial remnant. So I always find it quite strange when our moral gatekeepers complain about "Western influences" when it comes to sex, because what we did get from the West via colonialism was major sexual repression.
But look, it wasn't just the British. Not by a long shot. In India, we already had a very oppressive caste system at play. And this is definitely an oversimplification, but what took place over time was a collusion between colonial ideas of morality and sex and Brahminical structures of purity and caste. So while I definitely think that British imperialism was a terrible influence on sexuality in India, we need to look at how our own structures of oppression played into (and are still playing into) what the British implemented.
How is technology and the wider availability of pornographic content online now changing the way Indians approach talking about and even having sex? How has it made a difference for Indian women and members of the LGBTQ community in particular? 
You know, it's a tough question to say anything definitive about. Because on the one hand, the internet has been amazing for people of all sexualities and genders. I've spoken to so many queer people who have told me how the internet allowed them to feel less alone, gave them permission to explore their sexuality, and helped them find a space for themselves in the world. Personally speaking, as a woman, the internet has been so important in my own relationships to sex, sexuality, and my body.
But on the other hand, so few people are online. We're talking mostly upper caste folks with relative economic privilege. And we're also talking way more men than women. The digitial divide is huge, and it's happening across gender and caste lines. So while I do think that the internet has been a sexually freeing and wonderful place for those who have access to it, I also think we can be doing a lot more to find ways for everyone else to meaningfully get online, too.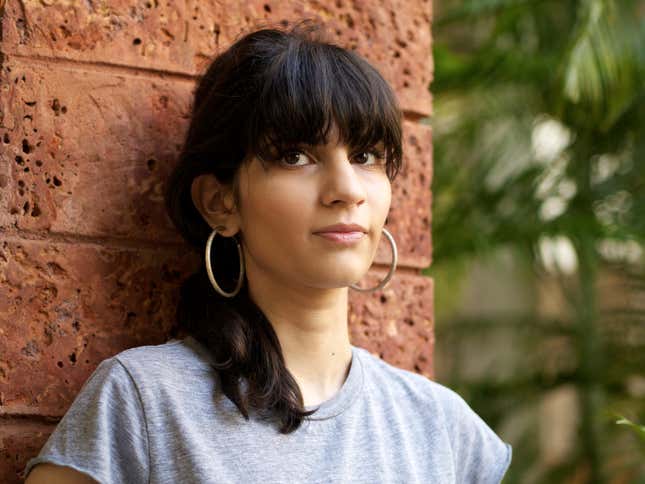 You argue that the way porn is regulated in India often perpetuates the existing offline systems of control over women's bodies. Can you elaborate on this?
I think the regulation of sexual content, whether it's online or offline, is almost always rooted in control over women's bodies. How much skin is too much, what counts as an "overly" sexualised representation, and so on. And the argument goes that this regulation is for the "benefit" of women—either to prevent us from being unnecessarily sexualised (who gets to decide what is necessary?) or to protect us from men, who apparently view these sexual representations and then go on to harm women (there is literally no data anywhere in the world to support this claim).
Aside from being based on untruths, what this regulation does is totally disregard women's agency—both as consumers of this content (surprise! women watch porn!) but also as its subjects, be it nudies, porn, or item numbers. Sexual representations are not inherently bad for women, but to understand this we need to first see women as autonomous beings who have agency, rights, and desires.
Your book also discusses the dark side of technology and sex. How would you rate the laws in place in India to protect against this? 
There are both good and bad things about the laws around non-consensual porn on the internet. In my very un-lawyerly opinion, the positive is that we have some good laws. Section 66E of the IT Act criminalises non-consensual sharing of intimate images. We also have good broader laws around violence against women, for example via sections of the Indian Penal Code, which apply online, too.
The problem, though, is when we consider how the laws are being used. In a word: not well. Okay, that was two words. But here's an example of what I mean. Take Section 66E of the IT Act. It's a great law for criminalising a lot of the consent violations we see against women that involve technology. But a study done by Point of View last year found that this law is almost never used. Instead, what's used is Section 67, which is an anti-obscenity clause. So basically, instead of criminalising a consent violation because it is a consent violation, we are crimininalising it under the same law that sees all sexual content as obscene. I don't think we need better laws per se (though I can think of quite a few that we should get rid off, starting with Section 377 and all our obscenity clauses), but we need to use the laws we do already have in a way that actually delivers justice to the people who need it the most.
Why do you say decriminalising porn is the best way forward for India? Given the extent of porn that depicts women in dehumanising situations, how can decriminalising it be a good thing? 
What is the extent of porn that depicts women in dehumanising situations? I hear a lot of people saying this, but I'm yet to find any statistics or data to back it up. There is porn that represents women well, and there is porn that represents women badly. The same is true of films and books and art. But just because most Hollywood movies are still being made by straight white men, we're not asking for the criminalisation of Hollywood, right? So why are we doing it for porn? Just because in one of these mediums people get more naked than others, it doesn't make it worse, and it certainly doesn't make it worse for women.
One of the reasons I argue for the decriminalisation of sexual content (aka porn) is because we are witnessing a horrible plethora of consent violations against women. From revenge porn to hidden cameras to rape videos, a huge quantity of the sexual content coming out of South Asia is non-consensual. But legally speaking, we can't tell the difference between when a woman wanted to do something and when she was coerced into doing it. Because it all falls under anti-obscentiy legislation, and irrespective of consent, it is all equally illegal.
So if we really don't want women to be dehumanised, we can't criminalise them under the same laws as we do their aggressors. There's nothing wrong with sex, but there is something very wrong with consent violations. And by decriminalising pornography, we will have the legal tools to tackle violence against real women—instead of our morality-laden ideas of what women should and shouldn't be exposed to.