Two of India's biggest consumer goods companies are sparring again, this time over a men's fairness cream advertisement.
Emami, based in Kolkata, has got a local court to pass a temporary order restraining rival Hindustan Unilever (HUL) from airing a campaign that shows its brand, Fair and Handsome, in a poor light. With a revenue of Rs2,540 crore in the financial year 2018, Emami sells a range of popular personal care brands such as Zandu balm, Navratna oil, and BoroPlus cream across India.
The ad for HUL's Fair & Lovely Men's Fairness Cream, which began airing recently, has Bollywood star Siddharth Malhotra urging consumers to "choose wisely" between its "original" and the "other"—Fair and Handsome—a tube of which is also placed in the video.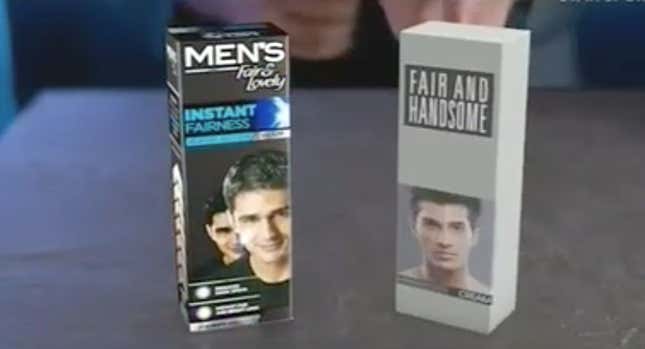 Following Emami's plea earlier this week, a court in Serampore, near Kolkata, passed an order on June 19 restraining HUL from circulating and displaying the commercial till July 06. HUL has also been barred from publishing the advertisement in print or any other medium, Emami said in a statement on June 20.
In an email, an Emami spokesperson said that the recent commercial has caused "direct disparagement to Emami's Fair and Handsome Fairness Cream for Men, by showing and naming the Fair and Handsome pack directly in communication."
Emami also sent legal notices to seven television networks—Star India, Sun TV Network, Sony Pictures, Viacom 18, Zee Entertainment, 9 X Media, and B4U Television Network—barring them from airing the commercial.
The company's prompt actions come at a time when India's market for whitening products—estimated at Rs2,000 crore—is becoming fiercely competitive. For the longest time firms wooed only women. But thanks to a boom in the male grooming products available now, men are also queuing up. In fact, urban Indian men believe that fair skin can improve their professional prospects, a 2015 report by research agency Nielsen showed.
That is why companies including L'Oréal, HUL, Emami, and Nivea have invested heavily in skin-brightening products for men.
Emami's Fair and Handsome was among the first male-specific whitening products, launched back in 2005 and helped build the category in the country. The brand has an over 60% market share in the segment, according to Nielsen.
HUL's Fair & Lovely has been around for decades, though a product for men was only introduced in 2007.
In any case, this isn't the first time the two brands are fighting it out over an advertisement.
In 2017, HUL moved the Advertising Standard Council of India (ASCI), an ad industry watchdog, over a Fair and Handsome commercial. Mumbai-based HUL challenged the veracity of several claims made in Emami's ad. The complaint was, however, rejected by the ASCI.
HUL did not respond to e-mail queries sent by Quartz.