The world's largest video-streaming platform is betting big on original Indian content across genres and formats.
Netflix, which has created over 80 shows in 30 international markets, will this week launch its first Indian thriller web-television series, Sacred Games. Based on author Vikram Chandra's 2006 novel by the same name, the eight-episode show stars top Bollywood actors, Saif Ali Khan, Nawazuddin Siddiqui, and Radhika Apte.
This comes just months after Netflix premiered two Indian movies, rom-com Love Per Square Foot and anthology Lust Stories.
To better understand Netflix's plans for original content in India, Quartz spoke to Kelly Luegenbiehl and Erik Barmack, both vice-presidents of the company's international originals segment.
Edited excerpts:
How has your journey in India been so far?
Barmack: Over half of our global audience is now outside of the US and that number is growing faster than the US audience. So, over time, you'll see more people from different parts of the world, India included, as part of that growth story.
In India, we're ramping up our original content. We already have romantic films and a crime show. Next up will be a supernatural horror, Ghoul, the adaptation of Aravind Adiga's cricket novel Selection Day, and an unscripted show that's based on the Mumbai Indians and the Indian Premier League. We've done lots of stand-up comedy and kids' programming. As we ramp up, there will be lots of different genres for different audiences, which is a serious investment.
Luegenbiehl: We want to make sure we have enough stories people love and want to talk about. Everybody has a different taste so there's going to be a wide variety of shows.
So far you've only created Indian content in Hindi and English. Do you plan to explore regional languages?
Luegenbiehl: We want to do the content in the language based on the authenticity of the situation. So if you see in Sacred Games, it's multi-lingual. There are at least four languages in it.
Barmack: Over time, the majority of our audience is not going to be speaking English and they're going to be watching stories from around the world, which will be subtitled or dubbed. Consumers are savvy. They can tell when you're faking it. So what works best is if you're doing the Spanish show, then it feels Spanish. We want to be great for India and the diaspora but we also expect these series to travel around the world.
How do you think Indian content will be received the world over?
Barmack: There are shows that do well around the world that do well in India, too. Like 13 Reasons Why, Stranger Things, and Narcos. We have also seen that the Indian films we've put out have done very globally.
At a minimum Rs500 per month, Netflix is believed to be too expensive for price-sensitive India.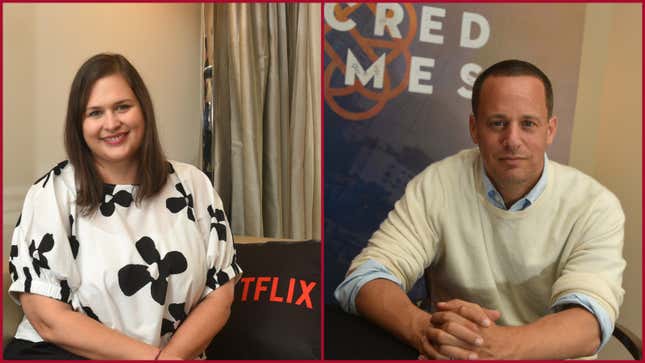 Luegenbiehl: We're really happy with the way we're growing here. We look at that subscription dollar as something we can invest in more content.
Barmack: We want to create value off this thing. We've doubled the size of our catalogue here since we launched. So if each year the service gets a little bit better, if we invest in the content people care about, I think we're going to be okay.
You're all set to release Sacred Games. How did the series come to be?
Barmack: Sacred Games is a book that a bunch of us internally had been fans of for a long time and when the opportunity became available, we jumped at it. Directors Anurag Kashyap and Vikramaditya Motwane also loved the book. It was sort of perfect timing of the right people and the right idea and our desire to bring that to a global audience.
How hard was it to get talent from Bollywood onboard for a web series?
Luegenbiehl: I think artistes everywhere are always looking to stretch their muscles. To the credit of Sacred Games actors, they were really excited for this opportunity, and the filmmakers behind it. They were fans of the book. Also, they realise this is a special moment in terms of the media landscape here, and they wanted to be part of that.
Barmack: They're seeing Narcos travel from Colombia to Mumbai, and shows like Dark from Germany travel to Latin America. So they're also interested in being part of this global TV. And that's just part of the narrative that people are able to watch these shows in 190 countries in 20-plus languages. They'll reach meaningful audiences outside of India—that's quite interesting to them I think. Also, they're very interested in exploring characters over a longer period of time than a film might afford.