As student protests against Bangladesh's deadly roads intensify, photojournalists are facing the wrath of the government and its supporters.
At around 10.30pm on Aug. 05, Shahidul Alam, one of the country's best-known photojournalists, was reportedly forcibly taken from his home by a group of around 35 men in plain clothes who claimed to be from the detective branch of the Dhaka police. Security guards and eyewitnesses said Alam was screaming as he was pushed into a waiting car, and that the men taped up the CCTV camera and took away its footage. The incident reportedly occurred following Alam's interview by Al Jazeera and after he shared a video of the protests on Facebook.
The Dhaka Metropolitan Police Detective Branch later confirmed to the Dhaka Tribune newspaper that they had taken Alam in for interrogation.
Alam is the co-founder of Dhaka-based Drik Picture Library, a photo agency set up in 1989, and he also established the Pathshala South Asian Media Institute in 1998.
At least seven photojournalists who were taking pictures of the protests were allegedly attacked by activists of the Bangladesh Chhatra League, the student front of the ruling Bangladesh Awami League party.
Over the past two weeks, students have taken to the streets to criticise the state of Bangladesh's roads after a bus driver lost control of his speeding vehicle on July 29, killing two students and injuring 12 others.
Last year alone, road accidents claimed 7,400 lives and left over 16,000 others injured, according to a report by the Bangladesh Passengers Welfare Association.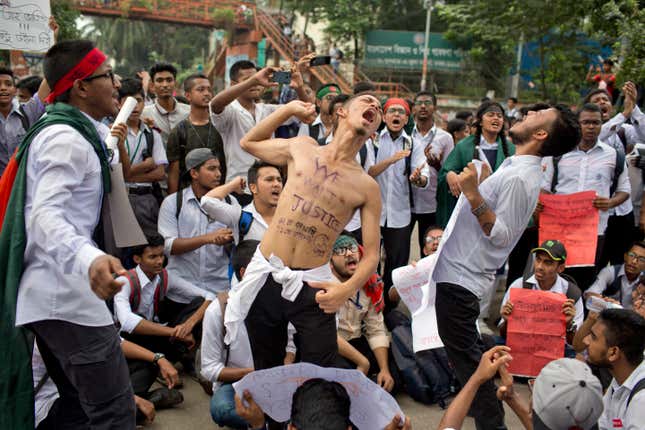 The protests turned violent over the weekend, with police using tear gas and rubber bullets to disrupt the crowd. And government supporters reportedly attacked protesters with scraps of metal and even tree branches, injuring around 200 people, according to the New York Times.
The attacks on photojournalists are the latest sign of the challenges to freedom of expression in a country ranked 146 in the 2018 World Press Freedom Index. In recent years, critics of the Bangladesh government, besides secular bloggers, have borne the brunt of violence. Self-censorship is on the rise among fearful journalists.