It's been years since the beloved cartoon The Jetsons aired, and, unfortunately, there's still no sign of a modern-day Rosie the Robot to instantly produce delicious meals.
But in a small office in the heart of Bengaluru, a team of tech-savvy entrepreneurs has built what could be the closest we've gotten so far to a robotic chef that can actually cook food inside your home.
And not just any food—Indian food, from Karnataka's bisi bele bhath to the Punjabi paneer butter masala. The company, Mechanical Chef, has built a wooden prototype about the size of a large gas hob with a rotating drum filled with spice canisters, three induction plates, and little robotic protrusions that wield spatulas and volumetric cups. The machine can prepare around 30 different vegetarian dishes with minimal human intervention. This includes rice, dal (lentils), and a sabzi (any vegetable-based side-dish) that can be cooked simultaneously in about 40 minutes.
Amid the squeaks and whirs of the machine, stirring up an aromatic dish of fried capsicum and tomatoes, co-founder and chief technology officer Arpit Sharma explained how the idea came about: In 2012, a female colleague of co-founder Cohan Sujay, a computer science graduate from North Carolina State University, pointed out that cooking takes up so much time for Indian women. Trying to find a way to solve the problem, he decided to look into the way Indian food is made and hit upon some advantages.
"He realised that in 90% of [Indian] cooking we just drop, stir, and heat. And if that can be maintained, we can actually automate 90% of cooking," said Sharma, a graduate of Indian Institute of Technology (IIT), Kanpur. Secondly, he noticed that Indian ingredients for curries and other such dishes were easy to classify and recipes usually followed a specific sequence, making it simpler for a machine to execute.
But the idea remained on paper till last year, when Sujay and Sharma met in Bengaluru. That's when the two decided to combine their expertise, Sharma's in hardware and Sujay's in coding, to create a mechanical chef.
How to build a robot
In recent years, a number of companies have built robots that can cook in various ways. There's the UK-based Moley, which has designed a robotic kitchen, complete with long arms that can prepare recipes from celebrity chefs like Thomas Keller and Gordon Ramsay. Closer home, there's Singapore-based Rotimatic, whose table-top machine can mix, knead, and even cook rotis.
But these options cost hundreds, if not thousands, of dollars, making them way too expensive for Indians. So when Sharma and Sujay embarked on designing their prototype, they kept the price-conscious consumer in mind.
The first design turned out to be too complicated, so they decided to use the principles of physics and mechanical design to create a machine that would require a minimal number of moving parts, thus making it cheaper to produce. For this, all its processes would have to work with the force of gravity, not against it. And that posed a challenge.
"We were thinking we would drop the ingredients with the force of gravity only… (But) most of the ingredients in cooking are basically powders with different grain sizes, shapes, and stickiness. Making all of them fall with gravity was a problem which took us so long because with granular media it's quite difficult when it comes to flow," Sharma explained. 
It took another try and some experimenting with the dispenser before the pair came up with a final design.
This was turned into a working prototype with a Nidhi Prayas grant of Rs5 lakh ($7,287) from the Indian government's department of science and technology through IIT Bombay's incubator, the Society for Innovation and Entrepreneurship (SINE).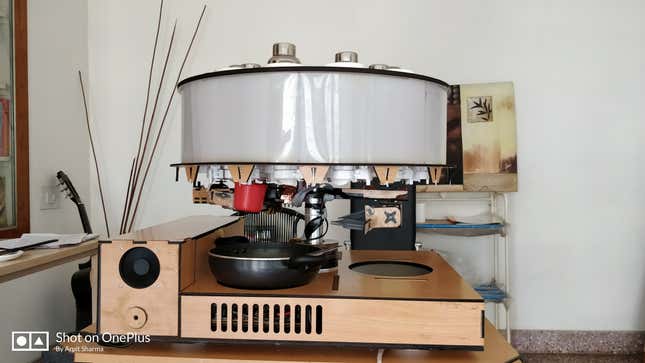 In November 2017, Sharma and Sujay took the prototype to a fair held at Bengaluru's Palace Grounds and introduced visitors to the first working version of their mechanical chef.
"We got an amazing response from people who wanted to try this," Sharma said. The company took down their names and numbers, and in June this year, after spending a few months finessing the machine and expanding its repertoire, began inviting people over to its office to test it.
In the works is an app through which users will select the dish of their choice. The machine then indicates the canisters that need to be loaded with fresh ingredients, chopped vegetables or rice for example. Spices, seasonings, oil, and water are also loaded in advance. On command, the machine begins the process of cooking, pouring out the ingredients needed into a pan placed on one of its induction plates, and stirring until the dish is done.
On the day of my visit, it took the machine about 20 minutes to whip up a mix of capsicum, tomatoes, and onion with turmeric and other masalas dropped in and slowly stirred by the little robotic arm. While the movement of the spatula occasionally pushed a few vegetables out of the pan, the final dish turned out balanced and perfectly cooked, each piece consistently soft and flavoured. There was no way to tell that it had been prepared with almost no human intervention, barring the loading of chopped vegetables at the start. And Sharma says most other testers have felt the same.
With the basics in place, Mechanical Chef is now working on a final prototype which will be the size of a large microwave and more convenient. The company is building 16 units of this for a field test at the end of this year. If successful, it plans to embark on production by the end of next year. Sharma says it will cost about Rs25,000 apiece, far cheaper than the retail cost of Rotimatic, for instance, which starts at about $999.
Home-cooked
For Sharma and Sujay, the target audience includes both busy newly-weds and India's growing population of single-person households, many of whom don't have time to cook or simply don't know how to. And this is a market with a lot of potential, according to Milind Atrey, professor in charge of SINE at IIT Bombay.
"I know a lot of software engineers right out of IIT who never cook at home because they don't have time, so if they have this technology available, I'm sure there will be a market," he told Quartz. Busy urban Indians have already fueled the spectacular rise of food-delivery startups like Swiggy, which now even offers single-serving dishes for as little as Rs99 delivered to your door for free. 
"I think this technology will have takers in metro cities. But I also feel that all the Indians who are settled abroad, that could also be a market," Atrey said. The challenge, though, is in making a machine that can customise food to cater to different tastes across the country, and still be simple enough to be used by anyone.
Sharma and Sujay already have more ambitious goals: Eventually, they want to make it possible for Indians to enjoy the taste of their mothers' home-cooked food, even if they're living hundreds of miles away.
"Let's say a mother wants to cook for her son (living away from home); she just has to write down what she does while cooking and feed that recipe into the app, ask her son to load (the ingredients), and then go to work. In the evening when he comes home, the food will be ready—the same food that his mother makes."