IKEA's first Indian store has seen so much rush in the first week of its opening that the retailer is now having to dissuade shoppers from coming.
The world's largest furniture seller's flagship Indian outlet in the southern city of Hyderabad has received an average of 28,000 daily visitors since its inauguration on Aug. 09.
On Aug. 15, to handle the situation better, IKEA put up a live ticker on its website displaying how long it would take for a shopper to get inside the store. The idea was to help shoppers plan their visit better and for the company to manage the crowds more effectively.
For IKEA, which has 400 stores in 50 countries, this is a first.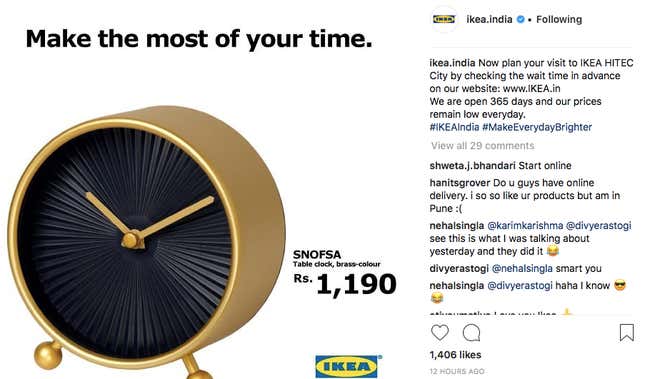 At 1:30pm on India's Independence Day, the waiting time on the ticker was up to two hours; by 2.30pm it rose to three hours. Seeing such long waiting hours could potentially discourage some buyers, reducing the rush at the store.
Calm down, India
IKEA expects six million visitors at its Hyderabad store in the first year. If the initial response is anything to go by, it is off to a good start.
Some 40,000 shoppers had showed up on day one, leading to chaos and two-hour long queues just to get inside and a long winding traffic jam outside. Social media was flooded with scary videos and images of the situation.
Since then, IKEA has been treading with caution.
Over its first Indian weekend, the retailer put out a message on its Instagram handle announcing that it was housefull. It even sought to bring down the excitement a notch even by assuring customers that it was here to stay and that they needn't rush immediately.
Hej Hyderabad, your excitement has overwhelmed us (literally). Our store and parking are currently full. But there's nothing to lose as we are open 365 days and our low prices are valid everyday. So take all the time you need.
The craze is primarily the result of IKEA's months-long promotional efforts through front-page newspaper ads and large hoardings across the city. In Hyderabad, awareness of the brand went from a mere 5% when IKEA was still building the store to nearly 80% as the opening date approached, IKEA India's creative director (Life at Home), Mia Lundstrom, had told Quartz in an interview last week.
However, despite this excitement, it is still too early to determine how many visitors are actually shopping. There are past examples of how footfalls have not translated into sales for IKEA. For instance, its store in Beijing, China, initially struggled to deal with visitors who simply stepped in to eat cheap meals and rest on its couches.