The year was 1988. For Benny NA, it marked a watershed—it was the year he made a major contribution to popularising the nightie in Kerala. His wife Sherly Benny narrated his story. "Benny had Rs3,000 ($43) on him," she said. "He didn't put it in the bank like everybody else. He invested it in a small business of making nighties. He had three workers." Today, Benny NA and Sherly Benny are the owners of Kerala's largest nightie brand, N'Style. The company says it has revenues of over Rs100 crore a year.
Though a staple of women's wardrobes in the state, the nightie is not Kerala's sartorial prerogative—it is commonplace across many parts of India. Made out of cotton or polyester, it usually follows a standard design: gathered from the yoke, puff sleeves, with a rickrack or lace trimming, and usually floor-length. Its largely unflattering shape means it doesn't rate highly with the fashion conscious. Curiously, the flappy garment has attracted its fair share of controversy. In 2013, a Chennai school asked the parents of their students to stop wearing nighties for the morning school run as they felt it was distracting. The next year, a women's group in Gothivli in Navi Mumbai tried to impose a fine of Rs500 on residents wearing nighties outside their homes, describing the garment as indecent. In both cases, the nightie won the battle.
Despite the mild horror it sparks in some quarters, the nightie's stock seems to be on the rise. In fact, it may even be a sartorial highlight of this year's American summer. Only in July, The New York Times ran a story on the garment under the headline "Wear Your Nightie Out."
Prasad Bidapa, a fashion stylist and choreographer from Bengaluru, believes the reason for its popularity is the comfort that the garment affords. "A few years ago, corporate women in America were wearing lacy satin chemises under their jackets, adding a touch of femininity to workwear," he said. "It was only a matter of time before the comfort of nightwear was translated into what we now call lounge or active wear."
Comfort is key
In Kerala, the nightie is everywhere. Sherly Benny has been the CEO and chief designer of N'Style for almost a decade and reckons that most working-class women in Kerala own at least one nightie, if not two. "She wears one not just at night but during the day, when she's working, even when she's walking the children to school," said Sherly Benny. "Young or old, it doesn't matter."
She believes the state's weather has something to do with the popularity of the garment. "Kerala is where the nightie has flourished because in this humidity, wearing a salwar kameez or a sari is uncomfortable," she said. She says her husband's experience as a bra salesman and in textiles gave him insight into what women wanted: "A good, comfortable, airy garment that they could work and sleep in."
In addition, there's its sheer practicality. "The Kerala nightie is 90% cotton and 10% polyester or rayon, which makes washing and drying easier too," said Sherly Benny. "Plus it lasts longer."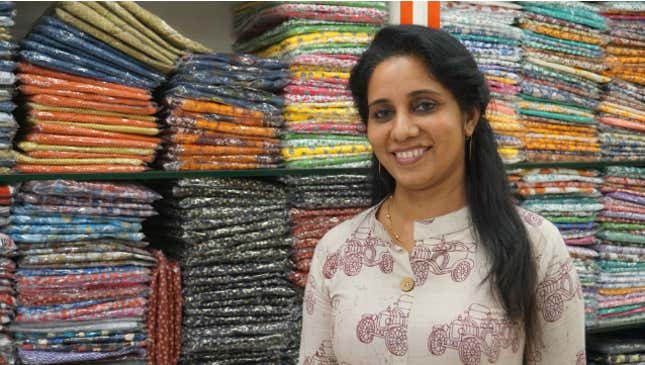 N'Style has a production unit in Piravom, an hour and a half from Kochi. It employs 600 people and sells its products through 400 retailers. "We make 10,000 nighties a day," said Sherly Benny. A Kerala nightie can retail for anywhere between Rs200 and Rs800.
Most of the tailors who are stitching the nighties are women, said Sreejith Jeevan, a fashion designer at Rouka in Kochi. "…It's easy to cut—just shoulders and neck," he said. "And an easy straight stitch. That made me think of just how high the consumption of the nightie is in Kerala."
Jeevan describes the nightie as a "boxy garment which doesn't give any shape to the body." But he admits to having used the shape in his designs quite frequently as "it's not always about the curviness, but also about functionality."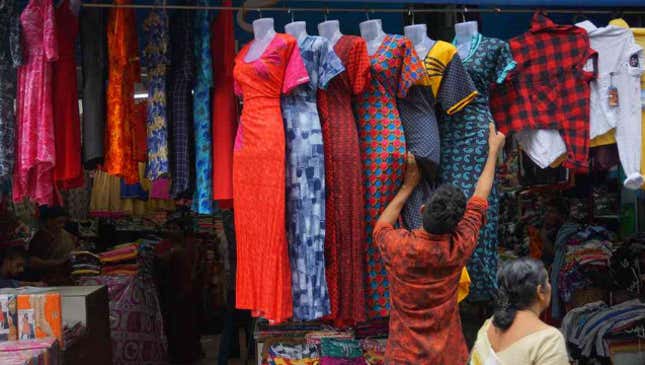 The origins
The nightie is believed to have made its first appearance in Victorian times as the nightgown when, according to Bidapa, the women would wear "usually decorously floor-length" garments made of Indian muslin in the summer. "English ladies in colonial India wore it through the year as sleepwear," he said. "But I think nightwear existed even before that, especially with ancient Egyptians and later the Romans."
In the 18th century, the nightgown made an appearance in India. "It travelled back with the Fishing Fleet, those ambitious young women from England who came out in droves to India to find husbands," said Bidapa.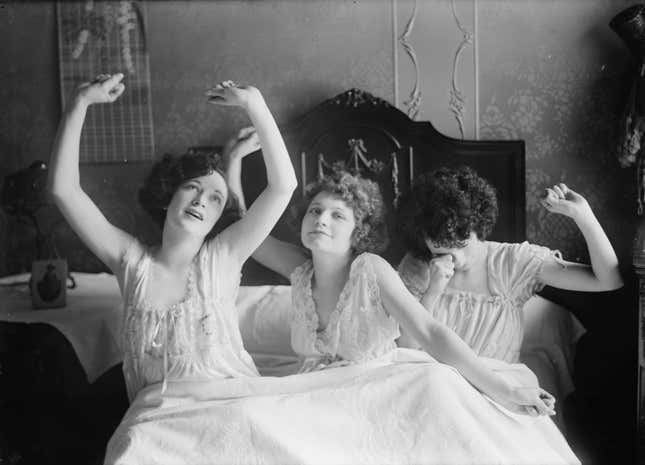 According to Anu Moulee, a vintage fashion blogger, while the British nightgown did familiarise the Indians with the concept, it wasn't necessarily adopted by the subcontinent immediately. "In the early 20th century and even up until the 1960s in India, the leisure-wear gown is high end, like the ones Nargis wears in Andaz or Saroja Devi in Anbe Vaa," she said.
Another garment that was popular as daywear in early 20th-century America was the housecoat. It didn't catch on in India though, because it "ended well before the ankle." "Apart from [in] Goa, women [in India] were averse to midi-style garments," explained Moulee.
She believes that the Gulf boom, with large numbers of Malayalis travelling to west Asia for better jobs, may have had something to do with the nightie's spread in India. "…Migration to both the Gulf and the West may have spurred the adoption of nightwear, as returnees or visitors home got back these styles," said Moulee.
Also, by the 1970s, maxis and kaftans for women had made an appearance and become an acceptable day garment. The sari was already established but, as Moulee explains, it needed a blouse and a petticoat as undergarments. "The nightie therefore served the purpose of replacing the sari once you came home," she said. "You could slip a maxi or a kaftan over a petticoat for housework, errands and the like. The cultural requirements of modesty and comfort are met by the style and fabric that has remained constant over the decades—a sleeved gown with a yoke made of cotton or blends." These adaptations have remained a constant for the Indian market. In Mumbai, in the 1980s, Gujaratis and Maharashtrians began to use the nightie.
Kerala's fascination
Feminist historian J Devaki also believes that the garment's popularity in Kerala was a result of the Malayali men "going to the Gulf to work and then coming back home with nighties in their suitcases." Devaki says this was commonplace in the 1970s and 1980s. "They would bring in these luxurious Egyptian cotton maxi-type long dresses for their wives. In the Gulf countries, women wear robes in the day and at some point, as Kerala's ties with the Gulf got stronger, the nightie got adopted as day-wear."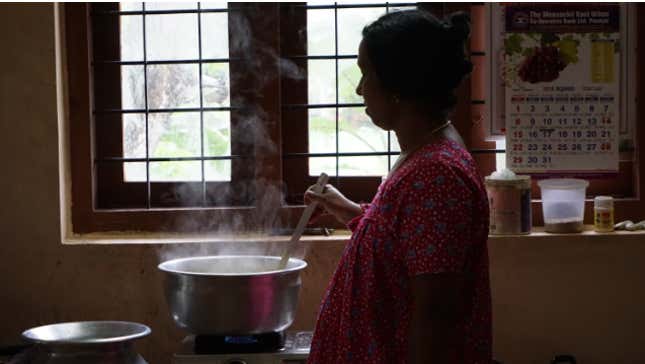 In Kerala, the sari is draped in a manner quite unlike other parts of India. The mundu-neriyatham consists of two mundus, or a skirt-like garment. One covers the lower part of the woman's body, while the other is worn with a blouse and draped across the torso. "Women in north India were quicker to adopt the salwar kameez or palazzo-type trousers," said Devaki. "In Kerala, it was all about the drapes. It was probably why the nightie as a garment became quickly accepted. Over time, the Gulf nightie became a rural garment in Kerala. It became representative of the lower-class woman. They adapted it into this cheap, shapeless garment which is easy to wash and maintain."
Bidapa said women in rural areas embraced the nightie as it was both "modest and decorous." "The great Indian nightie allowed women to go to the public tap, fill up two plastic pots with water, and lug it back home without having to worry about a sari unravelling."
The nightie is so much a part of the state's psyche that leading actresses are seen wearing them in the region's movies. In the super-hit Nivin Pauly starrer 1983, lead heroine Srinda Arhaan wears a nightie for the most part. So also in Kaliveedu, in which one of Kerala's biggest stars, Manju Warrier, is seen clad in one.
"She [Warrier] played a young housewife," said Anju Shyam, 25, who lives in Alapuzzha. "I thought how beautiful she looks in that nightie."
While Anju has been wearing the nightie since her teenage days, she prefers wearing an "A-line one" over the more traditional favourites. "It's more fashionable," she said. "It can pass off for a long dress and it gives me a nice shape." She wears one right through the day, draping a dupatta or a torthu (a thin cotton towel) around her neck when she goes to the nearby market or drops her child at school.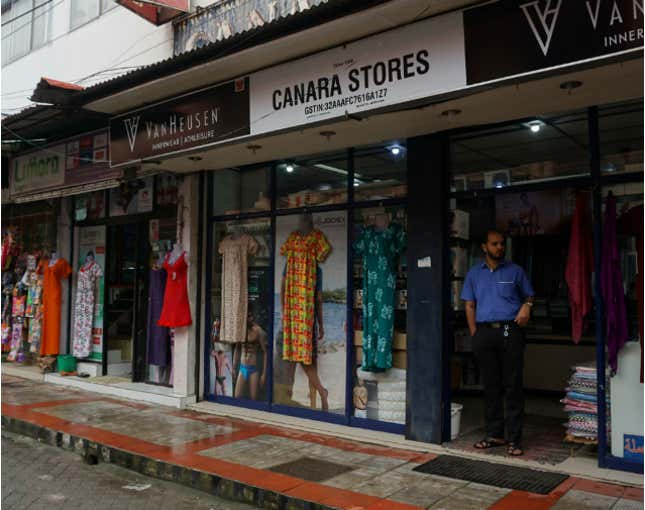 But Betty Joy, a domestic worker in Kochi, has mixed feelings about the nightie. The 56-year-old wears it when at work but changes back into her sari when it's time to go home. "So the nightie is my workwear," she said.
Meanwhile, after close to two decades of manufacturing nighties in Kerala, Benny NA and Sherly Benny have decided to shift base. N'Style is moving to Ahmedabad where "labour is cheap, unions nonexistent, and there aren't so many forms to fill." Despite the shift, customers can expect what they have always associated with N'Style, the firm's website promises an "incredible wide range, eye-glowing selections, beautiful styles, comfortable fits, and quality fabrics."
This piece was first published on Scroll.in. We welcome your comments at ideas.india@qz.com.