On Aug. 15, India marked its 71st Independence day with the return of a priceless Buddha statue stolen from Nalanda, Bihar, almost 57 years ago to the day.
The six-and-a-half inch bronze antiquity dates back to the Pala dynasty that ruled over the modern Bihar and Bengal region between the 8th and 12th centuries. It was removed from a museum along with 13 other statues, and Indian authorities' efforts to trace this valuable hoard had floundered for decades.
Then, S Vijay Kumar got involved.
Using rare photos of the stolen statues and tapping an international network of fellow antiquities aficionados, Kumar, co-founder of the India Pride Project, was able to eventually track down the Buddha statue to a London-based dealer of Indian objects. It took months of wrangling and careful examination before the piece was established as the very same statue stolen from Bihar, and the process of repatriating it was put into gear.
This is only the latest case of idol theft cracked with Kumar's help.
The 44-year-old works at a shipping company in Singapore, but his long-held fascination with temple art has fueled an unlikely hobby: hunting down India's numerous stolen antiquities, including many priceless idols taken out of the temples of his home state, Tamil Nadu.
In his new book, The Idol Thief (Juggernaut), Kumar describes the phenomenon in India, implicating everyone from government officials and the police to art dealers, auction houses, and even some of the world's biggest museums.
Poetry in stone
Of course, Kumar didn't start out with the ambition to trace stolen art. Back in 2007, when he launched the blog Poetry in Stone, his primary goal was simply to educate people about the history and art inside Tamil Nadu's temples.
"There was an absolute lack of awareness about temple art, and people used to just go into temples, go into the main shrine, and just walk out. They wouldn't even spend a minute going around and looking at all the sculptures," Kumar told Quartz. "I decided that there was a need to sensitise the common man…there was a need for a dummy's guide to Indian art, and instead of bringing it out as a book I thought I'd start a blog."
With over 300 posts written in Tamil and English, Kumar eventually connected with like-minded art lovers around the world, and a community formed online to share photos and information about Tamil Nadu's temple art. Members collected and digitised books on the topic, and organised site visits to photograph idols and icons.
It was on one of these site visits that Kumar first noticed that some of the idols listed in books and other material weren't actually to be found inside the temples.
"We asked some questions, (but) the answers were not really forthcoming. They would say it's in the museum; we'd go to the museum, they'd say it's in the go-down, the stockyard. And then we knew that something was amiss," he explained. "And at that point, we also realised that a lot of Indian art was coming up for sale and being acquired by museums for ridiculous prices. And they had no provenance information and nobody was taking action."
So, he began tapping his online community to try and identify Indian artifacts on display around the world that could potentially have been stolen.
"Thanks to software and IT call centres, we had Indian guys almost all over the world, so we requested them to go to museums, auction houses, sales. (We said) whenever you find an Indian object, you take one (photo) with you, one without you, and send us that photo," Kumar said.
This network eventually built one of the largest photographic archives of distributed Indian art overseas. The archive, and Kumar's penchant for matching photos, would play a significant role in the shocking downfall of an Indian-American art dealer who made millions selling stolen idols.
Idol thieves
In his book, Kumar delves into the modus operandi of Subhash Kapoor, a New York-based art dealer who hobnobbed with the rich and famous, all the while selling collectors and museums priceless pieces of Indian heritage for enormous sums.
Many of these rare pieces were stolen from forgotten or unused temples in India, and transported to the US through a sophisticated network of corrupt smugglers, customs officials, and shipping companies stretching from Chennai to New York, London, Hong Kong, and Singapore.
Central to the riveting story of Kapoor's years of crime and eventual arrest by Interpol in 2011 are idols stolen from a temple in Suthamali, Tamil Nadu.
In the years leading up to his arrest, both the Idol Wing in Tamil Nadu, set up in 1980 to probe antiquities theft, and suspicious US authorities were closing in. It was Kumar, though, who ended up finding definitive proof that would help put an end to Kapoor's lucrative racket.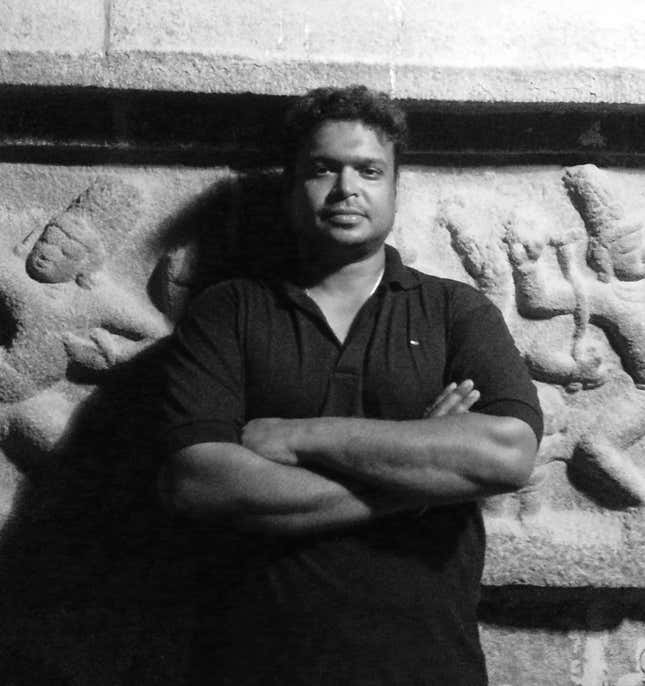 He did so by identifying that a pair of Shiva Nataraja and Sivakami idols that Kapoor was putting on sale in New York had come from the Suthamali temple. Rare archival images sourced from the French Institute of Pondicherry, which had begun documenting temple art in 1955, showed that the idols were inside the temple as recently as 1994.
Under the 1970 UNESCO convention for preventing the illicit export or transfer of cultural property, which India ratified in 1972, items taken out of the country after that date have to be forfeited and returned home with no compensation. Kumar alerted the idol wing of the match, which proved that the idols had been stolen well after 1972. Armed with this proof, and confessions from former partners, Indian authorities set in motion the process that would end with Kapoor being arrested by Interpol at the Frankfurt International Airport on Oct. 20, 2011.
Kapoor was eventually extradited to India in 2012, and he remains in prison awaiting trial. But the exposure of his complex network, and his warehouses filled with $100 million worth of stolen Indian art, revealed the staggering extent of the crime, and how ill-equipped India was to handle it.
A systemic problem
A 2013 report (pdf) by the comptroller and auditor general of India (CAG) raised concerns over the trend. It revealed that "security lapses" had led to the theft or loss of 37 art objects from site museums run by the Archaeological Survey of India (ASI) and 131 antiquities from monuments and sites themselves over the past 50 years. Many of these antiquities had eventually emerged at sales conducted by prominent auction houses abroad.
"We found that the ASI had never participated or collected information on Indian antiquities put on sale at well known international auction houses viz. Sotheby's, Christie's, etc. as there was no explicit provision in the AAT (Antiquities and Art Treasures) Act, 1972, for doing so. We noticed several examples of antiquities of national importance being sold and displayed abroad," the CAG report said.
This, despite the fact that the 1970 UNESCO convention set down a clear framework for source countries to get their stolen heritage back. Between 1976 and 2001, the CAG found, only 19 antiquities had been brought back to India by the ASI. And after 2001, not a single case had been cracked.
For Kumar, that report really put things in context. The lack of specific heritage laws and weak punishments for those convicted of stealing from religious sites meant that art crime could often go unpunished. But what was worse was how many in India were often complicit in the crime. Tamil Nadu's idol wing itself was eventually found to have a mole that alerted the smuggler network whenever the investigation got close.
"There is generally a view that this is petty theft: one or two places, some small petty robbers. But there is pretty much an organised network that's doing it," he said.
Demand from private collectors feeds this network, but international museums are also part of the problem. At the end of the book, Kumar lists museums who did business with Kapoor and it includes the likes of The Metropolitan Museum of Art in New York and the Louvre in Paris. After Kapoor's arrest, Kumar writes, no museums came forward to return their prized purchases to India, standing by their "cosmetic" due diligence until Kumar was able to match photos to archival images to prove the objects were stolen from temples.
In recent years, a number of valuable pieces have started to make their way back to India, celebrated with diplomatic photo opportunities. But Kumar maintains that with more support, India could retrieve thousands of pieces of lost heritage. The custodians tasked with protecting heritage, though, leave much to be desired, he argues.
In Tamil Nadu, for instance, 1,200 idols were stolen between 1992 and 2017, according to an audit by the Hindu religious and charitable endowments (HR&CE) department that administers the state's many temples. But despite mounting pressure from the Madras high court to address idol theft, few have been found. In fact, the state's idol wing is engaged in a fierce battle with the HR&CE, which has taken much of the focus away from the actual process of finding and bringing back stolen art.
Sharmila Ganesan, co-convener of the Tamil Nadu chapter of the Indian National Trust for Art and Cultural Heritage, believes there hasn't been enough action.
"Accountability has been lacking over the years," she told Quartz, adding that unscientific restoration and preservation practices conducted by those with little expertise are also part of the problem, creating gaps that make ancient heritage sites all the more vulnerable to theft.
The incentive for change has to come from the state, she said, which should also tap conservation experts and activists, like Kumar himself. But the first step is to make a record of heritage sites and their artifacts, a move that has been promised for decades to no avail.
"We need enumeration and documentation to be done. There have already been some efforts but it has to be a much more concerted effort, and it has to be technology-enabled," she argues. "Today, we have so much technology at hand, and that should be effectively utilised to ensure that we are able to store all the details of all the idols across Tamil Nadu."
And that's an idea relevant for the rest of India, too. After all, as Kumar said, Tamil Nadu's idol theft crisis is just the tip of the iceberg.
"This isn't a problem that plagues Tamil Nadu and other southern states alone. The loot of our gods is taking place in temples across the land, from Kashmir to Kanyakumari," he writes in the book.