It was an ordinary Tuesday afternoon (Oct. 23) for Harish BV. The co-founder of the Indian virtual currency exchange, Unocoin, was fussing over the company's new kiosk machine at Kemp Fort Mall in the southern city of Bengaluru.
The booth, installed the previous week, was touted as the country's first cryptocurrency ATM. The plan was to allow Unocoin customers to withdraw or deposit money, which could then be used to sell or buy cryptocurrencies from its website or mobile app.
The machine was not yet operational that Tuesday and Harish wanted to ensure the systems were flawless before customers were allowed to transact on it. The operational upgrades, which Harish had been supervising that afternoon, were in their final leg.
But things began to go awry when a troop of police officials marched into the mall. They interrupted the operations at the Unocoin kiosk and picked up Harish for questioning. Later, he was sent to judicial custody on charges that the Unocoin kiosk lacked requisite approvals. The firm was also accused of violating a few norms.
A wave of panic swept through the Indian cyptocurrency ecosystem.
While the industry was still coming to terms with it, Sathvik Vishwanath, another Unocoin co-founder, was also picked up by the police the next day.
"I knew this was coming after Harish was charged," Vishwanath, who was granted bail on Friday (Oct. 26), recounted to Quartz. "I was at home that morning, trying to figure out what needs to be done to get Harish out of police custody, when the officials came to my house. They took me for questioning and later I was also charged and sent to judicial custody."
Harish's bail application is likely to be heard today (Oct. 30) at a district magistrate court in Bengaluru.
Policing cryptocurrencies
"The ATM kiosk installed by Unocoin at Kemp Fort Mall has not taken any permission from the state government and is dealing in cryptocurrency outside the remit of the law," the police's cybercrime department had said following Harish's arrest.
However, Unocoin argues that no permission is required to run the bitcoin booth. "It is a kiosk that is being set inside the mall and the mall would have had already taken trade permissions," said Swaroop Anand, the lawyer representing the Unocoin directors. "Therefore, there was no need for Unocoin to take any other permission and there had not been any violation of licence requirements."
Further, the police, in a statement after the arrests, warned the public to stay away from the cryptocurrency business to avoid getting duped. "I have no idea where they (the police) are getting this false information from. For instance, they also told me we promised 2x returns and are trying to cheat customers. We have never made such claims nor have there been any complaints against us for swindling customers," said Vishwanath.
The police's negative attitude stems from ignorance of digital currencies and also from certain media articles that have deemed cryptocurrencies as illegal in India, he said.
Besides, there was also a branding disaster that Unocoin admittedly did not foresee.
A branding blunder?
It is possible that the word "ATM" sparked the confusion, believes Vishwanath.
"It is just a kiosk which enables our customers to transact with us and not really an ATM that requires the banking regulator's approval," he added. Vishwanath acknowledges that this was an inadvertent marketing error on the firm's part. In the branding of the booth, as well as in earlier communications to the public, Unocoin had referred to the machine as an ATM.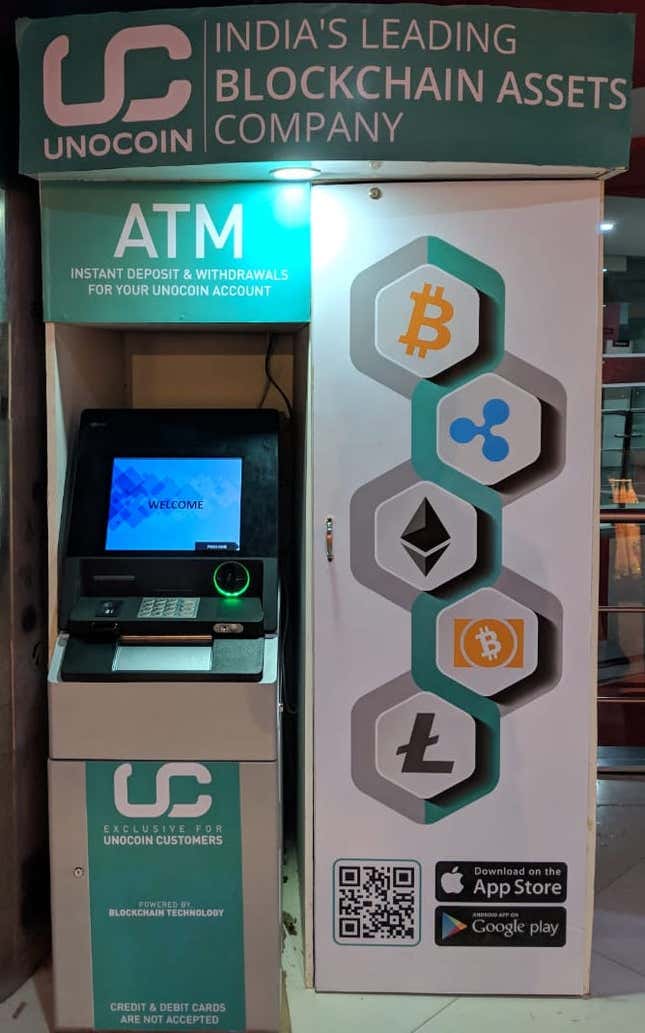 It is likely that if the word ATM had been left out, the law enforcement agencies would not have taken such a hostile view.
"It just added fuel to the fire," said another lawyer who deals with cryptocurrency-related cases, requesting anonymity. "There is a sense of legitimacy attached to the word 'ATM' as it typically gives the impression that it is a part of the banking channel. This led to more anxiety among the police as they possibly thought it was a mis-representation."
Non-banking entities, which include cryptocurrency exchanges, are not allowed to set up or operate ATMs, according to Reserve Bank of India (RBI) norms, Unocoin had explained in a blog post in January 2018.
However, since these machines were only going to work as cash deposit and dispensing machines for Unocoin customers, and had nothing to do with banking channels, there had not been any need for Unocoin to take any permission from the RBI, Vishwanath had told Quartz earlier.
An email sent to the RBI to clarify this remained unanswered.
The duo has reportedly also been booked for forgery and cheating. Again, this could have been avoided or the risks could have been mitigated if it had been branded differently. "When you are talking about taking public money and also giving it back to them, it sounds like an alternative to a banking channel, which can then spark suspicions of money laundering among law enforcement agencies," said the lawyer quoted above.
On paper at least, bitcoin and its ilk are not illegal in India. Yet, there is a lot of misunderstanding when it comes to its legal status.
The crackdown?
Last year, India's finance minister Arun Jaitley had said the country doesn't recognise cryptocurrencies as legal tender. This was generally misconstrued as "illegal," say cryptocurrency officials. In reality, this only means that cryptocoins don't have the same status as a sovereign currency and may not be accepted for completing a financial transaction, say experts.
But the interpretation has not dispelled doubts from the minds of ordinary citizens. Both the government and the banking regulator have made it amply clear that they are not comfortable with cryptocurrencies. Then, some activists had also been campaigning and writing against the Unocoin ATM, which also may have played a role in this fiasco.
Vijayashankar Na, a Bengaluru-based cyber security expert, had written to police officials several times against Unocoin's ATM. "I know these companies run the business online; the ATM is a more visible approach which also shows they are taking it a step further and it is an attack on the Indian financial system," he told Quartz.
What began as legal ambiguity has now escalated into a full-blown crisis in the system, culminating in the arrest of the Unocoin founders.
Troubled exchanges
Harish and Vishwanath's arrest has sent a chill through India's cryptocurrency market.
The two had set up Unocoin in 2013. The company now has nearly 1.3 million customers and 45 investors across five countries. Despite a spate of cryptocurrency-related crimes, Unocoin had never been pulled up by authorities.
The arrest of Unocoin's founders, therefore, has rattled the community.
"I am scared, honestly. What if they arrest me next for something? I don't want to go to the jail!" rued the head of another cryptocurrency exchange requesting anonymity. "For a couple of days the mood in the industry was, 'Screw it, what is the point of anything if cops are going to randomly come and shut us down one fine day?'," said the CEO of another exchange.
After arresting Harish and seizing the kiosk, the police officials also seized two laptops, a mobile, three credit cards, five debit cards, a passport, five seals of the Unocoin company, a cryptocurrency device, and Rs1.8 lakh ($2,500) from him, officials said.
Several people from the cryptocurrency industry that Quartz spoke to over the last one week believe the police crossed the line by arresting the founders and sending them to judicial custody. It was meant to serve as a message and reflects the hostile crypto-environment in the country.
"They could have had asked for clarifications, issued a penalty, or there are many other simpler ways in which this could have been dealt with instead of making us look like criminals," said Vishwanath.
The officials have suggested that since Vishwanath was arrested a day later, he could have deleted the Know Your Customer (KYC)-related documents from his laptop, a possible hint at money laundering, believe experts.
"But why will I keep the KYC document on my personal laptop to begin with? These things are stored on the company server and are still there. I am really curious to see what they are going to find from the other laptops they have seized from us," explains Vishwanath.
Want to read more from Nupur Anand? Subscribe to Quartz Private Key—Quartz's premium crypto newsletter, delivered twice weekly.