It's been worn by everyone, from the Beatles to Jeff Bezos, but one of India's most recognisable sartorial statements is still inextricably linked with its namesake, Jawaharlal Nehru, the country's first prime minister.
The Nehru jacket is a traditional, tailored short coat with a closed-neck collar that evolved from a version often worn by the Indian National Congress politician, who led the country from the time of Independence in 1947 until his death in 1964. Over the decades, it's become a mainstay of the ethnic wardrobe for Indian men, routinely sighted in various colours at weddings and on festive occasions.
Yesterday (Oct. 31), however, South Korea's president Moon Jae-in inadvertently revealed how even menswear hasn't escaped politicisation in modern-day India.
On thanking the country's current prime minister, Narendra Modi, for the gift of four "gorgeous garments," Moon referred to them as "Modi vests." This was likely because their labels featured the words "Modi jacket" in large and prominent font.
Ever since he was elected in 2014, Modi and other members of his Bharatiya Janata Party (BJP) have made no secret of their disdain for Nehru. His European influences and secular vision, especially, made him a target of right-wing ire.
The current government has taken several steps to chip away at the legendary leader's legacy. It scrapped the Planning Commission that Nehru first implemented to oversee the country's development and resource allocation, and has pushed for New Delhi's Nehru Memorial Museum and Library to be dedicated to all prime ministers, not just the first one. Several iconic buildings associated with Nehru's era and legacy have been targeted, too.
So, appropriating his widely recognised sartorial statement isn't entirely out of the blue.
In fact, Modi has often been photographed wearing the traditional coat in bright colours during his tenure as prime minister, especially on foreign trips.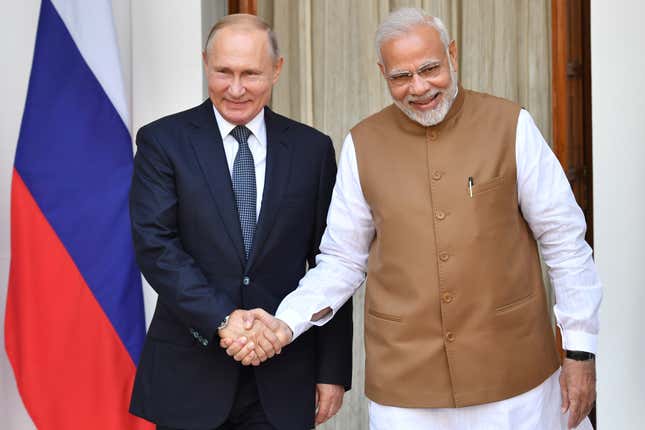 And when both Chinese president Xi Jinping and Japan's Shinzo Abe visited India, they were seen in its cream and blue versions, respectively, produced by Ahmedabad-based JadeBlue. This retailer, which sells the coat online as the Modi jacket, has reportedly been designing Modi's clothes ever since his days as chief minister of Gujarat.
In an interview with the Indian Express newspaper last year, one of the JadeBlue founders said, "Nehru jackets are heavy and are a thing of the past. We only make Modi jackets. They are lighter and fit better."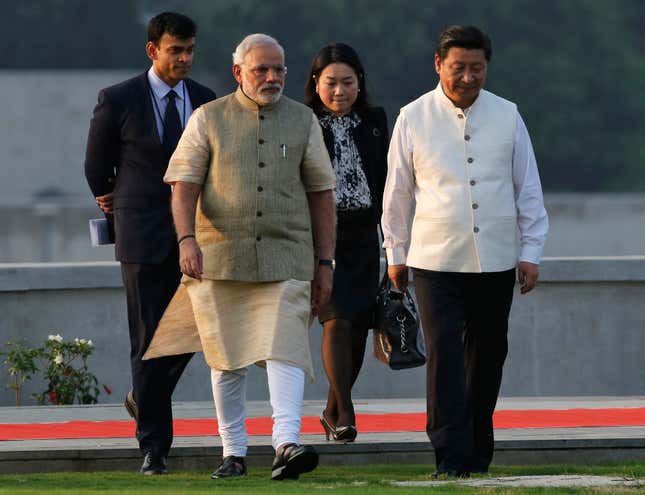 But for all the politics surrounding this piece of clothing, it's worth remembering that the Nehru jacket itself is a product of centuries of cultural confluence in India.
Its earliest version is believed to be the Persian angarkha, a long coat fastened with strings, worn in Mughal courts. With the arrival of the British and the influence of Western tailoring, it evolved into the achkan, a more tapered, knee-length version popular with the nobility. Later, as Western suits and jackets became more popular, the coat evolved again into the band gale ka (closed neck) coat in the 1940s, moving closer to its modern-day short, minimalist, and well-tailored form.
However, it was Nehru who put the coat on the fashion map after posing in one for a Vogue photoshoot in 1964. So much so that decades later, in 2012, "Jawaharlal Nehru's jackets" were recognised by Time magazine as one of the world's top 10 political fashion statements.