Western CEOs do all sorts of things to appear friendly and local when they travel to the developing world. Virgin's Richard Branson once showed up in India wearing a turban and playing a dhol while sitting atop a creaking Mumbai taxi. Facebook's Mark Zuckerberg impressed Beijing by speaking Chinese. Jeff Bezos rode up in a brightly painted Indian lorry, inexplicably wearing formal wedding attire (photo above).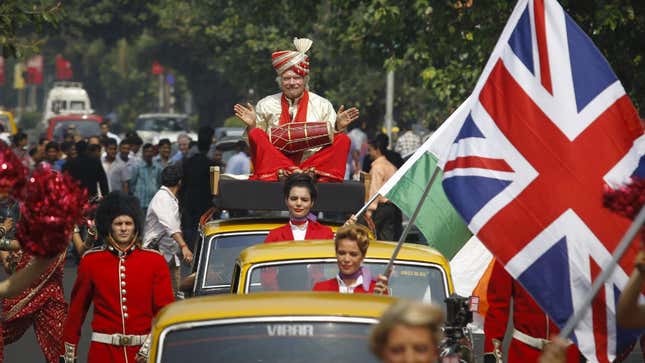 No harm done. A little silliness is all in good fun. But why stop there?
Bezos also appears in the November issue of GQ India in one of the magazine's trademark, heavily-stylized photoshoots, wearing yet more formal attire. Quartz can't post the pictures here for copyright reasons, but click through to see Bezos modelling a Rs 84,000 ($1,360) Ermenegildo Zegna jacket. (Not available on Amazon.in.) GQ India is aimed at a wealthy, urban audience, and regularly features luxury Italian brands in its pages. A mass-market rag it is not.
Bezos is a stark departure for the magazine, whose covers generally feature muscled Bollywood actors or scantily-clad Bollywood actresses and the occasional model.
The fact that Bezos, who rarely gives interviews, participated in this elaborate photo session for GQ India shows just how seriously he is taking the Indian market. A day after India's leading e-commerce site, Flipkart, raised $1 billion in investment in July (the largest ever, apart from Uber $1.2 billion round in June), Bezos announced he would put in twice that amount. The photo ops came in September, when he travelled to Bangalore to give the the Indian arm of Amazon a novelty oversize check of $2 billion.
As Quartz has previously reported, India's e-commerce market is set to explode, with projections suggesting that the market could grow from less than $2 billion in 2013 to nearly $80 billion by 2021.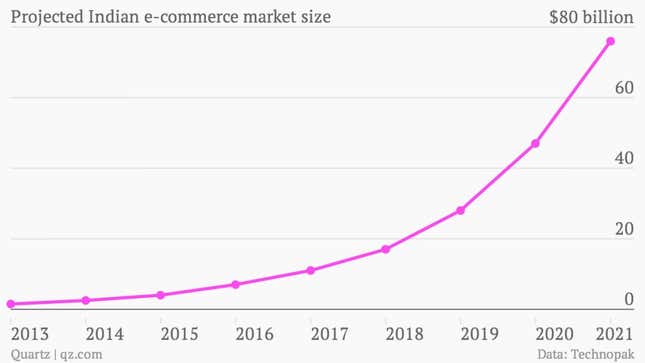 Alas, the photos are the highlight of the piece; despite a valiant attempt from GQ's Dave Besseling, Bezos divulges little beyond the usual platitudes: India is important; delivery drones are coming; fashion represents an opportunity. Nothing earth-shattering here.