If you're a data analyst looking for a job with a bank, there's a better chance of you getting hired by a private bank than a public one.
Private banking and e-commerce are some of the sectors in which analytics are most widely used, according to a report on the state of data analysis in Indian business, released last week by Analytics India magazine and the data-science institute INSOFE. The other industries where large companies have high adoption rates for data analytics are telecom and financial services, the report said.
The report focused on 50 large firms from various sectors, including Tata Motors and Maruti Suzuki from automobiles, Reliance Industries and ONGC from oil-drilling and refineries, Paytm and Zomato from e-commerce, and the State Bank of India and HDFC Bank.
If a firm had an analytics penetration rate of at least 0.75% (implying at least one analytics professional per 133 employees at the company), it was deemed to have "adopted" analytics.
Overall, data science and analytics had a "healthy adoption rate" of 64% at large Indian firms, the study showed.
However, the rate of adoption varied widely from one industry to another. Infrastructure firms virtually had no adoption; "this could be due to lack of resources to set up analytics facility," the study noted. Oil, steel, and power had low adoption rates as well, with less than 40% of the surveyed firms having clearing the 0.75% bar. Telecom and private-sector banks were among those with 100% adoption rates.
Surprisingly, public sector banks had around half the adoption rate—50%—as those in the private sector.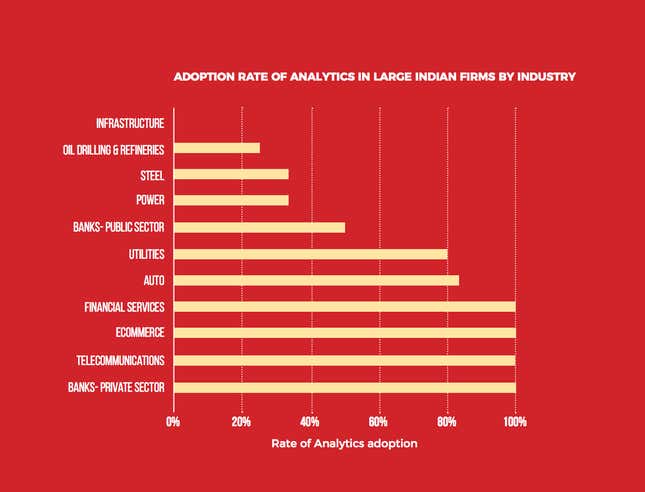 Companies in India are using data analytics more for sales and marketing than for any other function, the study showed. Most of the data analytics roles in large Indian companies are currently in sales-related roles, followed by finance and operations.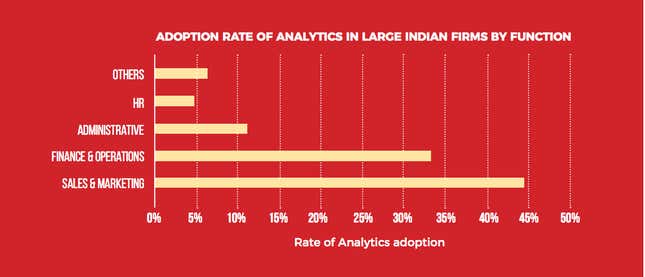 Not much was directly comparable to the results of the previous year's study. One metric measured last year as well, however, was the analytics penetration rate—the ratio of analytics-oriented employees to the total.
While last year, there was one for every 59 employees in the average firm, this year's penetration rate was one data analyst for every 36 employees. The adoption rate mentioned earlier measured whether or not a company had at least one analyst per 133 employees; penetration simply considers the number of a company's employees working in analytics.