Ahead of India's general election, slated for this spring, top political parties are pulling out all the stops to gauge the national temperature on various policy issues. From attendance at political rallies to social media conversations—no area is too trivial to analyse when it comes to understanding party workers' or voters' moods.
A key tool in the parties' armoury this time around is the survey. Both the ruling Bharatiya Janata Party (BJP) and the main opposition party, the Indian National Congress, have been soliciting feedback through surveys, using novel forms of technology as well as traditional techniques of door-to-door canvassing and direct phone calls.
Surveys "help you identify both the stress as well as, in some cases, the solution," a political consultant who has worked with national parties, including the BJP, told Quartz.
For instance, immediately after its victories in three important state legislative elections last month, the Congress says it used the feedback received through its phone surveys to help zero in on its chief ministerial candidates. The BJP, perhaps India's most tech-savvy national party, is using phone-based surveys as well as those on the NaMo app, the official mobile app of prime minister Narendra Modi, to take policy decisions.
The emphasis on surveys of various kinds is a relatively new phenomenon in India, unlike in more advanced democracies such as the US and UK, where such feedback methods have been used for quite some time.
Connecting with voters through surveys is all the more challenging in India given the sheer size of its electorate and the wide mismatch between the number of people an average elected member of India's parliament (MP) represents, compared to an MP in, say, the UK. 
Congress: Shakti, robocalls, "least common denominator"
The Congress's data analytics team sits in a small two-room suite in the party's headquarters in central Delhi. One of these rooms is the office of chairperson Praveen Chakravarty, a former investment banker who once volunteered for the Unique Identification Authority of India (UIDAI), the body that administers India's controversial biometric ID scheme, Aadhaar.
Chakravarty's data analytics team analyses historical voting results down to the polling booth level, maps changing political trends, and communicates with over 5 million party workers via a digital platform called "Shakti." The team's mandate is to figure out "how you optimise finite resources for an election," he said.
Surveys are a large part of this. Some of these are conducted only among party workers—such as the survey asking workers in Chhattisgarh, Madhya Pradesh, and Rajasthan who they would like to see named chief minister. While the final decision on the chief minister was not solely based on the survey results, the workers' opinions were important inputs, Chakravarty said.
In fact, the party is considering using similar surveys to poll workers on their preferences for candidates to the Lok Sabha, India's lower house of parliament.
The Congress also conducts issue-based surveys. So far, the data analytics team has asked voters their opinion on hot-button issues that include the Rafale deal controversy, the effects of demonetisation, and women entering Kerala's Sabarimala temple.
"An issue like Rafale will have a national implication, so (survey results and analysis) have to be sent back to the party president so that he can include it in his speeches," a member of the data analytics team told Quartz. "But there are also issues that are very local. So in Madhya Pradesh, you may want to know the extent of migration out of the state, or unemployment. Or in Chhattisgarh, you'll have issues of healthcare or the public distribution system (PDS)." This way, the data analytics team member said, when the party president is in a particular place, he can be sure he addresses the issues that are most important to locals.
For issue-based surveys of voters, the Congress either sends party workers door to door—Chakravarty's preferred method, since this allows asking of follow-up questions—or conducts phone-based surveys like the one done to pick the chief minister.
"I have to build this for the least common denominator," Chakravarty said. "The only assumption I make is that everyone has a phone"—not even a smartphone, at that. Those who don't have smartphones receive SMS messages telling them they're about to get survey phone calls; those who have smartphones get WhatsApp alerts. (Chakravarty estimates that 70% of the party workers use smartphones.)
Survey results often inform the direction the party chooses to take on the national stage, for example, in speeches made by Gandhi. Sometimes, the results indicate the need to create more awareness on an issue. "If people say they're not aware of an issue, then that message needs to be spread out more," the member of the data analytics team said.
BJP: NaMo app, loan waivers, demonetisation
The BJP hasn't publicised the existence of a separate data analytics office within its party structure, but that's no reason to infer that they're far behind the Congress on this front. The party, which dealt the Congress a withering defeat in the 2014 general elections, is known to be extremely deep-pocketed and tech-savvy.
Data analytics was a component of the party's successful strategy in 2014. A few months after that victory, the party's then technology head Arvind Gupta said, as reported in PR Magazine, that the BJP "had data on each of the 543 constituencies. We knew how many mobile and internet users were present in each constituency. The same holds true for social media users. Alongside, we used analytics to understand which polling booths had voted for the BJP in the previous elections."
The political consultant who has worked with national parties said the BJP often conducts surveys on the phone by asking party workers to call voters on the phone and ask them questions directly. "Robocalls are a bit risky in India because you get a lot of false positives—people sometimes aren't sophisticated enough to understand what to do," the consultant said. "It's the most time-consuming, but the most effective form of getting surveys done is through actually doing a call."
In fact, one of the BJP's key political moves—its choice to waive farmers' loans up to Rs1 lakh ($1,400) in value in the state of Uttar Pradesh in 2017—was orchestrated thanks to surveys. The new chief minister did this because surveys indicated the pressing need for it, the consultant said.
The BJP is also conducting surveys in a more public way: on the NaMo app. One survey that debuted on the app just days ago drew media attention because it asked users detailed questions about their local MP, including "are you satisfied with his/her work?" And "is he/she popular in your constituency?"—such questions, The Times of India said, could "send chills down the spines of BJP MPs."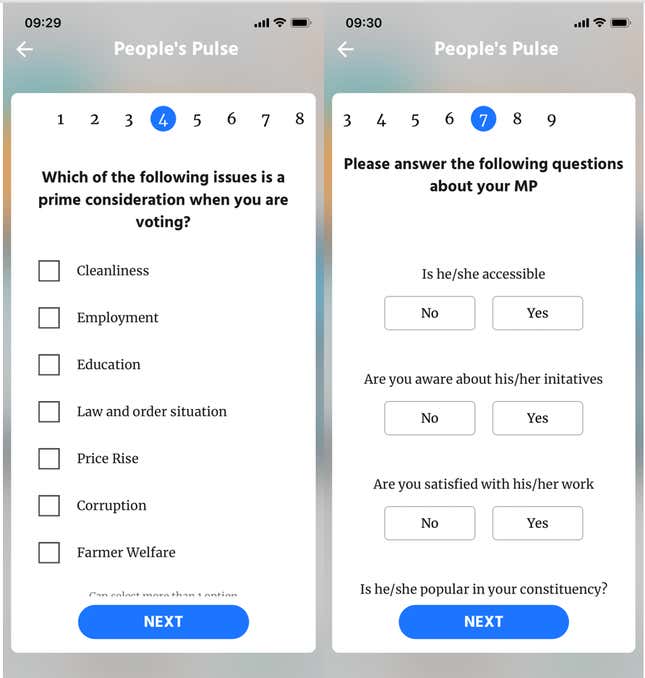 However, surveys conducted on this platform have long drawn the same criticism of sampling bias, as those who are active NaMo app users are most likely to be supporters of Modi. The BJP has especially come under fire when it has attempted to use survey results from the app to denote overall public support for its policies, as it did in the case of demonetisation.
There are some who are more widely sceptical of parties' analytics strategies. A senior pollster, speaking on condition of anonymity, cautions that while parties "say they're doing huge data mining," the "fact is that hardly anybody is doing real, cutting-edge data analysis." In fact, he said, surveys and data analysis are used by parties as "political one-upmanship—saying 'we are much more advanced than you.'"
But even if the parties' data analytics practices are more bark than bite, voter surveys still could well become another political arms race among the country's major national parties ahead of the upcoming general election.
Read Quartz's coverage of the 2019 Indian general election here.