Facebook-owned Instagram wants to convince India that social media is not all bad—and fake—news. But a technical glitch ruined things.
On the morning of April 11, the first round of the Indian elections, the photo-sharing platform introduced an election sticker in its Stories feature, where users can upload photos and videos that vanish after 24 hours.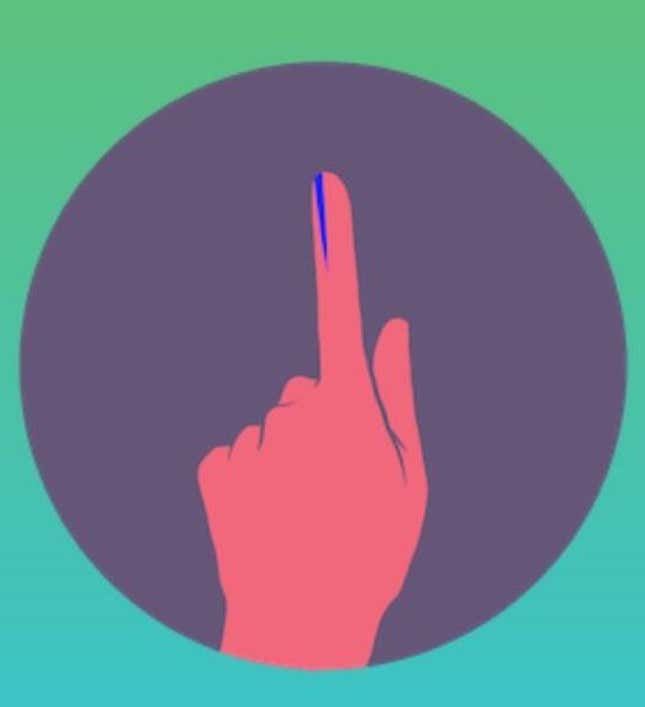 "The sticker is an easy and expressive way for our community to share that they voted," said Tara Bedi, public policy and community outreach manager for Instagram in India. The graphic representation of a finger with indelible ink will be available through the seven phases of voting till May 19, the company said.
The idea behind the sticker is for it to be more than just a visual addition and to promote civic engagement, especially among the 15 million teen voters going to the polls for the first time this year.
That's why the company added another feature to this sticker: once users overlay the sticker and post their story, viewers who click on it find the link to the National Voters' Services Portal, electoralsearch.in.
However, there was one major glitch Quartz found. The government website link was down for most of the day on April 11 from the Instagram app and on the web browser. Access was, however, restored at the time of publishing.
Everyone's here for it
Other social networks are not far behind in trying to make the most of the election season either.
Social media giant Facebook, for instance, has launched tools like "Candidate Connect" and "Share You Voted" to provide people with polling information and allow them to announce their vote. It is available in 12 local languages.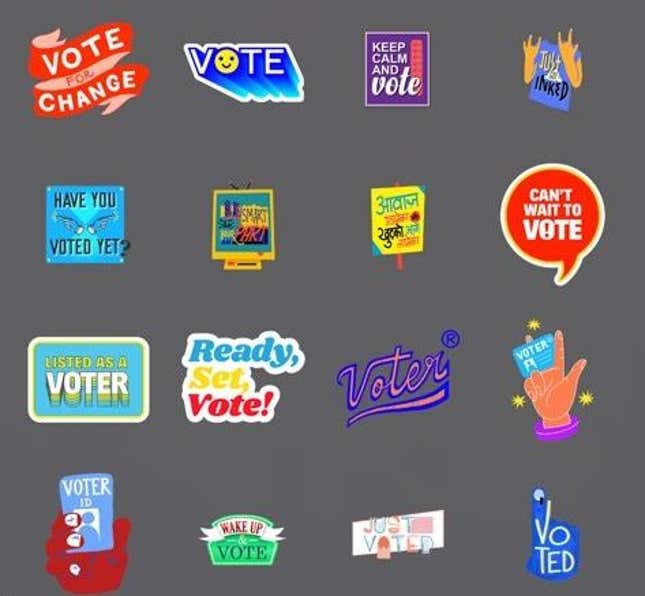 California-based Snapchat has also introduced myriad election-themed stickers,—one of them even in Hindi—filters, lenses, and Bitmoji (personalised emojis).
Like Instagram's filter, this photo-based instant messaging app is also "guiding users to resources provided by the election commission of India," the company said in a press release on April 10.
The "Snap map," which geolocates other Snapchatters around on a heat map, is highlighting where one can vote and the app is also sending users reminders to look up when their constituency is voting.
Homegrown instant messaging service Hike has also launched its own suite of stickers such as "Go Vote, Don't chill" and "The nation wants your vote."
Some good can indeed come out of the voting-selfies and stickers if past research is anything to go by. Social media does have the power to influence voter turnout. Those exposed to pro-voting posts were more likely to seek information about their polling sites as well as self-report voting, a 2017 study of 61 million Facebook users revealed.
Read Quartz's coverage of the 2019 Indian general election here.