An unfamiliar name has come centre stage in relation to the Jet Airways aviation fiasco.
On April 24, India's oldest private airline said it had received an "unsolicited email" from a British entrepreneur who wanted to buy out the cash-strapped business. "The sender has been advised to formally engage with SBI Caps Limited, who are leading the bidding process under resolution plan initiated by consortium of domestic lenders led by State Bank of India (SBI)," Jet Airways said in a filing to BSE.
The entrepreneur, Jason Unsworth, also took to Twitter to express his interest in saving the airline.
Unsworth's offer comes at a time when Jet's employees are scrambling to make ends meet amid non-payment of many months' salaries, and its lenders, who have taken over operations, are eagerly scouting for a buyer, so they can recover their dues.
But who is Unsworth and why is he interested in Jet and India's aviation industry?
A veteran of sorts
The first thing that a Google search shows up about Unsworth is that he is the founder and CEO of a firm called Atmosphere Intercontinental Airline. Started in 2015, the premium airline claims it is focused on India, Dubai, Thailand, and home country Britain, according to its website.
That would make Unsworth an aviation industry veteran.
Except, Atmosphere Intercontinental Airline has not yet taken off. The airline's website still has a "coming soon" message even four years after it was founded.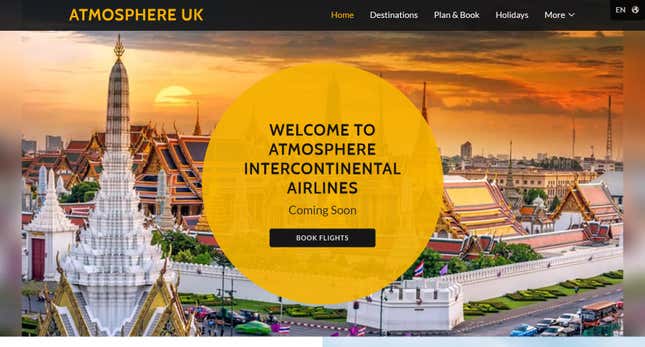 In fact, Atmosphere Intercontinental is still seeking loan financing and investment to begin operations, much like India's Jet which too temporarily halted operations due to lack of funds.
In addition, the official website of Atmosphere Airline shows that at present many of the spots at senior management have been occupied largely by Unsworth's family members.
But Unsworth's connection to the aviation sector is older than his yet-to-take-off venture.
After starting his career as a customer service assistant at a shopping centre in Essex in 2006, Unsworth joined as a cabin crew at Ryanair Airline in November 2007, according to his LinkedIn profile. But his stay there was short.
"Was accepted at interview stage to participate in one of many cabin crew training courses Ryanair was running," Unsworth's LinkedIn profile says. "Completed training then accepted a job with Servisair as the job conditions Ryanair was offering turned out to be very poor."
He then spent nine months as a passenger service agent at Servisair, and five months in the same role at Swissport.
In March 2012, Unsworth joined as a team member at "a small Asian restaurant at Stansted Airports retail outlet located between security and the transit train to the departure lounges." Six months later, he underwent training for cabin crew, ground crew, and emergency procedures with the British Airways, before returning to a retail job at a store on Oxford Street in London in March 2014.
He returned to the airports in June 2018 as a passenger service agent at Jet2.com, a British low-cost airline that operates scheduled and chartered services. In this role, he assisted guests with check-ins and baggage drops.
While his resume might reflect his inexperience at running a complicated business such as an airline firm, Unsworth is really serious about helping out Jet.
Are you serious?
In an interview to CNBC TV18 on April 24, Unsworth said he has written emails to Jet Airways board, staff, Etihad, SBI, Punjab National Bank, India's prime minister Narendra Modi, and his British counterpart Theresa May, expressing his interest in running Jet.
However, he said he might not be in the official list of contenders as of now because he had the wrong contact information of SBI chairman.
But, after his tweets and media reports of his interest, he said, many individuals from Jet Airways are trying to get in touch with him. And so, he is hopeful to soon get a proper contact, email or phone number for the right person at SBI.
Meanwhile, Unsworth has also reached out to Jet's distressed employees, inviting them to apply for jobs at his company.