Until just a couple of years ago, driving for Ola was more lucrative than working as a techie at Infosys. But now, the job is far from sunshine and rainbows.
With an oversupply of cabs in Indian cities, Ola drivers often spend hours cruising aimlessly—usually between 11am and 5pm—whiling away time and fuel, or waiting curbside to get a rider.
Although ride requests flood the app during morning and evening rush hours,  most drivers barely get four or five passengers during those times and if they get stuck in traffic, or drop someone off in a remote location, they're barely making any money.
Back in 2011, when the Bengaluru-based company came on the scene, it inspired a lot of hope. Those with licenses and cars could easily sign up and Ola offered training, using funds from the government's National Skill Development Corporation as well as the company's corporate social responsibility kitties. It also partnered with various auto manufacturers, insurance firms, banks and non-banking financial companies to help drivers get loans, buy their own cars and get on the platform.
Today, Ola lists two million drivers. But as it burns through cash, it has given up once-promised generous perks. Incentives as a proportion of overall ride value at ride-hailing companies fell to 17% in the second-half 2017 from as much as 62% a year ago, market research RedSeer Consulting's data show. This has also taken a toll on driver's incomes.
"Driver earnings are directly proportionate to the fares that drivers earn on the platform. Incentives are a fraction of the overall fare, as little as 5-7%, meant to encourage driver-partners to deliver better quality as well as improved availability for customers when they need to get around most," Ola told Quartz. "These are more like positive reinforcements to drive desired behaviour."
To make matters worse, rising fuel prices have placed a large burden on the profitability of all commercial fleet operators in India. Diesel prices are just Rs7 less than their all time high of Rs75($1.1) per liter, noted Mobility Foresights.
Those who own their cabs are burdened with equated monthly installment (EMIs) upwards of Rs10,000 at a time when their earnings have shrunk to as little as Rs20,000 each month. Those driving cars owned by someone else have other headaches. Half a dozen drivers told Quartz India that they get paid only Rs100 per ride, no matter how much the passenger was billed.
Their complaints are falling on deaf ears. At least two drivers in Mumbai said companies like Ola and Uber have closed-door meetings with union leaders who pocket money and there is no real change on the ground.
Quartz traveled around Mumbai to speak with drivers about their experiences at Ola. Below are edited and translated excerpts from those conversations, along with photos of them.
The rickshaw pull
Devi Shankar Lodhi, 34, came to Mumbai from the northern Indian state of Uttar Pradesh in 2004 when his mother died. His father was an alcoholic and he came in search of employment as he had two brothers and a sister to take care of.
He started off driving auto rickshaws, the motorized version of the traditional pulled rickshaw or cycle rickshaw that runs on three-wheels. Then, a few years ago, he bought his own auto and employed a driver to run it. Meanwhile, he started driving an Ola cab owned by someone else. However, that stint only lasted two months.
"My driver left and I couldn't find one so I put my auto on Ola and started driving it myself," he said. "Unlike cabs, where Ola cuts a commission, it's a good deal because if it shows me a Rs100 booking, I get the full amount. Ola just charges the customer a little more."
Lodhi ends up earning more than Rs1,000 a day.
Now, Lodhi's brothers are in Mumbai doing embroidery work. His sister was married off in the village. He lives in Bandra with his wife and five-year-old daughter who attends an English-medium school (where classes are taught in English versus a vernacular language). He pays Rs1,800 for her school fees per month, Rs700 for tuition and Rs500 for an auto-rickshaw to drop her at school and pick her up again. "I couldn't study but at least I can educate her," Lodhi said.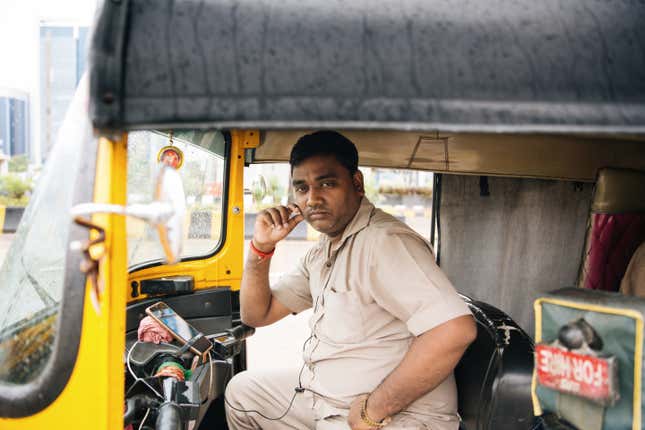 Ola, ola everywhere
Tanveer came to Mumbai from Allahabad, UP, four years ago to drive for Ola.
Previously, he was driving an airport taxi. "Even if I took two or three rides, I'm good because they each cost at least Rs600 or Rs700. But now no one at the airport takes airport cabs because of Ola and Uber," he said.
For the car he currently owns and drives, he spent Rs1.5 lakh on a downpayment and Rs10,300 in monthly loan repayments. He has to continue paying the EMI for fifty months. He drives between 8 and 10 hours daily. Half of his earnings go towards paying off his loan. And then there is the cost of the fuel—compressed natural gas in his case—to cover.
If a customer cancels after the cab has driven a while or if they make the driver wait, the company's compensation is peanuts—Rs22, Tanveer says. And difficult customers can't be turned away either. "If I cancel, my Rs22 will go and my star rating will reduce."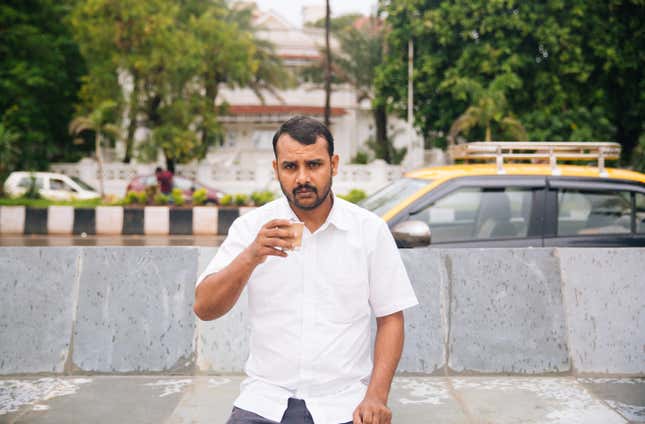 If he's not having luck with Ola, Tanveer switches to Mumbai-based car and taxi rental service CEO Cab. He says it has better rates, but fewer customers. "If you do two rides with Ola, and one with CEO, they're equivalent. CEO takes a flat Rs25 commission on all rides whereas Ola, operating in percentages, can take Rs160-170, and more.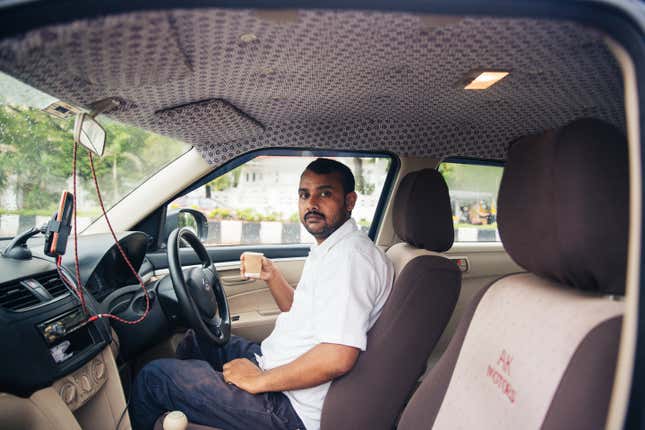 Once bitten
Ola employees convinced Sanjay Naik, a 34-year-old Dharavi resident, to get on the app while he was out driving his auto around Mumbai. That was two years ago.
In the beginning, he couldn't wrap his head around the model.
"Once I reached a location and the rider called and said 'I will take a little time, please take my OTP (one-time password to start the ride). I've paid online so go a little far and stop the ride.' I did it. When I stopped, Rs142 got taken from my account," Naik said. "He lied about the online payment. Now I only take the OTP if you're sitting in my auto."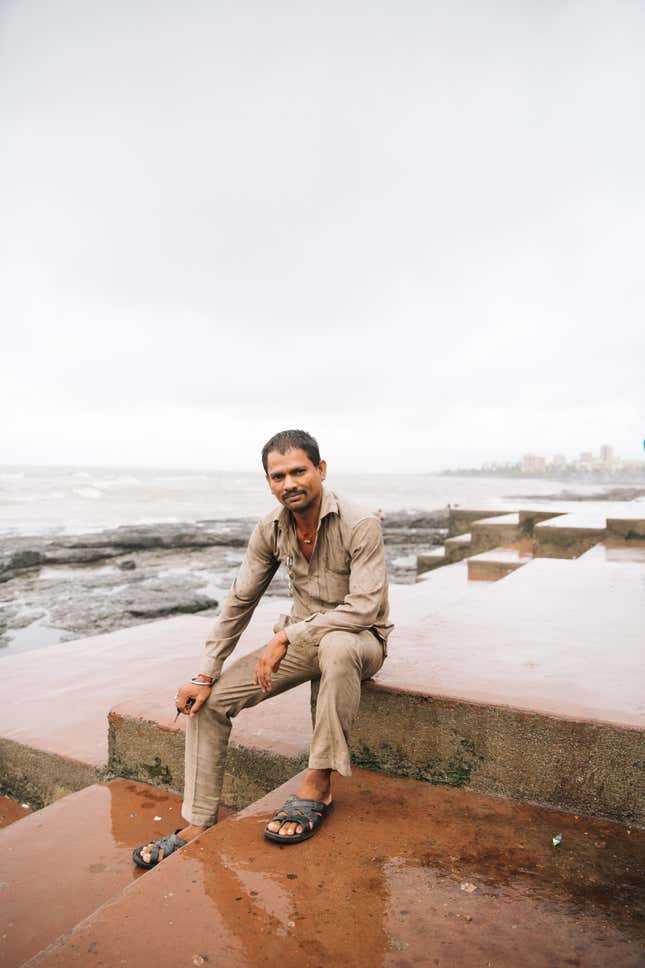 Unlike cabs, autos are ubiquitous in Mumbai's suburbs. So while Ola helps drivers get customers, the riders also cancel just as easily. Sometimes, Naik goes a certain distance and then customers manage to hail another and ditch his ride.
And even getting to the pickup can be a hassle at times. "I have to leave other customers on the road when I'm on my way to pick up an Ola rider. But if a police constable catches me denying someone, I can be in trouble," said the father of four—two boys and two girls—who came to Mumbai from Jharkhand, where his family were sustenance farmers. Denying passengers is a punishable offense in Mumbai that can lead to a fine or license cancellation.
Naik has tried asking Ola for a solution but the company apparently told him they can't do much and that he should "drive carefully."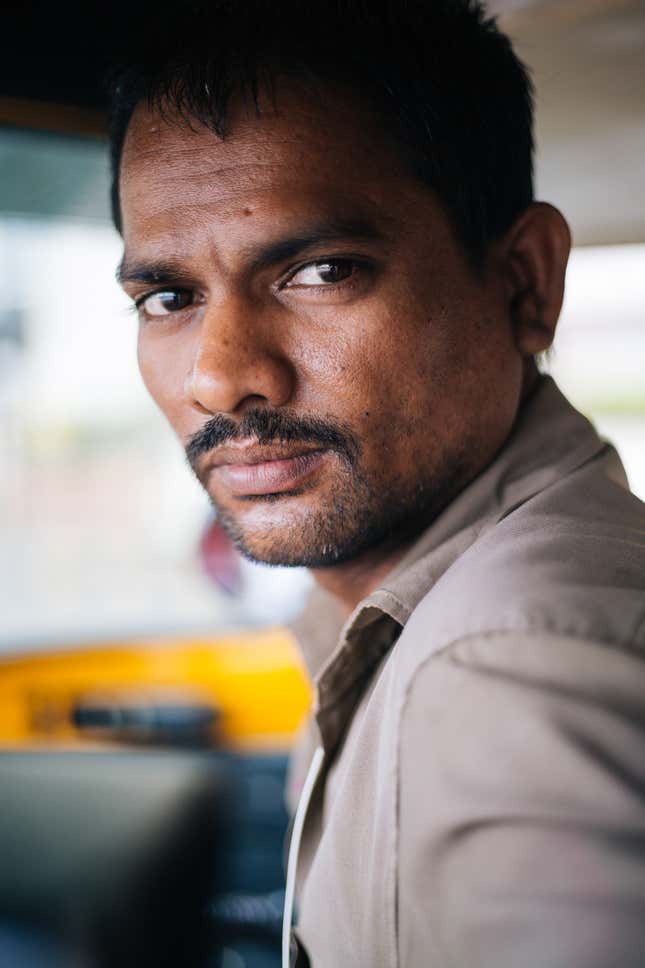 Pressure building
Bharat Bhadarge, 28, who hails from a town called Jalna, around 400 kilometers from Mumbai, moved from a private driving gig to a small business owner's taxi fleet of 300 Ola cabs over two years ago.
Bhadarge was initially lured by the incentives. "In the beginning, we'd get Rs200 for every trip but that's stopped," he said. "The plans keep changing and they've reduced it a lot."
The pressure is also high. If he covers less than 40 trips in a week, he gets only Rs70 per trip. If he exceeds 40 trips, he gets Rs100. He drives 12 hours a day, seven days a week.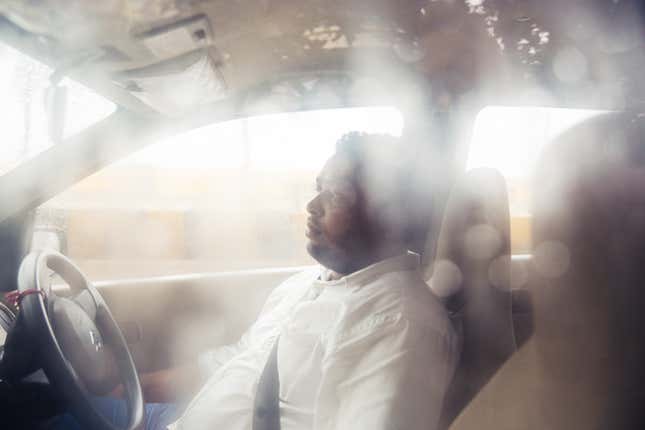 Hand-to-mouth living
Sabbir Ali, 28, who previously worked at a motor training institute, has been driving an Ola cab owned by his friend for three years.
He is struggling to make ends meet: Incentives have been reduced, and he has to wait longer for customers as more Ola cars flood the market, especially during the lean hours of the day. "I can't manage and neither can the owner," he said. "Ola says they'll take 20% (commission) but they take 40%."
He leaves home at 10am and there's no fixed time of return. If the last ride of the day ends in some remote part of Mumbai—sometimes three hours away from his house—he's in the soup. "We also have families. Customers reach their homes and we are left to eat from the road and sleep in our cabs late at night," he said. "And if we come back empty from three hours away, then what's the point of going at all?"
Ali especially avoids rentals within the city. "You don't get parking space in Mumbai. Have you seen the fine is Rs23,000 in Lower Parel? First, give the driver safety and parking," he said.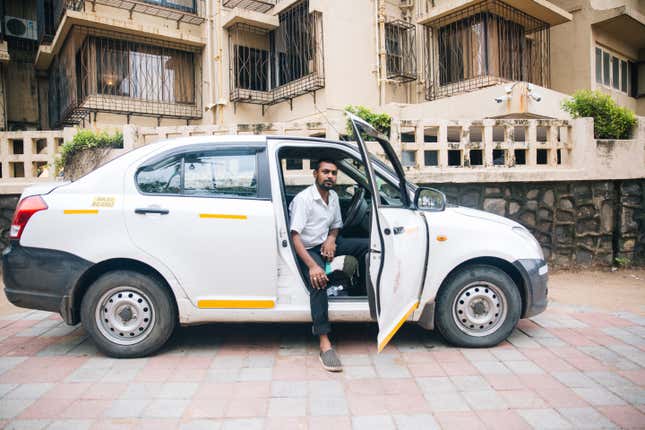 A dejected Ali says complaining at the Mumbai office of Ola hasn't really moved the needle.
He's not part of any union but he did partake in the strike in October 2018. "The party leaders took money and they got quiet. Nothing is going to happen," he said.
Continuing to drive in these times is not an option, either. "The union caught someone driving during the strike. They found him near the Ola office, checked his device and beat him up in front of the police. The car's glass was broken, he was bleeding," Ali recalled.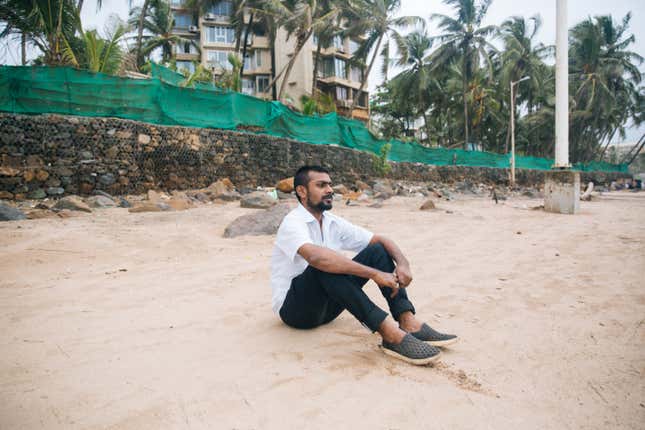 A dog's life
Four years ago, Habib Mulani went to Saudi Arabia to work as an auto spare parts salesman. Prior to that, he ran a successful zari embroidery business in Mumbai.
"When I came back, I saw no other option to work so I took a car and put it on Ola," he said. But over time, incentives and earnings fell. Eight months later, the bank took his car away after he failed to make loan repayments. And he wasn't alone "People got caught up. A lot of lives have been ruined, they're on the street. The pay isn't even one-third of what it was," he said.
Now Mulani, 46, is driving someone else's car on the standard Rs100 per trip. But he's not happy.
"Hard work has increased, money has reduced, the expense is more, salary is less but I'm driving to fill our stomachs," said Mulani, who lives with his mother, wife, and three sons.
Mulani earns Rs400-500 each day with great difficulty. On a Tuesday afternoon at 1pm on Bandra, he'd been driving around with no customer for an hour.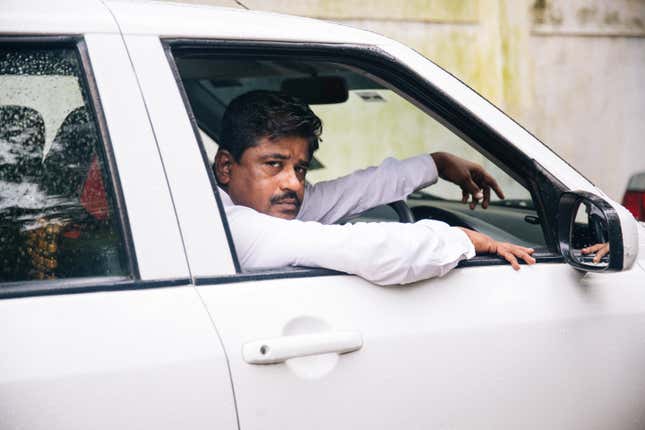 A few years ago, he briefly drove for Uber, too. He claims that the customers for the San Francisco-based company were more "decent," adding that his Ola passengers often use foul language and behave badly.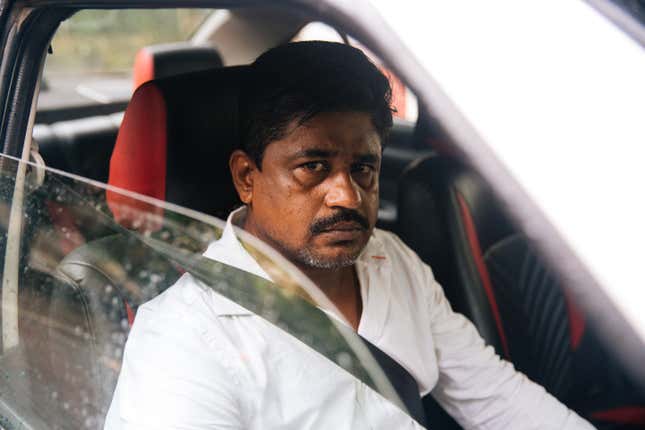 Helpless and how
Chandrashekhar Yadav, like Ali, suspects Ola takes 40% commission and not the 20% it claims. In the beginning, he'd earn Rs3,000 daily from driving 8 to 10 hours. Now, even after 18 hours of ferrying passengers, he rarely breaches the Rs2,000 mark.
Ola maintains its partner commission rates are at about 20% across most markets and categories in India. "All commission rates are communicated to driver-partners explicitly," said Ola. "We encourage partners to reach out to us through our dedicated 24×7 partner care number, or any of our partner-world centres in our offices to resolve any queries they may have on their earnings."
More than the money, Yadav's bigger problem is the lack of transparency. Around 25 days ago, he could no longer see the "breakup" of a bill on his driver app. And the incentives keep shifting, too.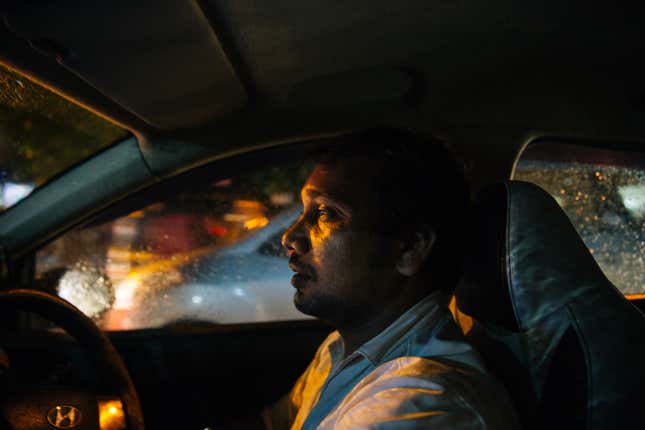 When he came to Mumbai from UP four years ago, Yadav put three cars onto the platform. But over time, he removed the additional vehicles and drivers because the incentive schemes kept changing and getting enough income for EMI payments became impossible.
"The situation is such that every day drivers feel like committing suicide," Yadav, 34, said, tearing up. "I heard about a driver in Byculla who jumped off a bridge during the strike." (Quartz could not independently verify this claim but Ola drivers have contemplated, attempted and committed suicides in the past.)
"The companies are filling their own pockets and don't know what's happening with the driver," Yadav said. "I have a home, but some people don't. Someone pawned their wife's jewelry to get a car and now they're stuck. What must be happening to them? Ola, Uber have ruined us."