What do you think of GE's BULLETIN series? We're running a short, 30-second survey – click here to take it. 
India may be an emerging superpower, but the country's ever-growing energy demands reveal significant challenges for future growth. An over-dependence on fossil fuels, especially coal, inadequate transmission infrastructure, and counter-productive regulatory hurdles are only a few of the issues India faces. Nearly 300 million people have no access to electricity because roughly 25% of the electricity generated is lost to inefficient transmission.
India is now looking to wind energy to overcome these challenges. In fact, wind energy could provide for about 20% of the global electricity demand by 2030, according to the Global Wind Energy Council (GWEC).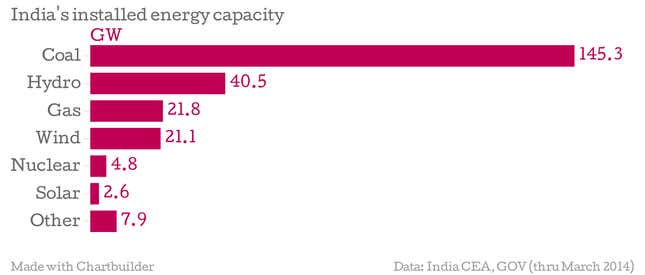 Currently, almost 60% of India's 245 GW of capacity is based on coal and about 82% of the total electricity generated comes from thermal power sources. But India has taken measures to shift at least a portion of its power generation base to renewable energy sources. Earlier this year, India reached an installed renewable energy capacity of 31.7 GW, or over 12% of the total installed power capacity. Wind energy now leads all other renewable energy technologies installed in India with a share of over 66%.
The relatively low cost of equipment, early introduction of financial incentives from the government, and the fact that wind is a freely available resource have all contributed to the high share of market for renewables.
The Ministry of New and Renewable Energy introduced the Generation-Based Incentive (GBI) plan in 2009 to reward wind energy project developers for every unit of electricity generated over-and-above the preferential tariff declared by the state governments. Additionally, the central government has intermittently added an incentive allowing wind farm owners to claim accelerated depreciation on 80% of the cost of equipment, leading to quick write-offs on investments. The launch of these two incentives pushed the annual wind energy capacity addition to historically high levels between 2010 and 2013.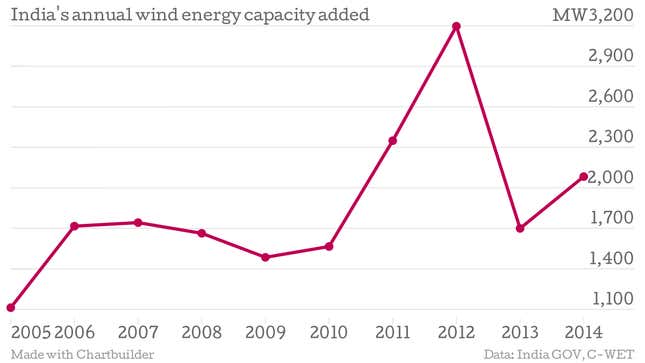 The Indian government also launched the Renewable Purchase Obligation (RPO), which mandates obligated consumers—power distribution companies and large electricity consumers—to purchase a set-minimum percentage of electricity from renewable energy sources. A complimentary program called the Renewable Energy Certificates (REC) plan was also launched in late 2010 to help obligated consumers fulfill their RPO targets.
Next steps are already in place with the Indian government planning to launch the National Wind Energy Mission, which would set ambitious capacity addition targets, offer new investment incentives, and ease land clearances. An Offshore Wind Energy Authority has also been set to explore India's offshore wind energy potential and eventually facilitate the implementation of projects offshore.
Such regulatory initiatives would go a long way in fully tapping India's vast wind energy resources. According to estimates by GWEC, under an aggressive domestic policy push and internationally conducive market scenario, the total wind energy capacity installed in India could reach as much as 89 GW in 2020—more than a fourfold increase from present levels—and 191 GW in 2030. Although this is an optimistic scenario, the gears are moving in the right direction.
The GE Innovation series
We're running a short, 30-second survey about GE's BULLETINs. Click here to take it.
How GE is generating energy for India through innovation
Here's how India's least windy places are generating wind energy
The global impact of India's multi-disciplinary skills
Explore the full archive here.
This article was produced on behalf of GE by the Quartz Marketing team and not by the Quartz editorial staff.