India's modern retail chains are struggling to get customers to buy food from their stores. It's tough to compete with the corner shop where the cashier knows your name, your tastes, and allows you to settle bills once a month.
Corner shops should beware, though, of the online grocery.
A number of ecommerce startups are entering this space. They figure if they can deliver fresh fruit and vegetables to a doorstep, people would rather shop online rather than stepping out into heat, traffic, or pollution. The sector is especially emboldened by double-income families and the fact that women between the ages of 30 and 35 are the biggest adopters of online grocery shopping.
A lot is at stake. Food is the biggest category for global retail giants such as Tesco and Wal-Mart. Yet India's modern retail accounts for just 2.3% of the food segment. And food represents more than 70% of sales in India's $500 billion overall retail business.
Two notable players appear to be breaking ahead of the pack, based on venture funding, social media conversations, and the move to serve multiple cities—Mumbai-based Localbanya.com and rival Bigbasket.com, which serves Bangalore, Hyderabad, and Mumbai.
Bigbasket founder Hari Menon, a successful entrepreneur who sold his brick-and-mortar retail chain Fabmall and Trinetra to Aditya Birla Group, is bullish. "It's a huge, underserved market. Convenience is a major factor in our metros. We are finding that at least 85% of our customers return after the second order."
Menon said that revenue is increasing 20% each month. Bigbasket delivers 4,000 orders daily. In Mumbai, where the average size of an order is Rs1800, it does 800 deliveries each day. The site has served 200,000 customers so far and is expanding to Delhi and its suburbs. Menon said the company did Rs85 crore ($14.3 million) in revenue in 2013-14 and was on course to do Rs200 crore ($33.7 million)  in sales this fiscal year.
Comparatively, Local Banya has an average order value of Rs1,390 ($23.4) and makes 700 deliveries a day across Mumbai, Thane, and Vashi. The company is expecting to clock a turnover of Rs70 crore ($11.8 million) this fiscal year and has served 40,000 customers so far.
Founded in 2012 by three friends—Karan Mehrotra, Amit Naik and Rashi Choudhary—Local Banya has been advertising aggressively in Mumbai newspapers, advising people that it was wiser to stand in a queue outside a multiplex than at a supermarket.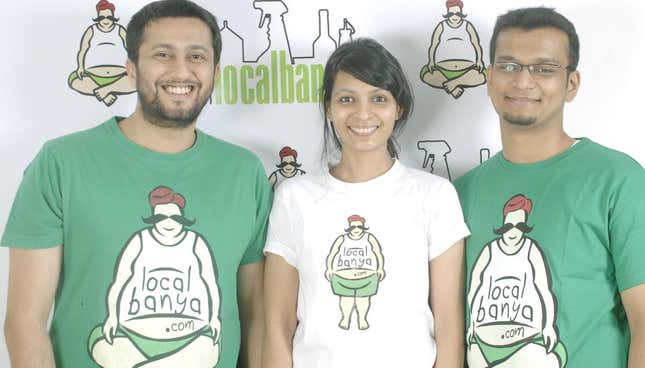 Local Banya says 68% of customers on the website are women.
On the Facebook pages of both companies however, complaining customers far outnumber satisfied ones, clearly demonstrating the challenges in executing what seems like an obvious opportunity.A persistent complaint is about unavailable items. "When I placed the order on May 9, you did not have many basic items on your website." says a comment by Anu Vijayaraghavan. Another by Jay Mody says "Local banya used to be good, but lately the service has been suffering. Delivery timings are erratic and several items are out of stock or not delivered due to some error."
"Startups in this space need a high level of automation, from putting an order together to getting it delivered, to be able to succeed at this business," says Koushik Mandal, a former online grocery entrepreneur. Mandal founded the portal Shop Veg in 2011, but shut it down after he failed to raise funding.
Local Banya is currently raising funds to expand into two other metros by the end of this year. It has raised two rounds of funding already from Springboard Ventures and realtor Karamvir Avant Group. Bigbasket is also currently in talks with an unnamed Singapore investor to raise money. The company had raised $10 million in 2012 from India-focussed venture capital firm Ascent Capital. It did Rs10.4 crore ($1.7 million) in revenue during the fiscal year ended March and hopes to grow to Rs70 crore($11.8 million) this year.
Besides logistics, there are other hurdles. Ravi Kiran, co-founder of VentureNursery, a startup accelerator that incubated Shop Veg, says there are multiple challenges. "We realized that while startups in the space think that they are providing customers with convenience, most people are much more comfortable with actually looking at the products they are buying when it comes to groceries."