Tata Motors is working on a new small car codenamed Kite—and it needs to fly.
Otherwise, the Indian automaker could be in some trouble because, despite owning a profitable international business like Jaguar Land Rover, it is badly hurting at home.
In May 2014, for instance, the company reported a year-on-year decline of 24% in sales of commercial and passenger vehicles.
Hit by the slowdown, and rising competition from foreign carmakers, Tata Motor's passenger vehicles sales in India have plummeted since July 2012. And although the segment itself has seen some recovery, the company's performance has been below the industry average.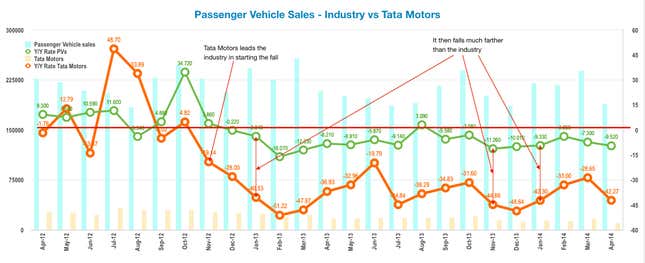 For years, Tata Motors has depended on its Indica platform, first introduced in December 1998, and subsequently the second-generation Indica Vista. After a long run of robust sales, helped by hatchback variations like the Indigo, the platform's performance has drastically slowed down.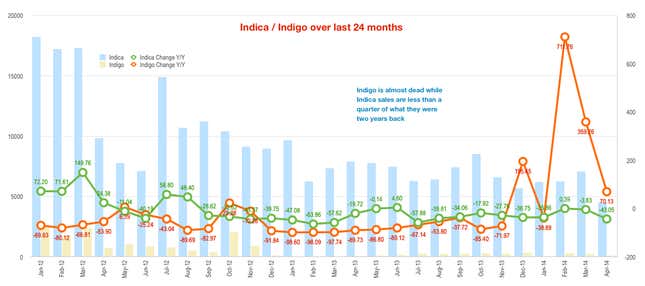 "For the Indica/Indigo segment, Tata's struggle is to stay relevant for the retail customer," argued a recent analysis (pdf) by Emerging Markets Automotive Advisors, an automotive research and advisory firm. "Most of the company's sales are happening in the fleet and cab operator market and the retail customer is difficult to attract."
Customers also seem to have the shunned the Tata Nano, once celebrated globally as the world's cheapest passenger car. The company once expected to sell 20,000 vehicles every month. Buyers are only purchasing a fraction of that, forcing Tata Motors to revamp the mini-car.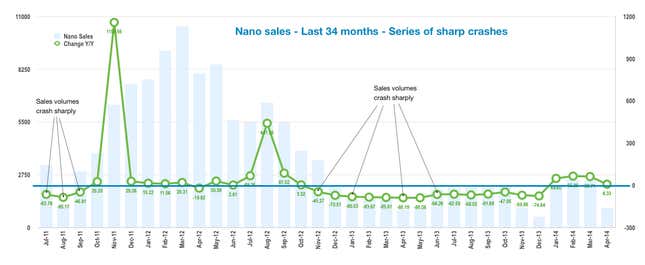 Still, the Tata Nano may matter little to the company's overall situation. The Emerging Markets Automotive Advisors report estimates that the car accounted for only 0.21% of Tata Motor's net revenues.
The company's medium and heavy commercial vehicle (M&HCV) segment, too, is in decline, though after a sharp drop it seems to be performing better than competition.
There's also been some recovery in Tata Motor's light trucks sales, which showed some resilience by holding on till mid-2013 before declining sharply.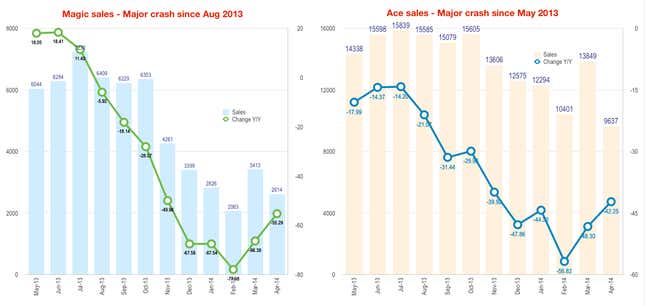 All taken together, Tata Motors needs a new passenger car to revive sales. Although it released two new vehicles earlier this year—a hatchback and a passenger sedan—the Emerging Markets Automotive Advisors report argues that they are only variations of an existing platform, the Indica Vista.
"There is a huge gap between the Nano and the Indica Vista, so you can easily slot a car there," Deepesh Rathore, director of Emerging Markets Automotive Advisors, told Quartz.
The new Tata Kite—or whatever it may be eventually called—could fill that space. The Economic Times reports that the vehicle is being conceived as a "high-volume product in the compact car segment" in the range of 150,000 units annually.
It's less than the numbers initially projected for the Nano, but Rathore felt they were realistic.
Tata Motors declined to share details of the project. "We do not comment on future products," a company spokesperson said.
But with the Kite expected to launch no earlier than late-2015, it may be some time before Tata Motors stops reeling at home.