A heat wave hit Delhi on June 6, sending temperatures soaring above 45° C (113° F). As the temperatures rose, so did the number of unidentified bodies found on the streets. In the five days that the heat wave lasted, 130 unidentified people died—an average of 26 deaths a day.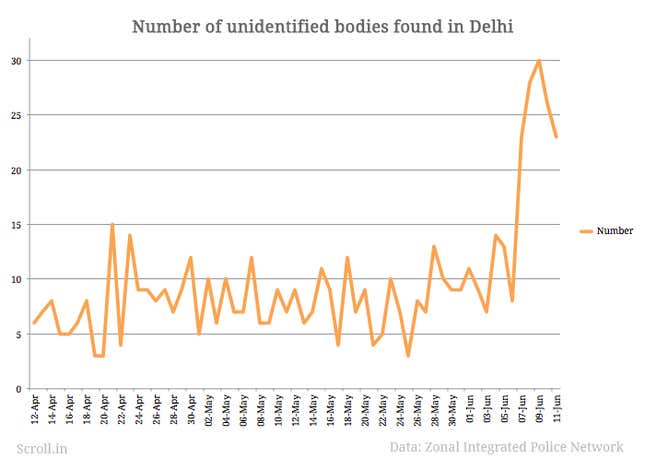 On an average, eight unidentified people die on Delhi's streets every day around the year. Most of them are men of working age. Homeless and poor, they often die in their sleep. Their bodies are picked up by the police in the morning and cremated after a few days if they remain unclaimed. While such deaths often hit the headlines in the winter, data for the last three years shows that they actually peak in the summer and during the rains.
The last time Delhi saw a sustained spike in the deaths was in the closing days of June 2012. In 12 days, 369 unidentified bodies were found, an average of 30 deaths a day. It is unclear if the city had witnessed a heat wave, an outbreak of disease, or any other abnormal occurrence during that period.
This summer, there is a sharp correlation between a rise in temperatures and a rise in deaths on the streets. While it might not be possible to draw definite conclusions, since the cause of the deaths is not recorded in the police database, it is plausible that the unprecedented and unrelenting heat might have played a role in the increased mortality. As Scroll.in reported earlier, a study on the heat wave in Ahmedabad in May 2010 found that deaths that month were 43% higher than for the same period in 2009 and 2011.
Either way, the impact of heat waves on public health needs more attention both within the government and in the public at large. A few protective measures could go a long way in saving lives.
This post originally appeared at Scroll.