Nearly everyone who is now older than 25 years will remember the Humara Bajaj campaign and an India where a well-to-do family of four comfortably travelled on their prized possession—a Bajaj Chetak scooter. Those who are older than 35 might even remember a time when there used to be a long waiting period for a Bajaj scooter, which you could jump, apocryphally, if you knew people at the right places.
Bajaj is the company that introduced scooters to India and the brand that remained synonymous with the vehicle for decades. Now, as scooters are making an unforeseen comeback, Bajaj doesn't sell a single scooter. Because the company decided, in 2009, that it didn't want to be in the slowing scooters segment, and placed all its bets on motorcycles, which seemed like the future.
That bet is not looking good. India's women are eagerly embracing the stylish gear-less scooters that are backed by campaigns with slogans such as "Why should boys have all the fun". And thanks to them, now a quarter of two wheelers sold in India are scooters.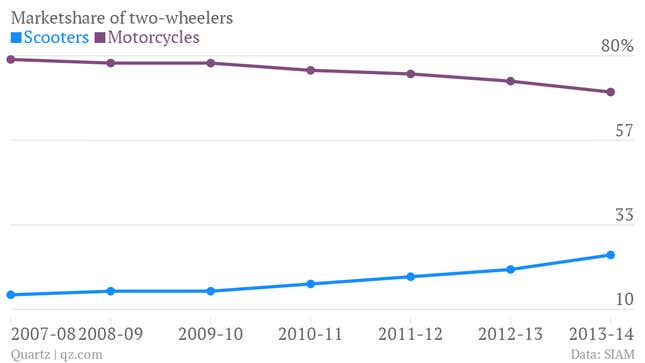 Honda Motorcycles and Scooters India is the big winner from this boom. Its flagship Activa model is now India's second-largest selling two-wheeler. In some months, such as April this year, it was the largest selling two-wheeler model, overtaking Hero Motors' evergreen Splendor motorcycle. A scooter outselling motorcycles in India used to be unthinkable a few years ago.
But Bajaj seems to have no plans for re-entering the market. The Times of India quoted unnamed dealers as saying that they have been asking the management to rethink the strategy and introduce a scooter. Bajaj Auto MD Rajiv Bajaj did not respond to an email seeking comment.
Bajaj has relied on the export market which accounts for up to 40% of its sales. "In the export market, scooters are not a big category. They also have very little competition from other Indian players as far as the export market is concerned," said Surjit Arora, a research analyst at Mumbai brokerage Prabhudas Lilladher. He said that the category of scooters grew at 34.5% while motorcycle volumes grew at 11.7% year-on-year.
The scooter market is still far away from being as large as the motorcycle market though. In other global two-wheeler markets, scooters accounted for nearly 56% of world (excluding China and Africa) two-wheeler sales in 2012, according to research firm CRISIL. The research expects the Indian two-wheeler market to mature and the pace of growth to slow down to single-digits over the next five years.
Vishnu Mathur, director general of industry body Society of Indian Automobile Manufacturers, attributed the revival of the scooter market to sellers targeting women and young users. "There is a lot of new technology available and those that find it hard to maintain balance on motorcycles find it easier to use scooters." He adds that it is difficult to estimate when the saturation point will come in this market. For now, it looks like a steady ride for scooter sales.
Bajaj's market share in the meantime in the overall two-wheeler market has been falling. "When Honda had entered the market it was expected to take away some market share from Hero Moto Corp. But instead what has happened is that while Hero continues to grow, they have taken away some of Bajaj Auto's market share in the country," Arora, the analyst, said.
In the Bajaj ads, the women always rode pillion, sitting sideways wearing a sari, holding on to their husband's shoulder for safety. Basing their sales strategy on that imagery has cost the company marketshare and mindspace.