Over the last three years, Indian companies haven't been keen on going public. They had every reason to be worried. Economic growth was slowing, stock markets were jittery, and the rupee depreciated against the US dollar.
Stock analysts had blamed the Congress-led UPA government for the unhappy cocktail of factors that added up to what is referred to as weak sentiment. In short, a terrible time to raise money from the markets.
With Narendra Modi's rise to power, the sentiment deficit has been bridged, and even before he has had a chance to effect any major policy changes or fix macroeconomic indicators, the stock markets have rallied, signaling their approval.
With a little more than a week to for the budget, experts believe that India's IPO market is poised to return to the pink of health.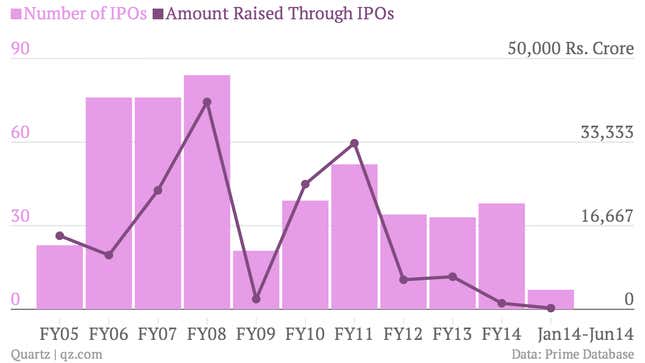 According to data by Prime Database, a company tracking capital markets, Indian companies raised only $200 million through initial public offerings in 2013, the lowest in 12 years.
This year, after Modi became the prime minister, India's benchmark 30-stock Sensex soared to record high and rupee has been relatively stable against the dollar. Sensex has gained around 20% since January 2014.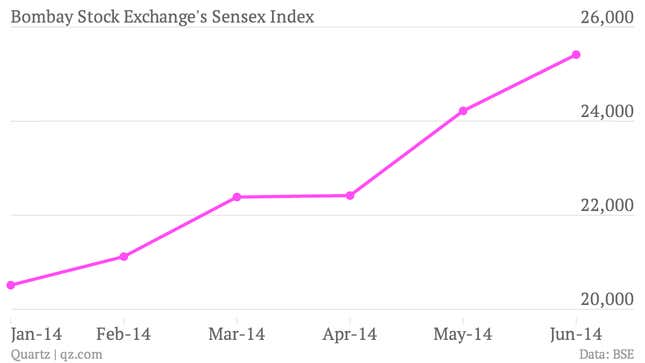 "Promoters [of companies] must be excited," says Vaibhav Agarwal, vice president for research at Angel Broking. The companies that have been waiting to come out with an IPO but were hesitant due to the unfavourable market conditions will be the first ones to go public, adds Agarwal.
Cellphone maker Micromax had canceled its IPO plans in 2011 due to volatile market conditions. It later hinted that a stable government might allow the company to rethink matters.
"There is a huge demand for capital" from companies, says Pranav Haldea, managing director of Prime Database.
Many companies are already trying to raise money through qualified institutional placement (QIP), a mechanism much faster than IPO as it doesn't require approval from India's capital markets regulator.
According to Prime Database, six companies have raised Rs 12,151 crores ($2 billion) through QIPs in the quarter ending June, a six-fold increase compared with the same quarter last year. QIPs worth Rs 30,000 crore ($5 billion) have been announced in the last three months.
"Subsequently, the effect will be seen on primary markets," says Haldea referring to IPOs.
But there is one factor that might be a killjoy: monsoons.
India's weather office has said rains will be below average this year which may stoke food inflation and hamper economic growth. This isn't a welcome sign for the stock markets, says Nilesh Karani, head of research at Magnum Equity Broking.
Companies, he says, planning for an IPO "might defer their plans."