Three days before the Narendra Modi government's first budget, Carrefour SA—the world's second largest retailer—has called it a day in India.
"The closure of Carrefour's business in India will be effective at the end of September 2014," the French multinational said on Monday. That, as expected, set off speculation on whether the exit was primarily triggered by the BJP's stance on disallowing foreign direct investment in multi-brand retail.
But here's what's being missed out: Carrefour has been pulling out of emerging markets for sometime now, and instead focusing on core geographies to steady itself after the financial crisis.
Since 2012, for instance, the retailer has checked out of Indonesia, Malaysia, Colombia, Singapore and Greece, pulling out of operations worth over $3.5 billion (pdf).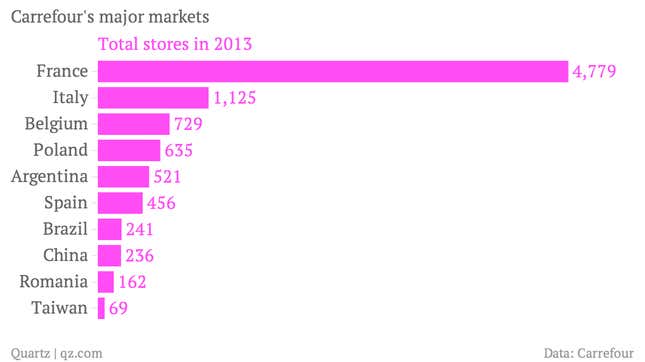 The Paris-headquartered firm is now reportedly spending a similar sum of money to overhaul existing stores, and push into key markets such as Brazil and China.
While France accounts for about half of the company's total sales, it has deep roots in some Asia and Latin America markets that are still delivering growth. Carrefour entered Brazil in 1975, Argentina in 1982 and China in 1992. In India, operations began only in 2010.
"You cannot be everywhere," Carrefour's CEO Georges Plassat told the Financial Times last year. "We were financing our international expansion with money from France and we stopped investing in our domestic market."
With that reorganization underway, pulling out of India—where it only had five wholesale stores—perhaps makes sense for Carrefour. And, surely the BJP's stated opposition to opening up the retail sector didn't exactly persuade a rethink.