Remember the UN Millenium Development Goals?
Following the Millenium Summit of the United Nations in New York in 2000, all 189 member nations then (UN has 193 members now) committed to help meet ambitious development targets across categories such as primary education, nutrition, health, mortality, sanitation and others. Across eight categories, a layered system of goals was set for each country.
Because the deadline was 15 years away, everybody agreed in right earnest. Now, it's a little more than a year away.
India is unlikely to meet all the goals. And because India has so many of the world's afflicted, its performance will drag down the overall performance of the world, like the slowest runner in a relay-race team.
India has made significant progress in some areas. In others, the picture is grim.
Quartz examined the latest national and UN report to track the performance of Asia's third largest economy:
Combating extreme hunger and poverty  
Progress: moderately successful
India has been successful in achieving part one of this goal. It had to halve, between 1990 and 2015, the proportion of people whose income is less than one dollar a day. The country managed to reach its target in 2011-12, well ahead of the deadline, when the percentage of people below national poverty line dipped to 21.9% from 47.8% in 1990. Despite this improvement, one in five Indians still lives below the national poverty line.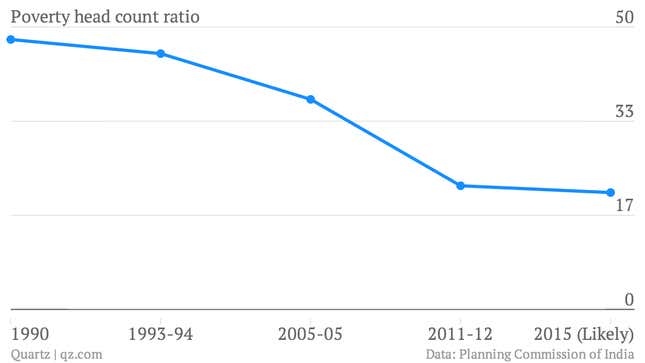 But the country is likely to fail when it comes to achieving the second target: extreme hunger. India is supposed to reduce the percentage of underweight children below 3 years of age to 26% by 2015—half of what it was in 1990. According to the government's MDG report, it will decline only to about 33 % by the deadline.
Achieve universal primary education
Progress: on-track
India is on-track with this one and it provides primary schooling to all children between the ages of 6 to 10. The country is also likely to reach 100% youth literacy by 2015, according to India's department of statistics.
Promote gender equality and empower women
Progress: moderately successful
The first target within this goal was to eliminate gender disparity in primary and secondary education, preferably by 2005, and in all levels of education no later than 2015. India missed the 2005 deadline but it has hastened to catch up since then. The UN says that sex disparities are more prevalent at higher levels of education. The good news is that the Gender Parity Index for Gross Enrolment Ratio in higher education in India increased from 0.54 in 1990-91 to 0.86 in 2010-11.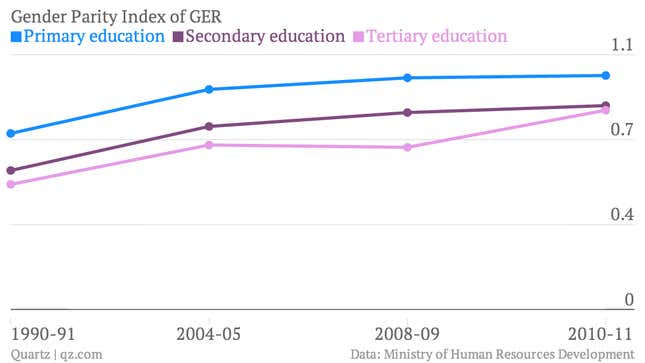 But participation of women in employment and decision-making is abysmally low and this disparity won't be eliminated by 2015.  The world's largest democracy has only 61 women in Lok Sabha (the house of the people in Parliament), out of a total of 543 members. Additionally, the share of women in wage employment can at best reach a level of about 22.28% by 2015.
"Labour markets in industry and services sectors in India are heavily male dominated and a 50:50 situation for men and women is too ideal to be true given the market dynamics and existing socio-cultural framework," notes the government's MDG report 2014.
Reduce child mortality
Progress: off-track
India had the highest number of deaths of children under the age of 5 in the world in 2012, with 1.4 million children dying before reaching their fifth birthday, according to the UN.  India's Under Five Mortality (U5MR) declined from 125 per 1,000 live births in 1990 to 52 per 1,000 live births at present. Considering the historic trend, it is expected to miss the MDG target of 49 by 7 percentage points.  The infant mortality rate is likely to reach 40 deaths per 1,000 live births, missing the MDG target of 27 with a considerable margin.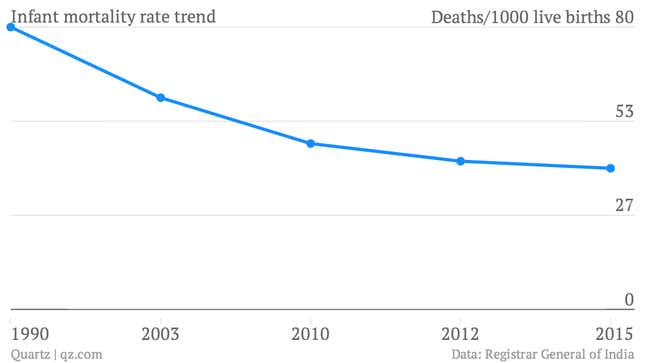 Improve maternal health
Progress: off track
According to the UN, almost one-third of all global maternal deaths are concentrated in two countries: India and Nigeria. From a Maternal Mortality Rate (MMR) of 437 per 100,000 live births in 1990-91, India is required to reduce MMR to 109 per 100,000 live births by 2015. India will probably fall short of achieving this and is on track to report 140 per 100,000 live births by 2015.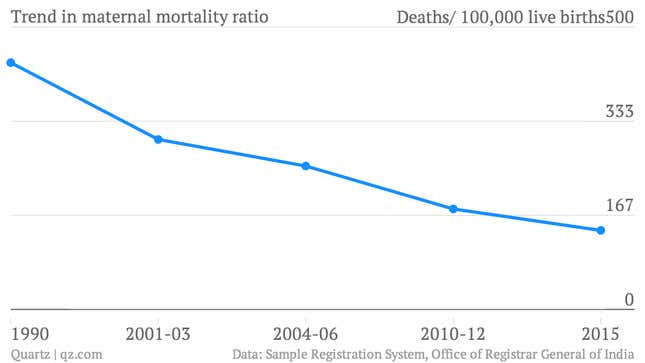 Co
mbat
HIV/AIDS, Malaria and other diseases
Progress: moderately successful
"India has made significant strides in reducing the prevalence of HIV and AIDS across different types of high-risk categories," according to the UN. "Much of this decline can be attributed to greater awareness and increasing condom use."  Adult prevalence of HIV has come down from 0.45% in 2007 to 0.27% in 2011.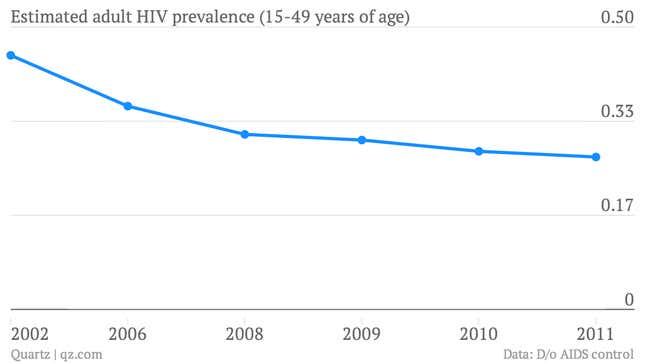 Malaria, both in terms of prevalence and death, has declined. The malaria death rate in the country was 0.09 deaths per lakh population in 2000, which has come down to 0.04 deaths per lakh population in 2012.
But tuberculosis burden is still staggering in India. TB is one of the leading causes of mortality in India, killing two people every three minutes.
Ensure environmental stability
Progress: Moderately successful
The forest cover in India declined from 2009 to 2011 by 367 sq km. By the 2011 estimate, the most recent one available, forest covers 21.05% of the country's territory. Protected areas, such as wildlife parks, have increased marginally to 4.90% of the total geographical area.
India is on track in achieving the MDG target for sustainable access to safe drinking water. The country was supposed to reduce by 50% the number of households without access to safe drinking water from its 1990 level. It has already achieved that target for both rural and urban areas. The prevailing trend suggests attainability of nearly 100% coverage by 2015.
However the country has not recorded similar progress in improving toilet facilities over the last decade. The proportion of households without toilets declined from 64% in 2001 to about 53% in 2011.
"At current progress, the country is unlikely to achieve the target of reducing the proportion of households having no access to sanitation to 38% by 2015," says the UN report.
Develop a global partnership for development
Progress: on-track
For India, the main target within this MDG was to make benefits of new technologies, especially information and communication, available to all. It has performed impressively here. Overall tele-density (number of telephones per 100 population) has reached 73.5% in 2013 from 9.08% in 2005.