Almost a decade ago, Indian politician Jairam Ramesh coined the term "Chindia" as the vision of a grand alliance between India and China.
That didn't materialize immediately as China far outgrew India, although former prime minister Manmohan Singh started work on building a partnership with another Asian power, Japan.
Now, even as India's current leader, Narendra Modi, embraces Beijing, there is potential for a powerful, new relationship to emerge in the region.
Presenting "Jindia"—Japan and India. And here's why:
1. Japanese multinationals are looking to expand
Some of this has to do with Abeonomics. With the Yen depreciation under prime minister Shinzo Abe's watch, some export-driven Japanese firms have seen increasing profitability, which in turn helps overseas investment.
And although Japanese companies have been expanding in China and ASEAN for some time now, India's potential remains underutilized, a new report by Japanese financial services major Nomura suggests.
The reasons are the usual: The attraction of a burgeoning middle-class, and the likelihood of reforms and liberalization under the new Modi government.
So, in the long-term, Japanese manufacturers are more bullish about India than any other country, including China and the ASEAN bloc, according to a survey (pdf) late last year.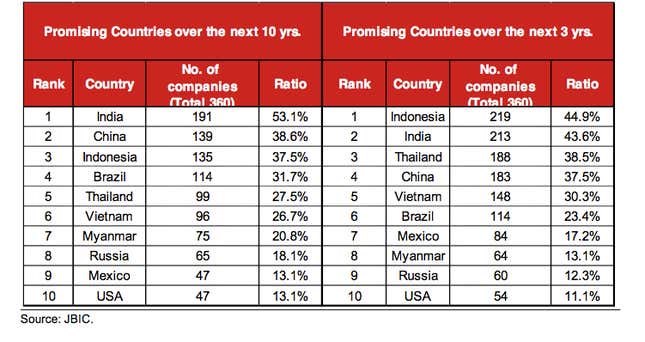 Some of this has already been happening. Between 2002 and 2012, Japanese companies invested over $12 billion in India, accounting for about 7% of the total FDI into the country, and making Japan the fourth largest investor in the subcontinent behind Mauritius, Singapore and the United Kingdom (pdf).
There's also the India-Japan Comprehensive Economic Partnership Agreement, operational since 2010, which has helped kick-start trade.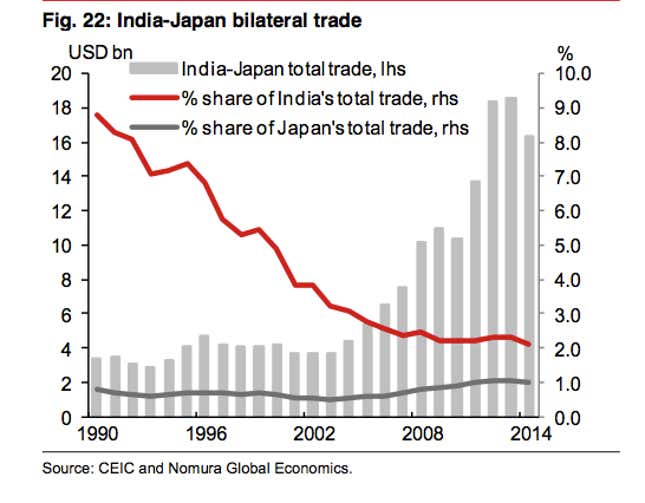 And going forward, Nomura expects this to have a bigger impact, particularly for Japanese consumer goods targeted towards middle-class Indians.
2. India is hungry for infrastructure that Japan wants to sell
Indian prime minister Narendra Modi is expected to make a strong push to develop India's severely lacking transport infrastructure. And Japan's Abe wants to triple the country's infrastructure exports by 2020, reports Nomura. The synergies are evident.
And it's not that any of this is new for Japan. Tokyo has been offering bilateral loans and grants to India since 1958, and is currently the largest bilateral donor, according to India's foreign ministry (pdf).
In the massive $90 billion Delhi-Mumbai Industrial Corridor, for instance, the Japanese government has committed to investing $4.5 billion on building infrastructure—possibly including its much vaunted bullet train.
3. The China factor
Despite the recent diplomatic thaw between New Delhi and Beijing, a number of prickly issues remain, including the border dispute and the question of Tibet. The Modi government is pushing for more engagement, through collaborations like the recent BRICS bank, but there is a certain amount of wariness still. China's economic and military clouts is significantly greater than India's.
With Japan, the relationship is even more shaky. China's increasing maritime presence in the region, alongside its recent aggressive posturing, has led to friction. With Tokyo, too, there have been territorial disputes over the Senkaku/Diaoyu islands. And although Japan—once Asia's undisputed economic powerhouse—knows that it must contend with China's domination of the region, it is looking for Asian partners to offset that.
As a result, there is a case for further strategic involvement between the two countries, as the Nomura report noted:
We also believe that Prime Minister Abe has been keen to deepen the security relationship further since he came to office in December 2012, consistent with his 'arc of freedom' theory which favours closer ties with democratic India in the context of their common neighbour, China.
In the meantime, India has also been considering buying military hardware from Japan, with the possibility of becoming "the first country since the second World War to buy a military aircraft from Japan," according to Reuters.
And there's a possible nuclear deal in the works, too.