Modinomics seems to have charmed the global financial elite. Investment professionals all across the world have named India as the most promising emerging market in a new Bloomberg Global Poll. This is the first time in the last five years that global markets are this confident about Asia's third largest economy. The poll is based on interviews with 562 Bloomberg users. More that 51% respondents said that they are optimistic about prime minister Narendra Modi's policies.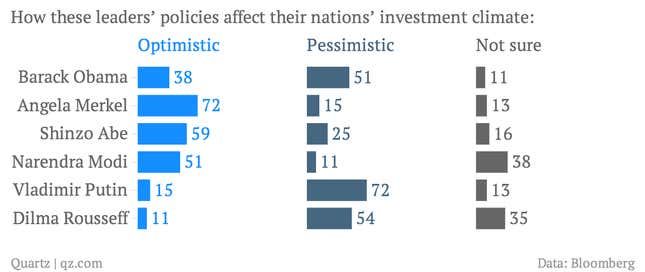 Modi has projected himself as a business-savvy leader and won the recent elections by promising wide-ranging economic reforms to boost growth. Under the previous Congress-led government, growth slumped to 4.5% in 2012-13, the lowest it has been in a decade.
Modi has a high share of people who are unsure about the impact of his policies. This could well be due to the fact that he has spent the least number of days in office among all the leaders surveyed.
Bloomberg users are more bullish on India than any other BRIC nation. More than 50% were pessimistic about Russia's Putin and Brazil's Rousseff, whereas only 11% felt cynical about Modi. Twenty three percent of the respondents felt that India will offer one of the best investment opportunities in the world.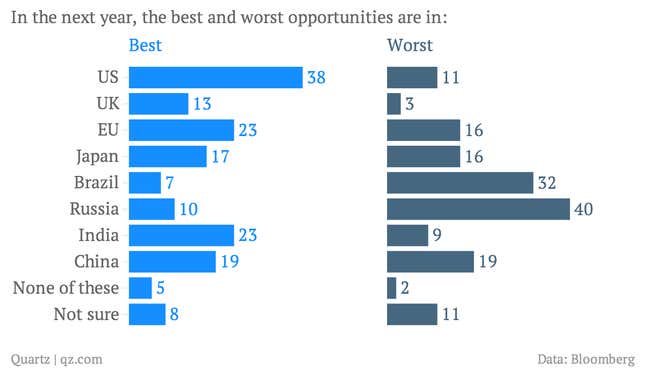 According to Bloomberg, India's poll ranking for the best opportunities has climbed faster than any other major market. It was at the sixth spot in September last year and is now tied with the EU for the second position, behind USA.