The Census data shows India has 122 languages with at least 10,000 native speakers. It makes striving for homogeneity in the choice of language of communication a challenge, as was evident from the reaction to the recent directive of the Narendra Modi administration to its officials to actively use Hindi on social media and in government communication.
According to Census 2001, Hindi is spoken by 53.6% of India's population, mainly in the northern and western belts of the country. For 41%, Hindi is their first language. For the other 12.6%, it's their second or third language. In other words, about half the country has no connect with Hindi. Here are four charts that drill deeper, drawing from data on second and third languages, and unravel India's language conundrum and contradictions.
Less than 15% of speakers of southern languages know Hindi. Among the top 10 Indian languages, those whose first language is Tamil (principally spoken in the southern state of Tamil Nadu) have the least to do with Hindi: only 2.1% of them know Hindi. When the Modi directive went out, the loudest howls of protest came from Tamil Nadu, where an anti-Hindi stance has come to be a symbol of political correctness for complex historic reasons.
Speakers of the three other main southern languages fare better in their adoption of Hindi, but only just, ranging from 11.2% to 15.3%. Eastern India is the other region where adoption is Hindi is low, as shown by the numbers for those who have Bangla (spoken mainly in West Bengal) and Oriya (Orissa) as their main language. It was in the Orissa assembly where, after the Modi directive went out, the speaker of the house interrupted a member speaking in Hindi and instructed him to use either Oriya or English.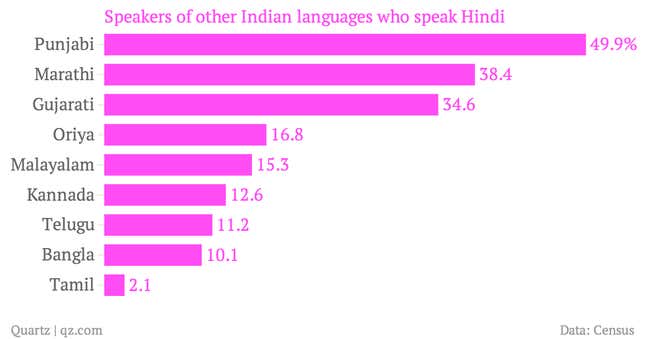 Only 12% of Hindi speakers are bilingual. By comparison, the bilingualism figure for speakers of other main languages ranges from 20.4% to 52%.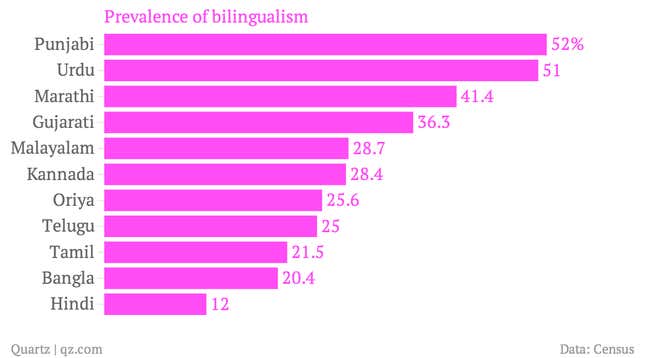 Hindi is the most popular second/third language among non-Hindi speakers. A significant chunk of non-Hindi speakers don't know a second or third language. But among those who do, Hindi is the most popular (the notable exception is Tamil-speaking people).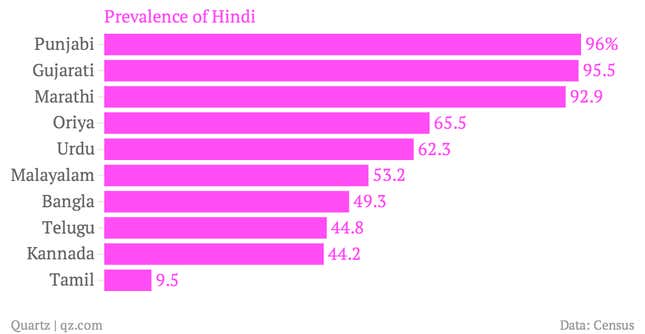 Nearly a quarter of Hindi speakers are people whose main language is something else. After English, this is the highest. Of the other top four non-Hindi languages, Marathi has the higher number of non-native Marathi speakers.