It was once the ordinary Indian's entry-level two-wheeler. Affordable, frugal, sturdy and almost entirely homegrown (pdf), the moped was ubiquitous on the subcontinent's streets.
Today, the moped is hard to find. Its two major manufacturers—Hero Motors and Kinetic Engineering—have left the business entirely. TVS Motors, the country's only remaining moped maker, has sought growth in scooters and motorcycles.
And in a two-wheeler market where style and power are ascendant, the humble moped is seemingly out of place.
But it isn't dead yet.
If anything, more mopeds were sold in 2013, than 2003. Or 1993. Or 1983.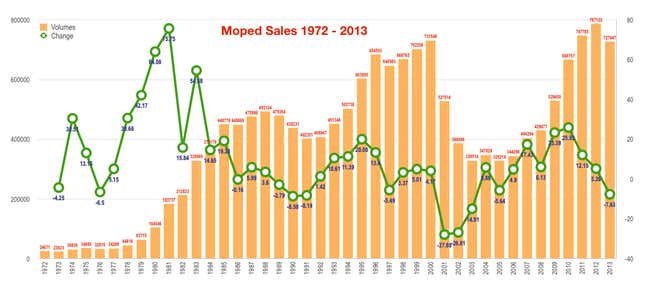 In the last 10 years, according to a report by automotive consultancy Emerging Markets Automotive Advisors (EMMAAA), moped sales recorded a compound annual growth rate of 8.27%. That's not too far behind motorcycles, which grew at 9.49%. Scooters, however, substantially outstripped them both, with sales growing by 14.22%.
Though they comprise a very small portion of the market, mopeds have shown a remarkable resilience in sales, particularly in bouncing back after the slowdown.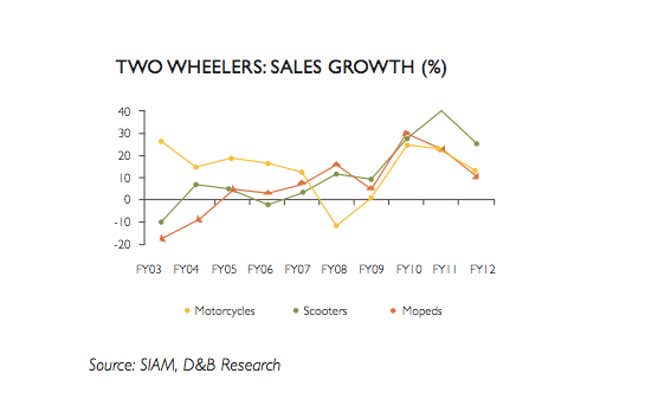 In terms of sales growth, mopeds not only didn't do as badly as motorcycles, but also recovered faster than scooters.
With little R&D or other investment required in recent years, TVS Motors has simply stayed in the market—and reaped the rewards.
"TVS's party is on but it is unlikely to last very long," the report forecasts. "Factors like hardening emission norms, changing customer preferences; speed and utility will likely lead to mopeds dying eventually."
But such death knells for the moped—and other two-wheelers, including the scooter—have sounded before. And, as scooters, in particular, have shown, a little innovation can completely revolutionize a market.
If you are unfamiliar with a moped, here is a vintage ad for reference.