IndiGo has emerged as the best Indian airline in terms of reliability and punctuality, according to data released last month by Flightstats.com, based on the top 20 domestic routes per airline between May 15 and July 15.
IndiGo tops in all three parameters that the website used to evaluate the airlines: the percentage of flights on time, the average delay, and the number of flights diverted or canceled.
Indeed, the airline has seen quite a bit of Twitter love for its on-time performance. "On time (never failed me), decent food, fun branding, great service," tweeted @SpinAndSwirl on July 29.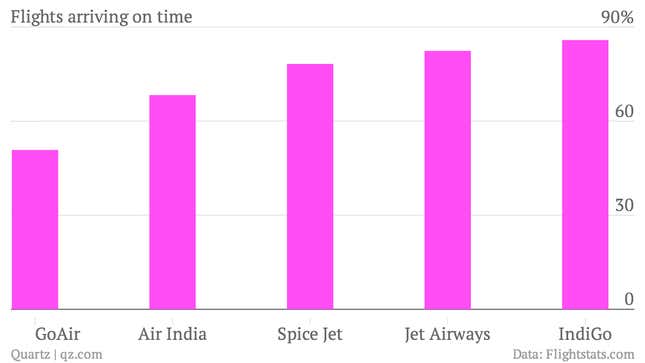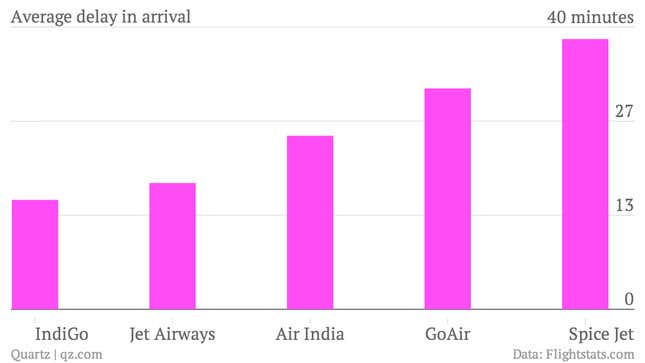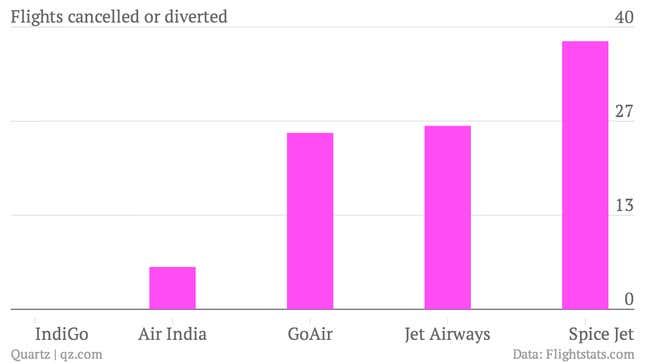 SpiceJet ranks last on two of the parameters and in the middle in the third, as seen in the charts above. In one incident, the Directorate General of Civil Aviation asked the airline on July 28 to refund the full fares and Rs 15,000 worth of food and drinks it sold to passengers when one of its flights was severely delayed.
That was perhaps an unprecedented step in penalising the airline with such a heavy fine, in response to a complaint from passenger Harsh Surana. SpiceJet made passengers of a flight from Mumbai to Delhi on June 16 wait for nearly four hours after landing to deliver their luggage.
State-owned Air India fell in the middle, which means that it is doing better in the domestic market than internationally, where it appears to have several problems.
Market share

Indigo had the largest market share, at 31.6% in June, while SpiceJet became the second-largest airline, with a 19% of the market share, sharing the spot with Air India, according to data released by the DGCA in July. Jet Airways, meanwhile, shrunk to its lowest market share of 15%.
SpiceJet was able to grow by offering frequent discounts on fares, which seem to be the most important criteria for passengers while choosing a flight.
In the coming months, these market shares will come under threat with increased competition. Air Asia launched in June, and the government has approved the entry of six more airlines: Air One, Premier Air, Zexus Air, Turbo Megha, Air Carnival and Zav Airways and a Tata-Singapore Airlines joint venture.
Most of these airlines are expected to start operations by the end of March, while the Tata-Singapore venture will begin in October.