Hundreds of journalists working at the Times of India and its sister publications have received a peculiar request from their employer: hand over your Twitter and Facebook passwords and let us post for you.
Even after you leave the company.
Under a contract unveiled to employees last week, Bennett, Coleman and Company Ltd—India's largest media conglomerate and publisher of the Times of India, Economic Times, among many other properties—told staffers they are not to post any news links on their personal Twitter and Facebook accounts. This runs counter to many social-media policies in newsrooms across the world, which often encourage journalists to share content widely.
But BCCL, as the company is known, is telling journalists that they must start a company-authorised account on various social media platforms. They also have the option of converting existing personal social media accounts to company accounts. On these, they are free to discuss news and related material. The company will possess log-in credentials to such accounts and will be free to post any material to the account without journalists' knowledge. It is now also mandatory to disclose all personal social-media accounts held by the journalist to the company.
It is these clauses that are causing the most unease among employees at the group's newspapers, according to multiple journalists who asked not to be identified. They said printed copies of the contract were circulated last week, with instructions to sign immediately.
Thus far, the policy change does not appear to have had an effect on the company's journalists who are active on Twitter. (Disclosure: I worked for The Economic Times until April.)
According to two journalists at the group's English-language newspapers, protests about the clauses in the contract have not yielded much result. Reporters who have raised concerns with their editors  say they have mostly been told that those will be addressed in due course.
BCCL CEO Ravi Dhariwal did not respond to an email from Quartz seeking comment.
The company has been ramping up its web presence in recent months by bringing in a slew of international brands to India, such as Gizmodo, Lifehacker, Business Insider, Ad Age, and most recently, Huffington Post. It is unclear if this new policy will apply to journalists hired to work at these digital brands.
Efforts to achieve greater integration between the company's print newsrooms and its online units are also underway. BCCL's newspapers recently started incorporating email ids of reporters into bylines.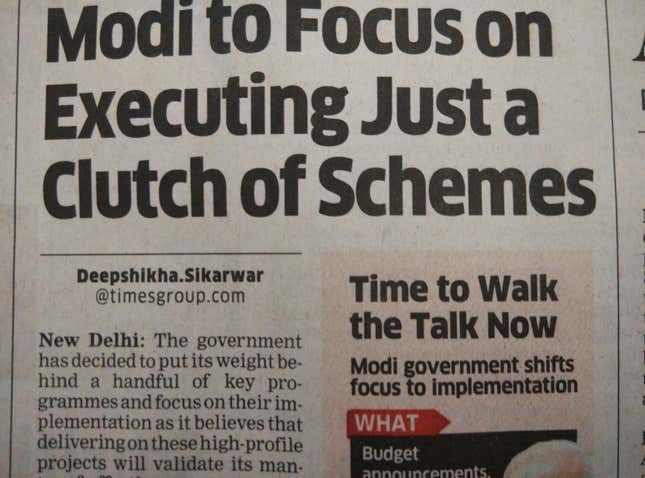 The contract, a copy of which has been reviewed by Quartz, begins with a recognition of the growing importance of social media, and states the company and the employee are "mutually desirous of creating a user account on Facebook/Twitter/Google+ websites." It goes on to say that the employee will be required to post regular updates to the account.
Midway through the two-page contract:
The posts made by you on User Account shall contain news and other related material and may also contain any personal material and interaction, which we encourage. You shall inform the company about your personal user accounts and the same will be allowed by the company, subject to you refraining from posting any news and other related material on the same. The personal user account shall always belong to you and carried by you in the event of any severance of your contract with the company. At your request, while in employment, your personal user account may be converted into a company User Account. It is specifically agreed that on such conversion, all intellectual property rights in such converted User Account shall be vested in the company.
With this, BCCL journalists will have to inform the company of social media accounts held by them—but they can't post their own stories or any news links. In other words, the only way to function effectively as a journalist on social media is to either agree to convert the personal account into a company account, or start a new company account.
Once that is done, the company will hold the key to those accounts, and can post any material to those accounts as it deems fit. In fact, a journalist using such an account will be doing so on behalf of the company.
The company shall be the owner of the access passwords, username and associated email address for the User Account, which shall be used by you on behalf of the Company to make posts. Company retains administration rights of the User Account, which shall be made accessible to the Company on demand. It is understood that sharing of such details of the User Account shall be an integral part of your contract with the Company and shall also be necessary for processing any settlement related to termination of such Contract.
Even if you quit the company, it reserves the rights to continue operating that account in your name.
The company may upload news or other material on the company User Account through any means, including automated upload streams, at its sole discretion, notwithstanding any termination of your contract with the company.
All intellectual property and any future revenue from these accounts belong to the company, the contract says.
The Hindu, another large English newspaper, had recently asked its journalists to not share links from rival news outlets on Twitter and Facebook.