The funny guys behind All India Bakchod (AIB) are confronting a serious question. Sure, their hilarious sketches on YouTube routinely get millions of clicks—but how to translate that into millions of rupees? The answer, they think, will come from turning their unique brand of comedy into a brand-promotion platform.
Indians online are already familiar with AIB—their name is a play on the state-run All India Radio, with an indelicate Hindi slang word used to describe a person who talks rubbish. The four-man comedy collective has produced a string of wildly viral YouTube videos lampooning the country's politicians and taking on sensitive subjects like rape. Its recent video riffing on actor Alia Bhatt's image deficit became a viral hit, with 5.7 million views.
The group was founded by Tanmay Bhat and Gursimran Khamba, who were then joined by two other stalwarts of India's standup comedy scene, Ashish Shakya and Rohan Joshi. The four produced several popular podcasts before turning to YouTube a year ago: they have now posted 23 videos, some of which have topped 5 million hits.
Youtube pays the group according to the number of times users saw ads before their videos, but Bhat says that's not enough to sustain the AIB enterprise. The videos cost between Rs 1 lakh and Rs. 3 lakh ($1500-$5000). AIB did not disclose the ad revenue YouTube shares with them but it does not cover production cost.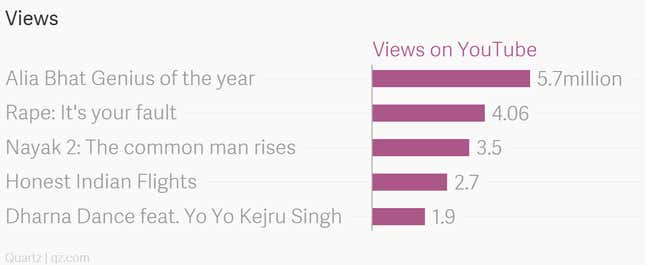 There have been offers from television and film, but the comedians aren't too keen on either. "TV people come to us with arrogance, as if to say that 'You don't know what TV can do for you,'" Bhat says. But with their growing fan base, the AIB team feels YouTube already gives them the legitimacy that once could only be had from TV.
Instead of selling out to mainstream TV, the group are finding ways to sell their comic talents to brands that want to make a splash beyond traditional advertising media. The trick is to do that without corrupting their humor. Their video for RedBull, for instance, plays on the brand's association with "flying" while maintaining AIB's over-the-top comic sensibility. One of the videos AIB did for RedBull got over 2 million views.
The group has also worked with a classified-ads site and the online marketplace Snapdeal. The team acts as an agency to produce digital ads for these brands by coming up with the concept and in some cases producing and directing the videos as well. With Snapdeal, the group also did brand placements in their videos.
The challenge, says Khamba, is to get brands to see the advantages of associating themselves with AIB. "In case of other videos, like a cookery show, there will be a certain kind of brands that will want to associate with it," he says. "In case of comedy there is no clear bracket of brands. The ones that want a youth connect, or want to look cool, come to us."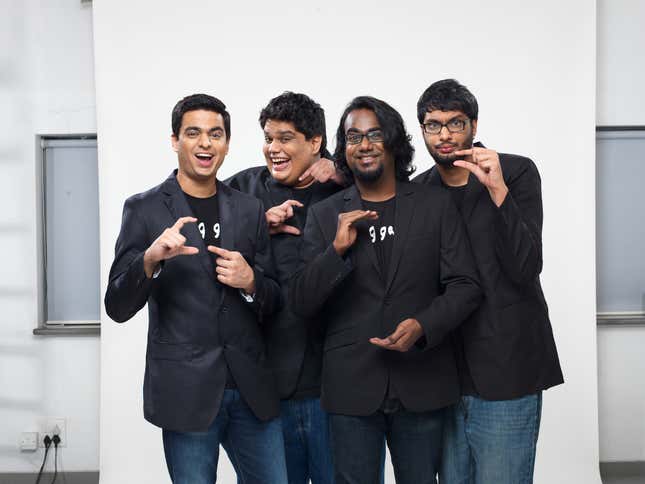 For the videos, AIB gets production support from Only Much Louder, the management company behind the NH7 music festival. OML also manages AIB and the individual comedy careers of the team. All four members continue to do standup comedy, as well as corporate shows.
Other than these, AIB's biggest source of revenue was a live show called 'Royal Turds,' a parody Bollywood film awards ceremony. The show collected Rs 1.5 crore ($246,000) in revenue last year from ticket sales.
But it's the videos that have become AIB's signature. And their popularity is attracting competition, with a number of comics setting up their online channels and working on content. "We totally take credit for that," says Bhat. "In the comedy scene, no one was thinking about doing this, till we started it."
For all the success of their videos, however, the men say they get the greatest satisfaction from their podcasts. "The podcasts are the most unrefined, and therefore most funny," Bhat says.