This year's general elections in India were extraordinary for numerous reasons, but there was one particularly remarkable exploit that mostly went over people's heads—this was perhaps the first time in the country that drones were widely employed for election coverage.
Quidich, a New Delhi-based aerial photography company, had its drones hover above politicians, their rallies and constituencies in the run up to the polls. And working with a television news channel, a selection of cameras—small GoPros and high-quality DSLRs—they captured some extraordinary footage of what an Indian election looks like from above.
All those aerial stunts, however, didn't come cheap: The drone used by Quidich costs between Rs 5-6 lakh ($8,220-$9,875).
But such steep prices aren't a certainty in the world of drones.  You can, in fact, buy yourself a drone for the price of a smartphone and have it home delivered within a week. That's quicker than you'll probably get hold of the new iPhone.
"In our drones, each motor costs $330," Tanuj Bhojwani, technical head at Quidich told Quartz. "But there are drones that you can buy for a $100 now."
Just one quick caveat, as Bhojwani explains: "The cheaper drones don't have a good camera and there is some compromise in terms of quality. But if you are lying on your bed and are too lazy to check if the pasta is cooked in the kitchen, you can keep one of these to do it for you."
Drones are coming into widespread usage in India. The Kolkata police is buying a second one. Delhi's Ram Lila will have one hovering above for security surveillance. Shopping websites such as Flipkart and Amazon sell drones. Here are a few options for fun and experiments with aerial photography.
DJI Phantom 2: For Rs 70,000 ($1,150) at phantomindia.com, this Chinese-made drone is staple for videographers. Other models could be attached with your own GoPro camera, though new variants have inbuilt camera systems that perform just as well. It can fly around a radius of up to a kilometer, with a top altitude of about 500 meters.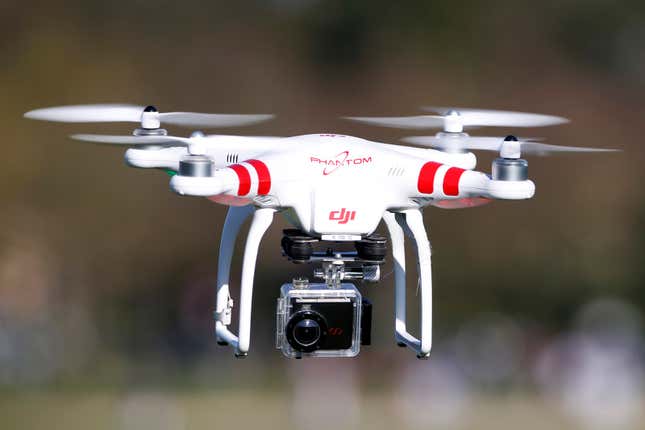 Parrot A R Drone 2.0 Power Edition: This one's for hobbyist, available on Flipkart for Rs 43,440 ($713) and for Rs 41,227 ($678) on Snapdeal It doesn't quite have the range of the Phantom, but it's sturdy and may survive a mishap or two. The Parrot can fly for about 36 minutes on two batteries, controlled by an Android or iOS device.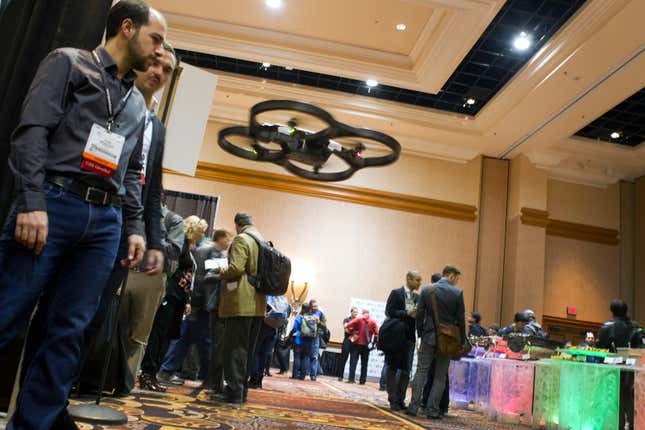 Robofission quadcopter: Enthusiasts often start out by assembling a drone themselves. You can order a DIY kit from Robofission, a Bangalore-based startup, through its website for Rs 6,000 ($98). And in case you're feeling less enthusiastic about putting it all together yourself, Robofission also offers an assembled drone.
Extreme Fliers Micro Drone 2.0: Order this one through eBay in India, and it'll will be shipped to you from UK for just Rs 4,500. There is, however, a delivery charge. The Extreme Fliers has a bunch of optional attachments, including a camera, and comes complete with flashing lights that apparently let you even fly this micro drone at night.
You can also buy all the parts you need for building your own drone from online stores like RcBazaar.com and Rchobbyaddict.com.