The warning is dire: In 30 years, the world is on track to hit its carbon quota thanks to global warming.
The clarion call from the team of scientists around the world came even as thousands of people across 150 countries marched for the climate this weekend.  In New Delhi, New York, Berlin, and Buenos Aires people took to the streets demanding global action to contain climate change. World leaders are preparing for Tuesday's UN Climate Summit, an attempt to chart a course towards a possible agreement on emissions at the climate conference in Paris in at the end of 2015.
The annual carbon budget of the Global Carbon Project revealed that that fossil fuel emissions from countries around the world grew by 2.3% in 2013 to hit a record 36 billion tonnes of carbon dioxide. The budget projects that emissions will rise by another 2.5% in 2014.
Burning coal produced the most emissions from fossil fuels in 2013.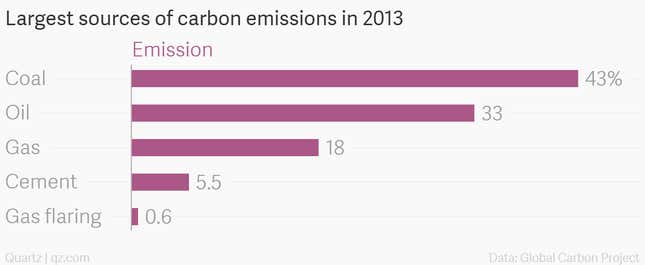 With an economy that's becoming more carbon intensive, India's emissions grew the fastest in 2013 and are expected to surpass emissions from the European Union by 2019.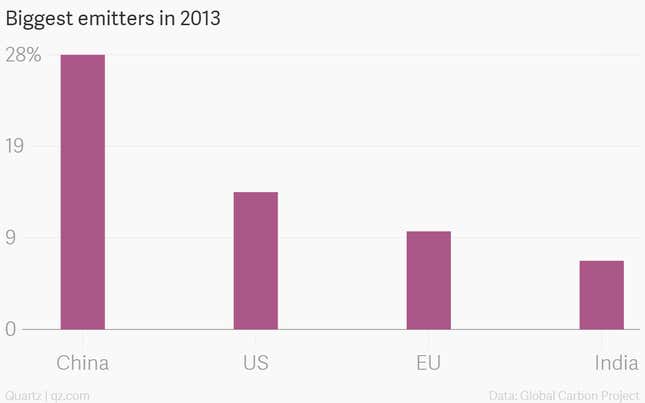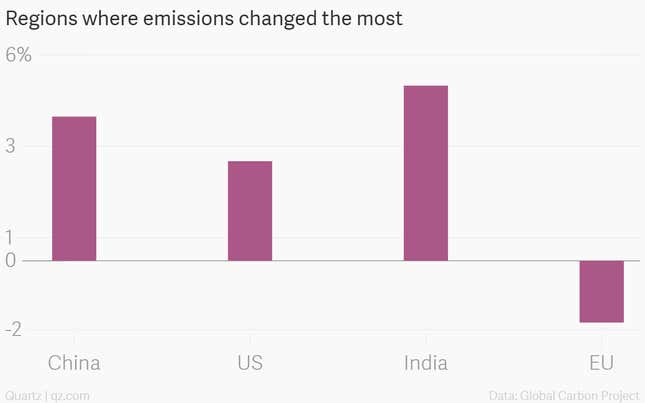 International climate change research has projected that the earth can take a total of 1,200 billion tonnes of emissions before warming crosses the 2 degree Celsius mark. This mark is accepted as a red line beyond which climate change will lead to dangerous, and often unmanageable, weather events. At the current rate of 40 billion tonnes of carbon released from deforestation and the use of fossil fuels, the global emissions will pass this safety margin in one generation.
The climate summit in New York this week is United Nations Secretary General Ban Ki Moon's attempt to galvanise political will for formal negotiations in Paris next year. World leaders have been asked to make pledges on how they intend to tackle climate change. The meeting has already seen some wind knocked out of its sails with Indian Prime Minister Narendra Modi and Chinese President Xi Jinping announcing that they will not attend it.
India and China are crucial to any deal on cutting global carbon emissions. China's emissions have surpassed that from the US and European Union and India is fast catching up. India has been adamant about the principle of equity in climate negotiations and an agreement that recognises "common but differentiated responsibilities". Such an agreement would recognise that developed countries have long been the drivers of climate change while poorer countries will suffer its effects more intensely.
Nations at the negotiating table also disagree on whether a new climate deal should have binding targets on emissions reduction or voluntary action by each country according to its capacity.
What's Modi saying about climate change?
Prime Minister Modi, meanwhile, has raised eyebrows with his latest remarks on climate change. In his Teachers' Day interaction with students on September 5, Modi said while talking about climate change he sometimes wonders what really has changed. "Older people – 70, 80 and 90 years old – say in winter 'this time it's colder than last year'. Actually, it's not colder. People lose their ability to tolerate the cold as they grow older. In the same way, the climate hasn't changed. We have changed."
Before Modi is labelled a climate change sceptic, here's what he said immediately after that: "We have changed. We have developed bad habits and because of that we have spoilt out environment. If we change then Nature is ready to restore its balance."
Modi's explanation is confounding. Was he referring to man-made climate change, which the Intergovernmental Panel on Climate Change defines as "change of climate that is attributed directly or indirectly to human activity that alters the composition of the global atmosphere and that is in addition to natural climate variability observed over comparable time periods". Or was he referring to the pollution of the environment in general?
If Modi's position is to question whether climate change is actually occurring, it's a far cry from his stand as Gujarat chief minister, when he positioned himself as a champion of climate action. He set up what was celebrated as Asia's dedicated first government department for climate change in the Gujarat government. His focus on renewable energy, particularly solar power, put Gujarat miles ahead of other states. When election results were declared on May 16 the renewable energy industry was delighted with the outcome, The Hindu reported. But Modi's push for renewables comes more from an "all of the above" strategy to make India more energy-secure and not so much from a desire to reduce coal and other the fossil fuel use.
In 2009, Modi stated that addressing climate change was a moral issue for him. He authored an e-book titled Convenient Action in which he said climate change would definitely affect future generations. The book then attempts to outline what the Gujarat government has done about climate change.
Little headway
But the book doesn't achieve very much, Nitin Sethi writes in the Business Standard. "It mixes up concepts just as the PM mixed up civic duty of citizens, scientific facts and metaphors in his speech on Teacher's Day," he said. "In the book, controversial dams are sold at equal footing to solar power, dubious carbon market players are showcased along with green public transport ventures, local pollution problems are mixed up with carbon emissions."
Malini Mehra, founder of the non-profit organisation Centre for Social Markets, argues that the gaffe reveals the prime minister's "miseducation" about climate change. In a post on the Responding to Climate Change website Mehra says:
"He had a captive audience of millions of students across the country whose future will be defined by climate change. But instead of educating them on the issue, why it mattered to India and what his government planned to do about it, he talked about threading needles in the moonlight."
Modi's mixed message on Teachers' Day is all the more confusing for a prime minister under whom the Ministry for Environment and Forests was renamed as the Ministry for Environment, Forests and Climate Change.
This post originally appeared at Scroll.