India now has a facilitation window of sorts for investors who want to do business in the country, ushering in a new paradigm that is meant to make India's notorious labyrinth of red tape and bureaucratic hurdles an unhappy memory from the past.
A day after India's triumphant Mars mission and hours before he left for his first visit to the USA as prime minister, Narendra Modi launched the "Make in India" campaign. The initiative is meant to cut red tape, spur foreign investments and transform India into a manufacturing powerhouse, correcting the biggest weakness of Indian economy.
The initiative got a high-profile launch in New Delhi today, with India's top industrialists, including Reliance Industries chairman Mukesh Ambani and Wipro chairman Azim Premji, speaking about the new deal for foreign investors, alongside Modi.
Answers in 72 hours
The face of the initiative is a slickly designed website—MakeInIndia.com. Designed by creative agency Wieden and Kennedy (W+K), it's possibly the snazziest web portal of any government program in India, and offers information about various sectors. The backend is an agency called Invest India, which is a joint venture between industry chamber Ficci (Federation of Indian Chambers of Commerce and Industry), the central government's department of industrial promotion and policy, and state governments, each of whom hold 0.5% equity. Invest India will act as a facilitator to foreign investors, guiding them through clearances, advising on joint venture partners, and suchlike.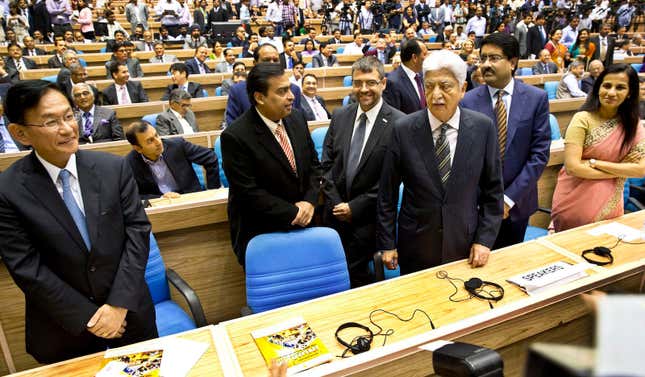 Prospective investors can post questions on the Make In India portal and they will be answered by a panel of experts within 72 hours. Twenty five sectors have been identified as priority areas and the portal offers a wealth of information about them.
Modi also came up with a new definition for FDI. "For Indians FDI is a responsibility, it means to First Develop India, for global investors FDI is an opportunity in the form of Foreign Direct Investment," he said, addressing Indian and foreign CEOs.
Top-down approach?
Two questions stand out about Make In India, however.
First, while a single window for foreign investors is a great beginning, how does it help when no serious reform has been undertaken in areas such as land acquisition, labour laws or administrative reforms. Sure, the executives at Invest India could be trained to be more friendly than the average bureaucrat and might be able to explain what clearances a business needs to get. But the actual process of getting the clearances is the challenge, and that remains steeped in the old India, where files move at snail's pace and litigation can break a project. Besides, many of the approvals needed are state subjects, and there is only so much that executives at Invest India, or indeed the central government, can do to facilitate licenses and clearances. These issues have not been adequately addressed.
Second, the focus on foreign investment and big corporations is at odds with the reality of India's industrial landscape—the small and medium enterprises are the heroes of our industry and they are the ones who need support and encouragement. Small businesses comprised about 17% of India's GDP (Pdf) in 2011 and employed about 60 million people, making it India's second largest employer after the agricultural sector. Within the manufacturing sector, SMEs constitute around 90% of all industrial units and account for nearly half of India's total industrial output and 40% of exports. For India's industry to shine, SMEs need to shine, and it is unclear what Make In India is doing for small businesses.
The picture of decay
But these are questions about calibrating the program. There is no denying that India urgently needed to welcome global investors and ease their operations here. The following numbers capture the sorry state of India's industrial competitiveness, and why Make in India was needed yesterday.
15% : That is the current share of manufacturing sector in Indian's GDP. It compares poorly to other Asian countries. The sector is 34% of China's GDP and 31% of South Korea's. In the next decade, India expects to ramp up manufacturing to 25% of the GDP.
100 million jobs:  The number of manufacturing jobs the Indian government aims to create by 2022. According to Justin Lin, a former chief economist at the World bank, China will shed 85 million manufacturing jobs in the next few years because of fast rising wages. India can attract some of these jobs—and it desperately needs to—if it can cut bureaucratic hurdles that scare away new businesses.
"Global companies want to come to Asia but they don't know where to look in Asia," Modi said today. "Democracy, the demographic dividend and strong demand are important factors, and India has all three."
65% of India's 1.2 billion population is under the age of 35. The average age of an Indian in 2020 will be 29, compared with 37 in China and the United States. In the next decade, India is expected to have the largest available workforce in the world. But if the country cannot create jobs for its youth, the demographic advantage would be wasted.
"In the last five to six years we have had jobless growth and consumption. That is unsustainable. We have only created 2 million jobs every year. But 12 million youth are coming to the job market every year. Obviously it is a recipe for disaster if we allow it to continue, " said Y.C. Deveshwar, chairman of ITC, India's largest cigarette maker, at the event today.
134th: That is where India stands, out of 189 countries, in World Bank's "Ease of doing Business" Index. In South Asia, only Bhutan (141) and Afghanistan (164) rank lower than India. The World Bank report notes that it takes 27 days to start a business in India. In Singapore it takes two and a half days. Registering a business takes less than a day in Singapore.
Since the new government took over in May, the process of applying for industrial license has been made online on the e-Biz website.
Tune into Quartz India for a livestream of Indian prime minister Narendra Modi's 9/28 speech at Madison Square Garden in New York City starting at 11 am EST and 8:30 pm IST. We'll take your comments on our Facebook page.