Firechat, an app that allows people to communicate without an internet connection, is firing up the pro-democracy street protests in Hong Kong. The app has been downloaded by more than 100,000 users in Hong Kong in the last 24 hours, according to Open Garden, the company that created it.
When there is no cellular or wifi connection to the broader internet, Firechat lets users send text and images to each other using bluetooth or peer-to-peer wifi. And if one person in the group, known as a mesh network, has an internet connection, it can be shared with everyone else.
That makes Firechat perfect for a situation like the Hong Kong protests, where a large number of people are gathered in a small area and cellular networks are congested—or, though this hasn't happened to date, authorities might shut down internet access altogether. That's why Joshua Wong, the intrepid teenager who is one of the protest leaders, recommended it to his fellow demonstrators.
But even before the Hong Kong protests, Firechat has become a hit in India—not because of its potential as a political organizing tool, but because the app also shines in places where internet connectivity is scarce. Until this week, India was the second-most popular country for Firechat, after the United States, and the fastest growing. More than 10% of Firechat users are in India.
"Firechat is uniquely designed to work in areas without cell reception," said Ram Shriram, a Google board member who invested in Firechat's angel investment round. "It is ideal for India since the last mile is frequently unreliable, so with Firechat the unconnected masses can be now be connected."
India has 918 million mobile subscribers. About 117 million use smartphones, VC firm KPCB has estimated. About 14% of all mobile users use data, according to the Internet and Mobile Association of India.
According to Open Garden, users in India have created 500,000 chat rooms. At an average of seven sessions per week, they spend 2.14 minutes per session.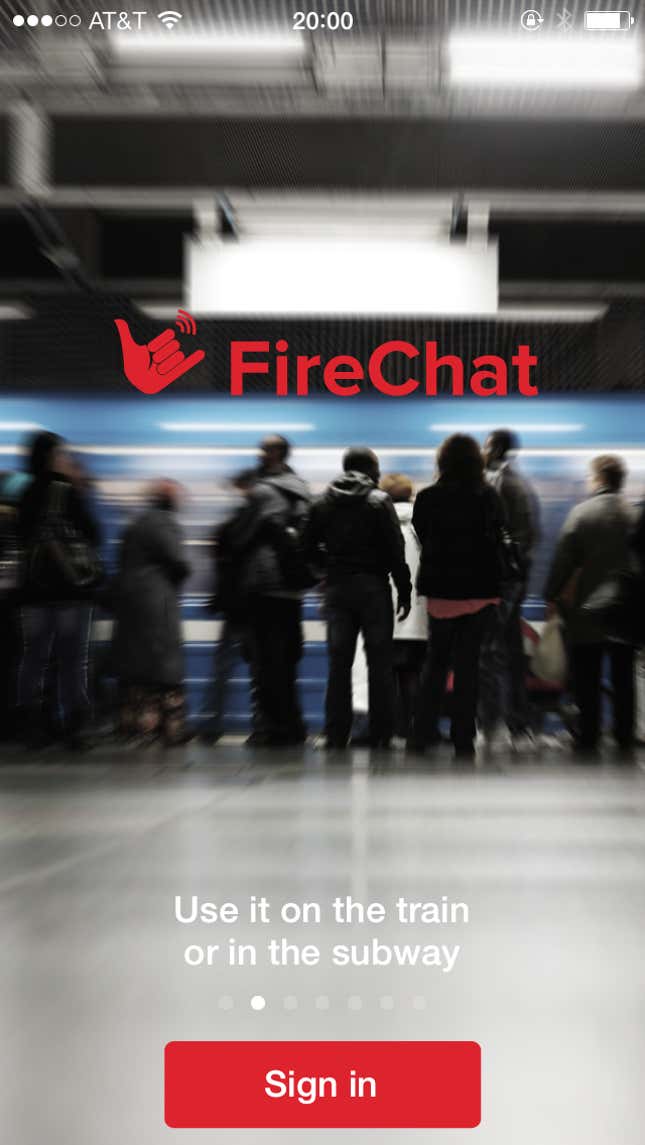 It's the popularity of Firechat in India, not just in Hong Kong, that speaks to its potential to transform the way that people connect to the internet.
"Once you build a mesh network … now you have a network that is resilient, self-healing, cannot be controlled by any central organization, cannot be shut down and is always working," an Open Garden executive told NPR in April. "I think that solves many other drawbacks or challenges of the mobile broadband Internet today."
Firechat's developers always believed that it would do well in countries like India. At the GMIC conference in Bangalore last week, Open Garden co-founder Micha Benoliel said the app has thrived at such various events as Burning Man and recent protests such as in Iraq, Taiwan and now Hong Kong.
"We are thrilled that it is helping people in Hong Kong that we love," Benoliel told Quartz from Hong Kong. "FireChat was created as an entertainment platform that could help to connect more people in situation when there is no Internet or internet infrastructure is lacking. We knew it could help in situations like concerts, festivals, large conferences and we knew after the sunflower movement in Taiwan that it could be used for social uses."
Firechat, despite its virtues, has some drawbacks for politically-charged situations like the Hong Kong protests. It doesn't use any kind of encryption, and all messages on the network are very public. Benoliel advises users in Hong Kong to avoid using their real names, and said Open Garden is working on rolling out private messaging.
Firechat is still an early iteration of a promising technology. The open architecture can feel unusual and when this reporter tested it in Bangalore, the traffic between Android devices and iPhones wasn't seamless. Benoliel acknowledges this. "It is still a bit rough, but we are working on it and once we roll out private messaging, it will seem more intuitive."