Much of India's fireworks—including the millions that will be set alight tonight—trace their origins to a small industrial center in Tamil Nadu, some 500 kilometers south of Chennai.
In Sivakasi, men, women and sometimes children toil over 300 days a year to handcraft the fireworks that Indians have come to spend an estimated Rs5,000 crore ($800 million) on every year. 
Here are five things that make the otherwise nondescript town India's fireworks capital.
Dry weather
Sivakasi's warm weather is ideal for firecracker manufacturing, especially to help dry the chemicals used in fireworks. The town has a tropical climate, with an average annual temperature of 28° Celsius and an average annual rainfall of 812 millimeters (mm) per year (pdf)—significantly lower than India's long-term average of 1904 mm of rain per year. 
Thousands
 of workers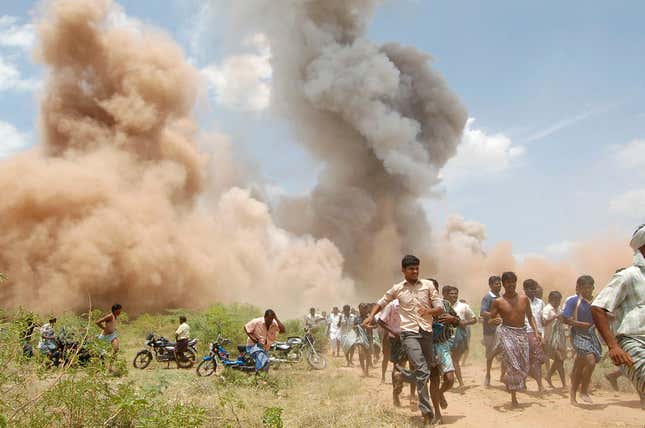 Although a town of only 71,040 residents including 29,342 workers, according to Census data, Sivakasi's fireworks industry utilizes a much larger workforce. About 750 firework factories here employ 80,000 workers (pdf). But that's only the number of legal units.
Local manufacturers estimate that that a similar number of illegal factories, about 700 in 2013, also operate in and around Sivakasi, perhaps employing a similar workforce. In the last decade, however, hundreds of workers have died because of lax safety standards at many manufacturing units.
Pays a lot of tax
With an annual turnover of Rs3000 crore ($500 million), Sivakasi is one of the highest tax paying towns in India. The fireworks industry here contributed Rs35 crore ($5.7 million) in central excise duty and Rs15 crore ($2.4 million) in state excise duty, according to a 2012 study (pdf).
Little Japan
Besides firecrackers, the town also has large match and printing industries. About 80% of India's safety matches are manufactured here, and it has a 75-year-old diary and printing industry that's as big as Rs1,500 crore ($240 million). It's because of such widespread industrial activity in this small Tamil Nadu town that independent India's first prime minister, Jawaharlal Nehru, had nicknamed it "Kutty Japan." Kutty means little in Tamil.
Dominated by China
While it is India's undisputed fireworks capital, Sivakasi fades in comparison to Liuyang, the Chinese city that dominates the global fireworks industry. Exports from Liuyang were worth Yuan 2.6 billion ($425 million) in 2013, accounting for 60% of the total export market globally. On the other hand, Sivakasi exports only about 5% of its total production because of the Indian government's restrictions on exporting fireworks. Meanwhile, Chinese imports have already made inroads into India's fireworks market.