Six years ago, it didn't even exist. Then, Aamir Khan's Ghajini broke through in December 2008, followed by 3 Idiots in 2009, and finally Bollywood had inaugurated its Rs100 crore ($16 million) club—the elite group of films that make a billion rupees in box office collections.
On Oct. 27, Happy New Year, starring Shah Rukh Khan (above), became the 34th film to enter the rarefied domain of India's blockbusters, which has been inundated since the turn of the decade.
In terms of entrants, 2012 was the biggest year. Nine films—ranging from Anurag Basu's Barfi! to Salman Khan's Dabangg 2—became part of the Rs100 crore club that year. In 2013, eight such heavy-hitters set cash registers ringing. This year, with Happy New Year, eight films have reached the mark.
But there's more to it.
Bollywood films are now breaking the Rs100 crore barrier faster than ever before—and then going on to make even more money.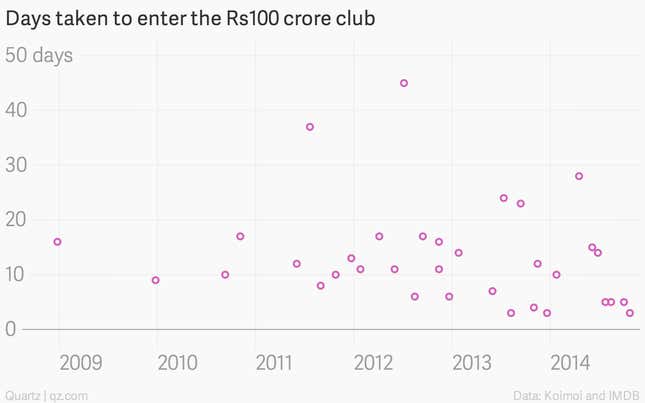 Just consider these charts. The pink bubbles (each for one of the 34 films) in the chart above represent the number of days it took to cross the Rs100 crore mark. In 2013 and 2014, more films have entered the once-exclusive club in under 10 days than ever before.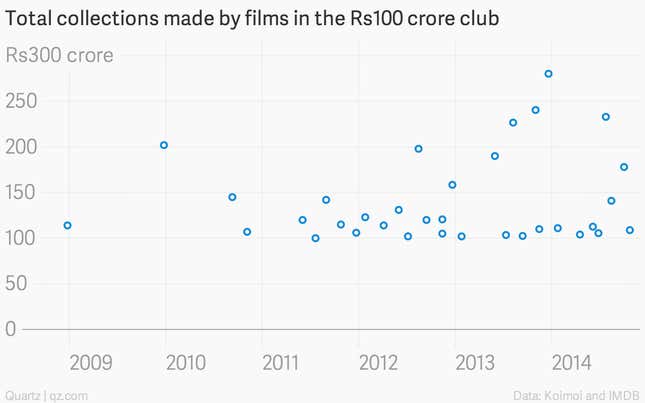 At the same time, the number of blue bubbles (representing total collections for each film) has moved upwards in 2013 and 2014 signifying greater total collections for the monster hits.
This early earnings spike is because large production houses that dominate Bollywood are increasingly focusing on the first week of a film's release to capitalize on filmgoers' attention. "The time, effort and money being spent on promotions is huge," film trade analyst Komal Nahta told Quartz. "The first three days and the first week are the most important. Therefore, they spend heavily on promotions."
Filmmaker Vishal Bhardwaj's critically acclaimed Haider, for instance, cost about Rs37 crore, which is less than what is estimated to be Happy New Year's marketing budget.
Ticket rates have also seen an increase, Nahta explained. Higher ticket rates at an ever growing number of screens translate into larger collections.