India's domestic airlines can't stop offering online discounts and flash sales to get more Indians to book their flight tickets, but the real winner in the country's online travel sector last year has been the Indian Railways.
Between March 2013 and March 2014, online and mobile bookings for the railways rose a staggering 300%, making it the fastest growing sector in online travel in India, according to Euromonitor International's World Travel Market report (PDF).
Although much of this growth has come on the back of online travel retailers like Cleartrip and Yatra, the report notes, the secret for the Indian Railways' strong online performance has been a thorough overhauling of its booking website.
For long, Indian Railways' online ticket booking platform—run by the Indian Railway Catering and Tourism Corporation (IRCTC)—crashed, stalled and spluttered so often that it became a test of patience for customers, instead of a convenience.
But after it was revamped earlier this year, services seem to have drastically improved. The website's reservation capacity more than trebled from 2,000 tickets per minute to 7,000 tickets per minute.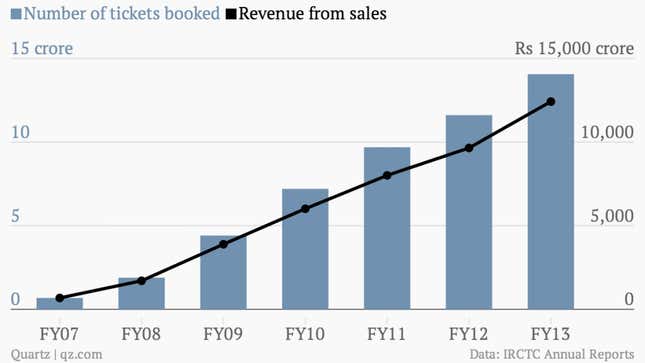 That's helped the railways boost their online bookings as "part of a larger innovation effort led by IRCTC to compete with low-cost carriers in the country on a number of key routes," the report said.
Other upgraded services included a downloadable mobile app for bookings, train schedules and real-time train status updates, a limited feature to pay for tickets in monthly instalments, and bookings through SMS messaging for those who have linked their mobile phone number to their bank account.
In all, the Indian Railways has spent about Rs10.5 crore ($1.7 million) on the improvements.
But there are indications that the railways could witness a decline in passenger volume on its 64,460 kilometer-long network for the first time in many years. Passenger traffic contributes about 27% to the Indian Railways' total earnings.