This week, the Taj Palace hotel in New Delhi's diplomatic enclave has been engulfed by a sea of men in dark suits and shiny shoes. The three-day-long India edition of the World Economic Forum (WEF) started on Nov. 4, and India's who's who are in attendance.
The only people missing are women.
A mere 13% of the 700 participants at the invite-only India Economic Summit are women. A majority of these are from the media or the development sector.
The summit brings together high-level leaders from government, civil society and business. And this year's edition is even more closely watched because it is the first large gathering of its kind since the Narendra Modi government came to power.
Yet, the gender imbalance at such events underscores the absence of women in senior decision-making roles.
"We ask for participation of individuals in leadership positions without discrimination," Adrian Monck, head of communications for the WEF, told Quartz . "However women remain under-represented in principal roles across all sectors in this region, despite having occupied the highest political office in Bangladesh, India, Pakistan and Sri Lanka."
But this is not a uniquely South Asian problem. Even at WEF's celebrated annual meeting in Davos, which brings together some of the world's most powerful and influential people, women attendees range between 15% and 17%.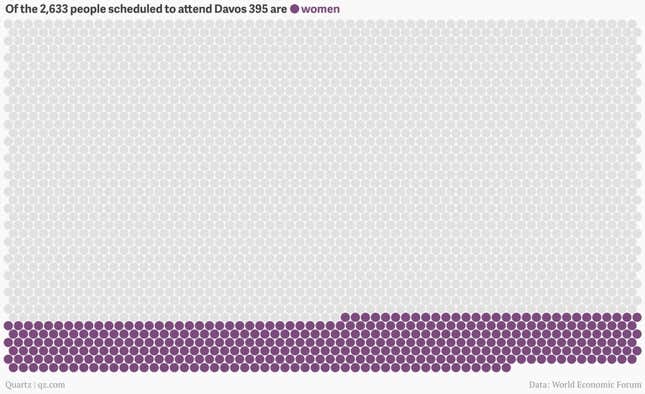 Gender gap
Last month, the WEF released its annual Global Gender Gap Report, which benchmarks gender disparities in 142 countries on economic, political, education and health-based criteria. India ranks an abysmal 114 on the list, much below some other South Asian nations such as Bangladesh (68) or Sri Lanka (79). To make matters worse, "India's ranking dropped eleven places this year," said Monck.
When it comes to women's economic participation and activity, India's position is fixed near the bottom. It ranked 134 out of 142 nations on the WEF report.
Moreover, less than 10% of Indian corporates have female participation in ownership and the share of women on the boards of listed companies is only 7%.
The good news is that the gender ratio is better among younger participants at the India summit. More than 40% participants in the Young Global Leaders and Global Shapers programmes together in Delhi are women, similar to their numbers at the Davos meetings (50%).