Sunny Leone was working in the adult entertainment industry when Bigg Boss, the Indian version of Big Brother, invited her on the show. Today, she is a Bollywood actress. In fact, Leone signed her first Bollywood film, Jism 2, on the set of the reality television show.
Now, it's Kim Kardashian's turn.
The American reality star, who shot to fame thanks to a leaked sex tape, among other things, will enter the Bigg Boss house on Nov. 22. For a one-day appearance, Kardashian has charged the channel Rs85 lakh ($140,000).
Leone offers a retrospection and some tips for Kardashian:
I travelled to India as Sunny Leone when Big Boss invited me to be on the show. I had been to Delhi and Himachal Pradesh—where most of my family lived—as a child, but I would be there as Karenjit Kaur Vohra. Nobody knew me. I went to the bazaars, and I would sit by the street shops to get mehendi put on my palms. I would also eat different kinds of street food.
But after I went there as Sunny, I don't get to do all this.
The culture in India is emotional, and Indians are the most accepting, loving and supportive. I am fortunate that I have a fan base in India, and they are—let's say, most of them—are compassionate. I was coming from a world that they did not understand—and that's true not just for India, but all the places I go. Even the US.
But the reaction of the Indian fans, after watching me on the show, is unbeatable. They did a sort of separation in their heads of Sunny Leone, the girl from the US, and Sunny Leone, the girl from Bigg Boss, who now does Bollywood films.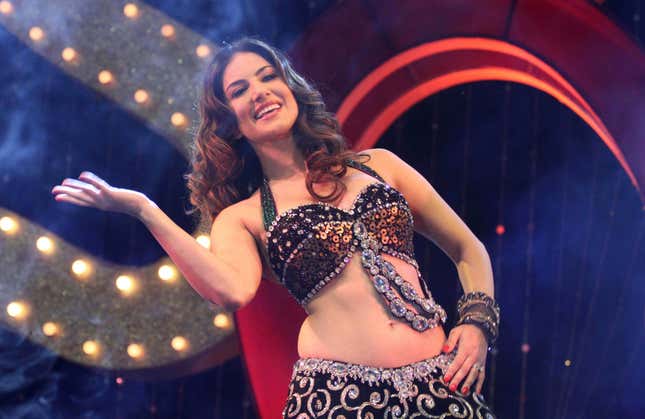 My strategy as a contestant was to not have one. I was just myself. And I just wanted to have a good time. And this is what I hope Kim does, though she is just going to be there as a guest.
The show tests you in a way that maybe you have never been tested before, because you're stuck in a box, and there's no way out. But I am not a fighter. I don't like confrontation. I didn't worry about the drama. I let other people do the drama, because there's enough of that, that goes on.
I didn't go on the show with a mission to win. I wanted to just step one foot in the door—whether I was there for a day or a week. However, I ended up being there for six weeks.
I remember when the offer came my way. This is months before the show was actually aired. My husband told me, "There's a reality show like Big Brother in India. Do you want to do it?" "No, I don't," I instantaneously said. I had been through a lot with the Indian community not liking the profession I chose, and my life's decision. I didn't want to go there, and go through it all over again.
Then, they sent me a presentation, and my husband encouraged me to do my research. We discussed the pros and cons.
From there, I started reconsidering. If I didn't take such a chance, I might not get another again. The show is mainstream Indian television—and some 25 million people, in at least 10 different countries, watch it. I was itching and wanting that moment to happen, so that I could take a step forward in a different direction.
Ultimately, I said, "Screw it. Let's do it. Let's see what happens." It's like business—I needed to take the leap of faith.
In the worst-case scenario, I could go for a week, but soon after, I could just return to my little bubble. I was worried about my safety—about the safety of the contestants. Though I grew up in an Indian home, and I know them to be the nicest people, I also know there can be a bad apple within a crowd who feels strongly about my background and can hurt, or hurt someone I love, and I didn't want that.
Bigg Boss was looking for shock value. But I think when my name came up, it was to do with something that has never been done before in the country: that is, bring someone from the adult entertainment industry. On top of that, an adult entertainer from the US. They might have wanted someone completely different from the stereotypical girl. That was such a success story of what can happen on the show.
Like me, Kim Kardashian can be a guest.
Like me, she is going to create fans in a completely different world. In the US, she is a megastar. She is a brand—and her sisters are geniuses. If only someone could pick their brains and find out how all this happened—Kim has created one of the largest brands in the world. Whether you love her or don't love her; every single person in the world will be interested in her. It is her style; her fashion; it is how she carries herself.
The Bigg Boss house is going to be a little bit of a shock to her—especially if the contestants don't clean up that morning. It is usually a mess—and you can't blame them because it is a truly self-run house. No one comes in to do the dishes for you. Or cleans up after you. No one makes your bed, or washes your clothes.
She is not going to understand any Hindi either. That's going to be a little hard for her—but she should know everybody in India speaks English. But who knows, she might be taking lessons already. She is a very smart woman. Though, it will be fun if the contestants are assigned to get her to use Hindi.
Lastly, I want to tell her that she is going to change her perception about Indian food. Sometimes in the West, we don't like the Indian cuisine because it is hard to find authentic homemade food. In restaurants, they usually overdo the spices. At least in the Bigg Boss house, they have the greatest diet-food ever, because we used less butter and less spices.
If she adjusts to the food, language and people, she will make them fall in love with her.
Get ready for the TV ratings to go through the roof!