The Reserve Bank of India's monetary policy announcement is due on Dec. 02, which makes central bank governor Raghuram Rajan the most sought-after man in Mumbai right now (and in parts of Delhi, too)—and he is being inundated by requests to ease interest rates.
Finance minister Arun Jaitley joined the chorus on Nov. 17, arguing that "reduction in the cost of capital will give a good fillip to the Indian economy," in a not-so-subtle hint to India's central banker to bring the repo rate, or the rate at which the central bank lends capital to banks, down from the current level of 8%.
Calls for cutting the repo rate have grown since retail inflation fell to 5.52% in October, which is below the 6% mark that the RBI is aiming for by January 2016. Recent numbers from the index of industrial production (IIP) have also bolstered these calls—it grew at 2.5% in September, compared to the same period last year. In August, it had only grown 0.4% year-on-year.
But Rajan is unlikely to budge—and he's right.
That's because the Reserve Bank isn't entirely convinced about the economy's macro indicators. First of all, this year's festival season failed to lure consumers into buying cars and property, or even apply for loans. The IIP number is likely to drop because of this. And secondly, a major contributor to shrinking inflation has been lower global crude prices. Crude has declined from $108.05 per barrel in May to $79.26 per barrel currently. If crude prices spike again, inflation numbers will, too.
An even bigger problem may be that Indian households don't expect inflation to remain low—and therefore, are reluctant to spend. Of the 4,933 households recently surveyed (pdf) by the Reserve Bank in 16 cities, only 4.5% of households expected a decline in prices, and more than 90% anticipated an increase between September of this year and August of 2015.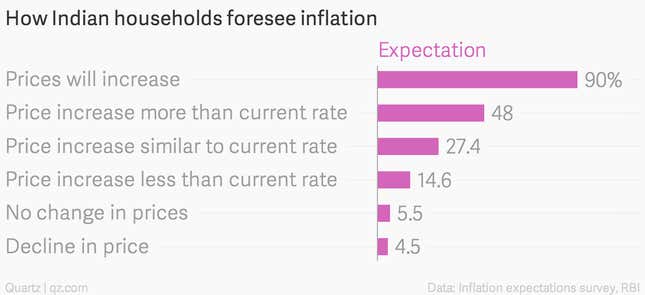 In the earlier survey that ended in June, 9% expected a decline in prices. Until these inflation expectations subside, households won't spend. That will only happen once there is sustained low inflation quarter after quarter, just as Rajan wants.
Right now, the central bank should wait for the actual picture to unfold, and then offer a big rate cut instead of making insignificant trims.
"RBI may go for the jugular in a decisive manner (50 basis point or so), but only after it is convinced that CPI (consumer price index inflation) downward trajectory is sustained and inflationary expectations are anchored decisively lower," Soumya Kanti Ghosh, the chief economic adviser at the State Bank of India, said in a research report.
Ghosh predicts this cut will only come after April 2015.
In the meantime, the government should focus on policy reforms in key sectors and resuscitating domestic demand, instead of prodding a reluctant governor into cutting rates.